Enjoy the Company of Busty, Horny Moms on XLoveMatures.com
Good day, readers! It's always a pleasure to meet you and especially now, when I have such a sexy, lovable adult webcam site to review. The one that I'm talking about specializes with horny, hot moms and it's an excellent choice for men who understand that sexy older women are the number one choice on XXX webcams. The site in question is XLoveMatures – a medium-size platform that introduces gorgeous mamas and shameless webcam sex. In this review I will share with you my experience from this website and will make sure you know how much it costs, how many luscious MILFs it offers and what they will do to secure your attention. Do some reading – it would do you a world of good and possibly even help you save some money.

My considered thoughts
The first stage of this XLoveMatures Review was to do what any ordinary user would do online, meaning: Look around and check out the mature webcam hotties. I was thoroughly impressed. Even before discussing technicalities such as features and streaming and mobile access, the chicks on this MILF sex chat community won me over with their sensational bodies and open personality. The design was a bit old-fashion, but that actually added to the whole nostalgic feeling that almost overwhelmed me. The hot moms were like a memory of innocent times where I used to fantasize about the MILF next door and wishing she would pay me a second look. On this adult cam site she finally did – and so did all of her sexy older girlfriends. No wonder that I felt like I reached sweet, kinky heaven.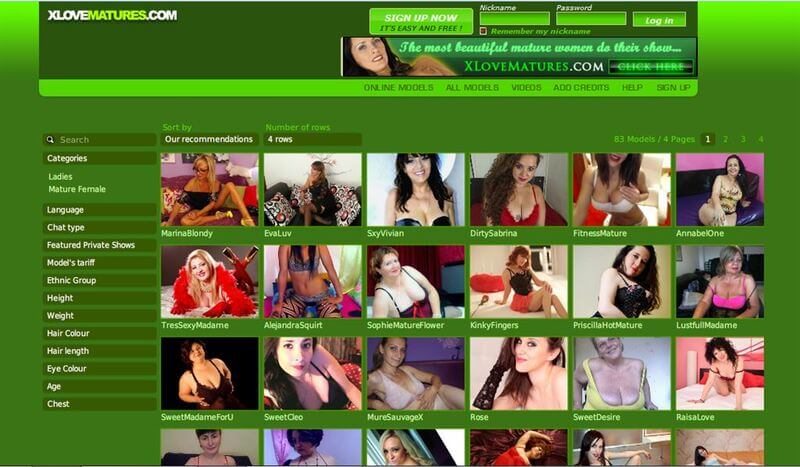 If you are used to large adult webcam sites like Sexier and MaturesCam, you might be under-impressed, but I tried not to engage in comparisons – didn't anyone tell you that size doesn't matte anyway? Instead I dived into nude chats with some of the curvy wives, saw what they were willing to do when I had their full attention and played around with the different features. I didn't have any difficulty locating what I wanted. This is a very friendly video chat portal, well-made, but quite simple, and even guys who have been camming substantially less than I have will manage to conduct searches, watch live porn shows and dig into some intense MILF sex.
Anything else?
I have to be honest: I am not such an admirer of mature porn videos. Not that I don't watch them from time to time but you know, for me no recorded clip can ever be as hot as a real-time experience with a woman I handpicked. However, I also know that not everyone feel the same, So I will take the time to tell you that X Love Matures keeps a nice storage of MILF sex videos. How can you see these vids? You have to purchase a VIP membership of a specific horny mom, and this will buy you access to all of her content – yea, pics too, for a full month.
Becoming a member
There is no paid membership on this adult webcam site, other than the VIP subscription, which really isn't a membership anyway, so I stand by my word. When you decide that you want to join, just click, enter a username, password and email and you'll be crowned a legit member of XLoveMatures.com. Once you validate your email, you get to watch 1 video of your choice as a bonus. This is a 15-dollar worth video featuring a wild model's private show.

Let's get chatting
As I mentioned before, this is not some complex top-notch portal that has a long lists of video chat options. Here you have two basic choices, or more accurately stages of the same chat. You start off with free chatting, a popular and easy way of getting acquainted with the lusty moms. I have had a couple… okay, a couple of dozens nice free chats on this site, but as usual, no one got naked. Then second type of chat, which is really the next stage of every session, is a paid chat, where you and the hot mama can play all sorts of sleazy games in the privacy of your own chat room. Sounds naughty? It's even better than you imagine and I say it from experience. There are different kinds of chats – mature lesbians, fetish or solo, but it's all really the same: Nudity and sexy MILF asses: Yum.

Quality of video
No poetry will be written about XLoveMatures' streaming. It's fine, but unexciting and some of the babes could certainly go out and get a better web camera. I mean come on – it's the 21st century. In fact, now that I think about it: The 21st century started over a decade ago. Man, I feel OLD. Where was I? Oh yea – good web cams are cheap. There's no excuse keeping the low-quality or even average-quality ones, especially not if you're a camgirl.
Putting your money where your mouth is
For only 2 credits per minute you will get to view some crazy live porn shows on this website and you can even use that friendly search tool on the left side navigation bar to search the chat rooms according to price. Pretty good, right? I will get to the exact credit packages right away – no, I am not gonna type them. I made a chart. It's nice and organized. It will also prove to you that no matter how many of those credits you stock up, price for one remains the same. VIP membership costs 15 credits per months on average, but some chicks charge more, so don't sign up before you double check. Am I missing something? I don't believe I am. Let's go over the packages and then proceed to other things.
| | | |
| --- | --- | --- |
| Number of Credits | Cost in USD | Cost Per Credit |
| 25 | $31.20 | $1.24 |
| 50 | $62.41 | $1.24 |
| 100 | $124.83 | $1.24 |
Ways to pay
The easiest methods to pay are either credit cards (this website works with MasterCard and Visa, but Maestro also works if you're a debit man) and PayPal. If you still believe that giving some online entities your payment details will get you in trouble, while I think that's totally nuts, you also have the option of paying by phone. On top of that this site features additional payment options according to your location. How does the site know where you are? It recognizes your IP, and there is no chance I am wasting my time explain what that is. Just look it up.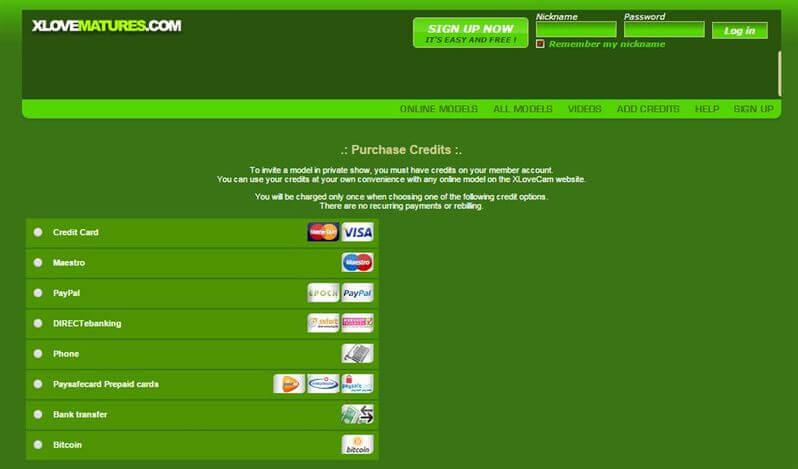 How many xxx lovelies?
I would put the number of MILF webcam models on X Love Matures at around 8,500 or so registered hosts. The number of live sex chat rooms fluctuates between 60 and 90 or so, depending on the time and date. This is small in comparison to the largest MILF webcam portals, but it's much bigger than many. I found the selection more than satisfactory and the soccer moms and busty swingers certainly answered my expectations.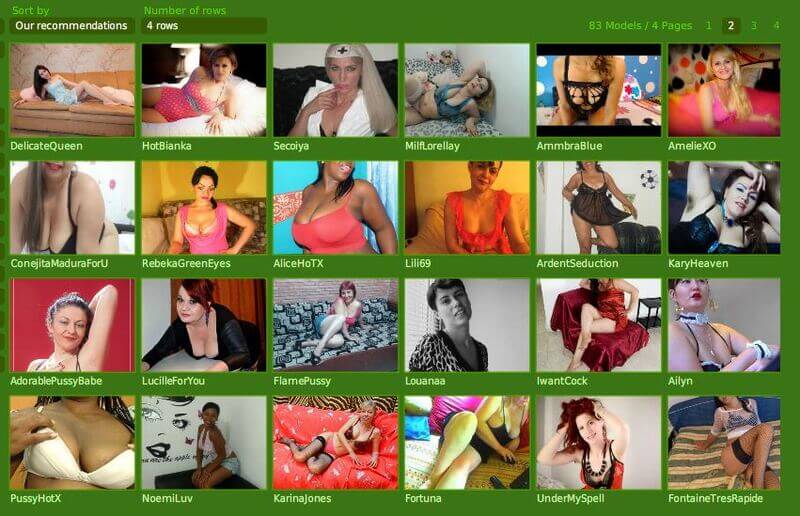 Help when needed
There's a Help tab at the top of the home page and you can use it if you're overtaken with confusion. Not that I understand how this could happened. This is like the easiest, clearest portal that I have seen. You just click on the woman you want and she will appear on your screen.
Positives and negatives
Positives
✔ - Clear and user-friendly navigation
✔ - Low-cost live sex shows
✔ - Ever sexy older woman here is the babe of your dream
Negatives
✖ - The video chat window is quite small
✖ - I'd prefer to see some HD webcams
Summing it all up
I don't know what kind of MILF turns you on – an Ebony mama, a PHAT Latina wife, a slutty redhead soccer mom or a brunette MILF that can't get enough. Most of these fantasy older women will be waiting for you on XLoveMatures, although there are likely to be a lot less exotic chicks than Caucasian. Prices, as you probably noticed, are low and you can watch plenty of extremely interesting (I mean kinky) live mature porn shows. Is this the best adult webcam site that I have ever encountered? Far from it, but it's great, offers good quality for money and features some beautiful MILFs. That' it – I'm done, for more information, just go to XLoveMatures.com and conduct your own research – preferably the kind you do with your clothes off.
Review of XLoveMatures.com
- Reviewed by
hdcamsites.com