AsianCamModels.com - enjoy an entertainly erotic Asian experience!
Hello again, my dear friends wherever this delightful evening finds you, and have a warm Walt welcome back to my very favorite website. It's my favorite site because it's designed, written and maintained by myself. I always say that if you really want something doing well, then do it yourself.
Speaking of which, here we come to the latest site to fall under my gaze as I continue ever onwards with my journey across the four corners of the sinful side of the world wide web. You're here because you have a certain itch for Asian cam babes, and it's an itch that sometimes just needs scratching. Oh, the blissful relief!
This day finds me sailing into shore upon the good ship HD Cam Sites and mooring up on Asia's wild and wonderful empire, at the port of AsianCamModels.com. If that name rings any kind of bell, it ought to be the notion that this site is very closely linked to TrannyCamModels.com, and if you are having that notion, then congratulations. Both sites are clones of a site I have mentioned before but have as yet to review. That site is Cams2Chat.com. All these sites are owned by a Nevada company called Labuyo, although AsianCamModels still seems to think it is owned by Interactive Management Systems. If IMS are connected to Labuyo, I am not sure. What I am sure is that AsianCamModels.com has been around since 2004.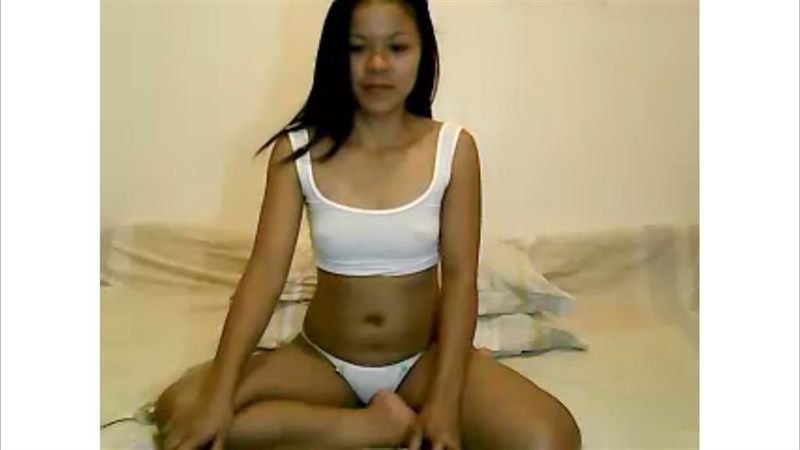 My considered thoughts
AsianCamModels.com does look nice, albeit a little amateurish and old-fashioned. A sexy web palette of black, pink and purple has been chosen. These things are important, you know. Crappy-looking sites = Crappy experiences in my mind. You don't buy a house that looks like a pile of crap on the outside, do you? The landing page set up is one you should be very familiar with by now - small thumbnails that change into cam views when you hover your mouse over them, unless the model is currently engaged in a private chat. Each model has a HD indicator (if they have HD of course) and a little flag - if you see the Stars-n-Stripes it means the model can converse in English. As most of these Asian sex cam babes seem to be from the Philippines, you can usually use English, unlike sites with mainly Japanese models.
There's a menu across the top which allows you to see who the models are who are currently online, and you can also peruse a complete list of profiles if you want to. The favorites list is where you save your top porno cam models to, and you can set up a personal profile if you have the notion to. Finally there's the search function, FAQs and contact options.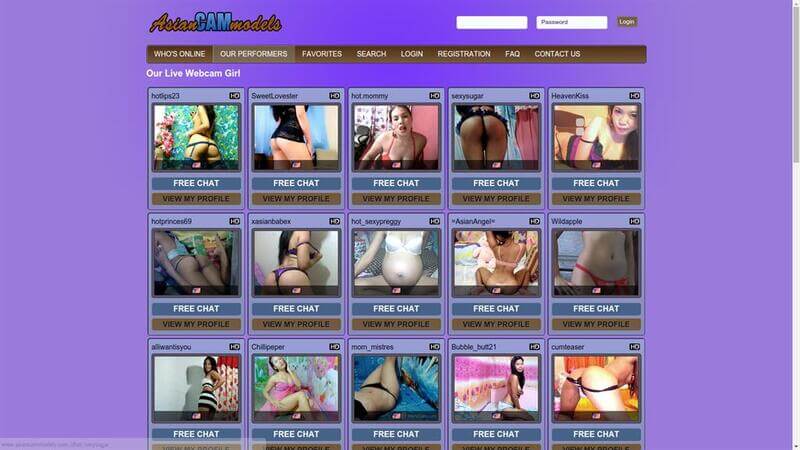 Hop into a model's cam room when you find someone whom you really like the look of. You only get an hour to free chat, but that hour is reset on a daily basis. The applet for chatting looks like it was designed ten years ago. The initial cam screen is rather small, but it can be doubled in size. You can go full screen as well, but this is not recommended as even if the Asian cam babe says she is streaming in HD, the view is rather nasty (and not a "good" nasty). If you fancy going private with a model you can sort out your payment options from the cam room itself.
Anything else?
Not really. Some models have uploaded pictures and videos, but you have to pay for the really juicy ones.
Becoming a member
Joining up is the usual business - you need to pick a username, password, your screenname and to enter a valid email address. Oh and your gender, just like at TrannyCamModels.com. Confirm that you agree to the T&Cs and click on the "Register" button. You only then need to reply to your confirmation email to get your account at the site sorted. If you've membership at either Cams2Chat.com or TrannyCamModels.com then you're registered here too.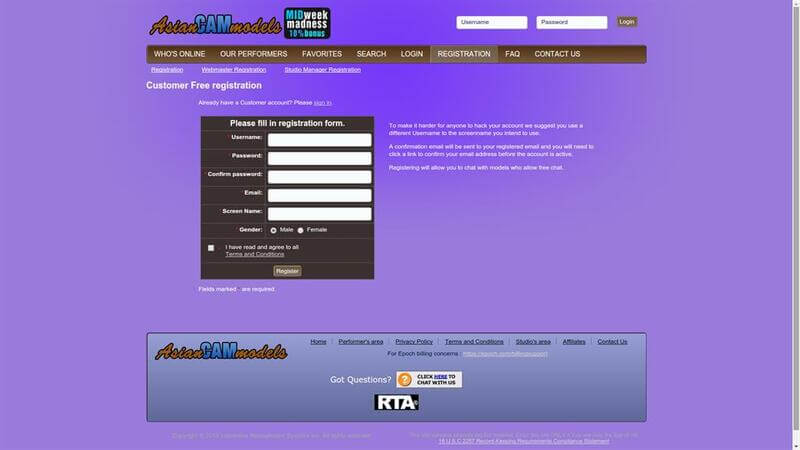 Let's get chatting
There is free chat of course, but don't forget that one hour a day limit. Other than that it's either Group Chat or Private Chat. Both are about the same, and cost the same, except that In Private chat it's just you and your chosen Asian sex cam lady.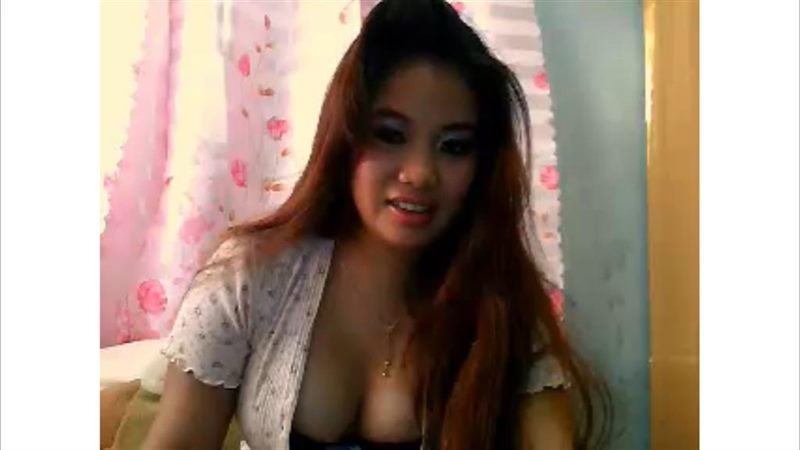 Quality of video
Not all that good ... on a par with TrannyCamModels, as naturally you would expect. As you can see from the full screen cam captures I've uploaded here, full screen = blurriness, even with "HD" cams. Best to stick to 2x size.
Putting your money where your mouth is
It's a very simple conversion rate of one dollar = one credit, and one credit will buy you one minute of chat time. Packs can be bought in units of 25, 50 and 100, and if you order between Tuesday and Thursday, you get a ten percent bonus on top of your purchase.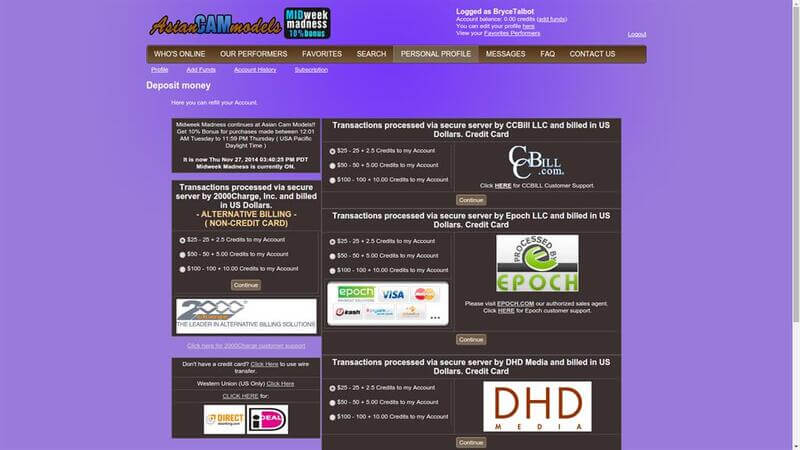 Ways to pay
Seems to be only MasterCard or Visa when it comes to plastic. Privacy fans will be overjoyed to hear that some eWallet solutions are available, namely Ukash, Paysafecard and Click2Pay.
How many xxx lovelies?
The site has 4,500+ profiles but I would guess that over half of those are largely inactive. There are usually though a very decent number of models online when you enter the site - close to 200. Obviously this falls when Asia reaches the early hours of the morning!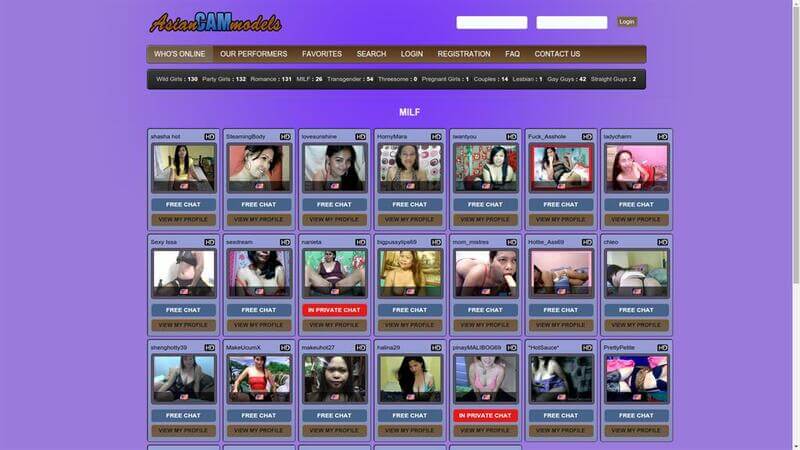 Help when needed
The FAQ page is not the best crafted FAQ page you will ever encounter, and aside from that there's a web form contact page. There is live chat, which I tested. I did get a very quick response, but the operator struggled to comprehend my impeccable English.
Positives and negatives
Positives
✔ - Effectively painless on the bank account at $1 a minute for "sexy" chat
✔ - A good number of attractive models online at all times
✔ - A functional site, with an efficient design
Negatives
✖ - Bonus features?
✖ - Up the support options
✖ - Models get moody if you abuse their free chat responsibilities
Summing it all up
I guess the main selling point of AsianCamModels.com is just like its tranny cousin - private chatting here is not expensive at all. I like things to work, and the site does do that apart from the full screen, which does not look good at all. I actually would not mind paying a little bit extra if this site were to up its game, but if they have the "talk is cheap" model working for them, I guess they are not going to change it! Plenty of Asian porno cam performers at rock bottom prices. Things could be a lot worse!
Review of AsianCamModels.com
- Reviewed by
hdcamsites.com