ImLive.com review - A HD cam site worthy of your peverse patronage
Well, I'm certainly glad you could finally join me. You sure you haven't got anything better to do? Good ... that's good to hear. Well, instead of standing around with that thumb up your ass, why not read another one of my "Walt's Words of Wisdom" reviews - this time about all the HD Goodness at ImLive.com.
Now, as I am sure you are aware, "normal" folk, for want of a different phrase, are very dubious about these type of sites, thinking they are full of scammers and shysters just waiting to steal our identities - I mean, are you really going to phone up your bank and say you had your credit card details stolen while you were jacking off to some big-boobed babe on the other side of the world? Us - more "educated" folk - know that the majority of these sites are perfectly legitimate businesses, making their money by safely uniting web cam babes with HD Cam Sites fans.
But, as well as telling you what I think about these sites, it's also part of my fantastic free service to check that every site I review IS legit. So, should you be concerned about your safety at ImLive? Well, I certainly think not - the site has won the award for "best live chat website" two years running in 2011 and 2012, and not just from anyone, but from AVN, the trade journal of the adult entertainment industry. So, legit? Yeah, I wouldn't be too concerned, especially as ImLive.com has been around since 2002 - that's coming up to teenage years, in case you suck at math.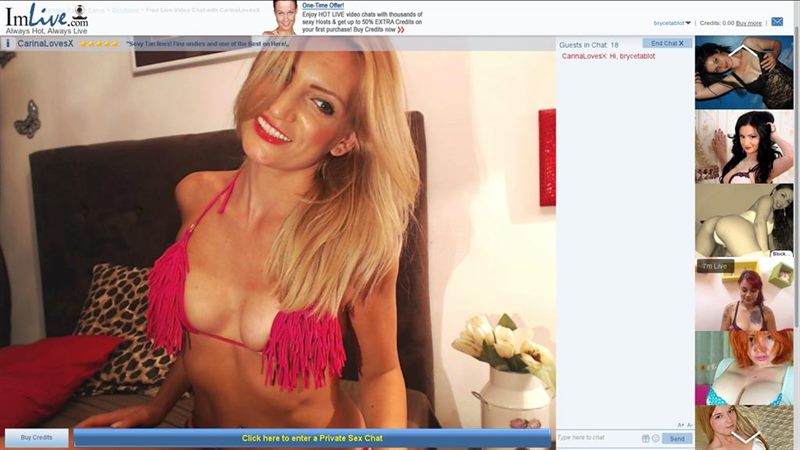 My considered thoughts
Right, now we've worked out you're unlikely to get scammed at ImLive.com, lets get on with the interesting stuff, and by interesting I mean all the lovely x-rated babes, and there's certainly plenty of tasty morsels to satisfy even the most voracious carnal appetitie. As soon as you haul your asw over the "are you over 18" banner you are presented with more bare flesh than you can shake a sexy stick at, although most of the more interesting areas of flesh remain covered. You can only see two or three cam girls at a time, but with a bit of exploring you will find you can personalise your view. I like the tiled view myself, as you can separate the honeyz from the fuglies more easily. Lots of the sexy babes have free chat, but for many others it's a case of private only - naughty! It should be a rule at these places that you can at least see a little something of every model for free. Spreaking of free, that's how much registration costs.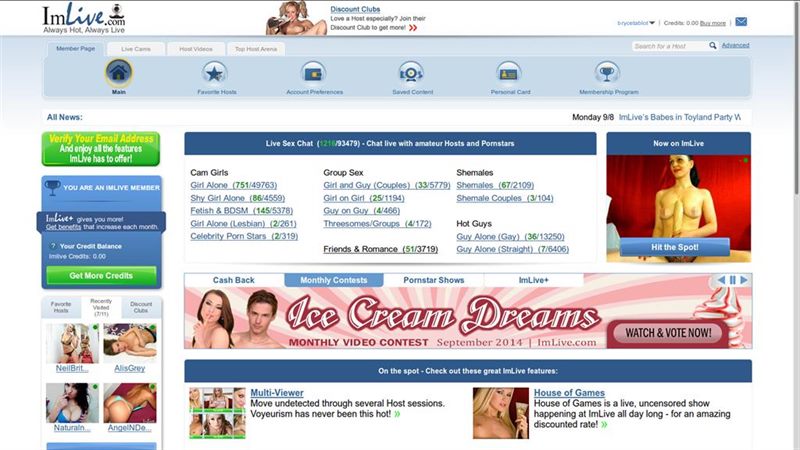 Signing up should only present the really braindead with any difficulty, and once you're a member, your member will be twitching will all the extra loveliness you can suddenly take advantage of. Now, let me confess I do have a certain ... fetish. Now, let me also tell you it's really none of your business what it actually is, but let's say it's very well catered for at ImLive. Sorry, you'll just have to use your imagination. One plus point from me for ImLive anyhow - and you'll be awarding extra points if you have slightly exotic tastes, such as BDSM, Shemales and Group Sex. Most of the action is in the "girls" section, and as that's where most people reading this review I guess are likely to be heading, then that's where this review is going to end up next.
As usual, once you've had your fill of browsing, it's time to find that one lovely lady who is really going to get things moving and a grooving for you. You can enter her freebie chat room ... now, I was taken at first by the fact that as soon as I entered a free chat room, the sex cam girl somehow managed to say hello to me without using her keyboard. On the third time this happened I gathered this was an auto thing, which does NOT get the Walt seal of approval. Also, I noticed how the chat window gets filled up with other little spam messages advertising this and that, and reminders to go private. When I want to chat, I expect chat only, so I really did not appreciate this feature.
Anything else?
ImLive does toss in a few extra items for you to toss off to. There's a few trailers that I suppose act as movie trailers to the latest releases, although they don't last long enough for you to provide a few releases of your own. They're free (as long as you have some credits in your account) and they feature some of the sexier models. The cam girls are also able to record some of their shows and you can watch these too for a few credits. As we're touching on the money side of things I may mention that every two hours at ImLive they select someone to win between 25 and 100 credits, although as there are 33 million registered users at the site, I wouldn't hold your breath.
Becoming a member
All you need is a valid email address, and to have the ability to pick a username and password without incurring a headache.
Let's get chatting
You can pay for private chat of course, although I must say some of the lovelier-looking sex cam models do seem to charge more than you see on other adult chat sites. The free chat is gratis of course, but that's tame. You can venture into the "Rooms of Games" where models strut around in the sexy finery for a cut price fee, and you can enjoy the first twenty seconds of the show for nothing.
Quality of video
Lots of HD of course - in fact most of the sex cam babes seem to be able to stream in HD. You can pick HD and SD, although from my experience the SD is a little more pixelated that other SD streams I have seen.
Putting your money where your mouth is
First a Walt warning. They have this thing at ImLive called "ImLive+" which is a monthly subscription fee for £/$/€29.99. You can get some extra bonuse if you go for that option, but BE WARNED when you buy credit there's a box that is ticked to subscribe to "ImLive+", and if you complete the purchase with it still ticked ... well, you can guess the rest for yourself. I nearly fell for it and let's face it, I'm a lot cleverer than you. Credits are as follows, and most sex cam babes charge between 0.98 and 4.98 credits per minutes. Who said sex is cheap?
USD $
Price
Credits
$25
25
$50
50
$100
100
I'm also happy to tell you that Walt being Walt managed to secure an offer of free 25 credits for you - my loyal reader. That's right, once you make your first purchase, you can enjoy this exclusive and unique promotion!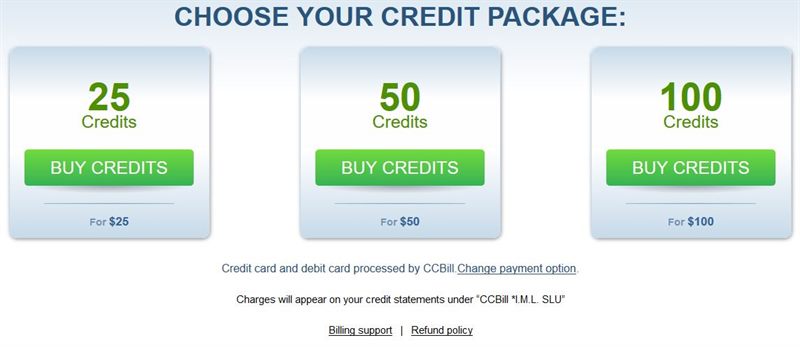 Ways to pay
Here's a shocker - only Credit Cards accepted. With stuff like Skrill, Neteller and Quick Pay around, why only major credit cards? Odd ...
How many xxx lovelies?
Allegedly only 80,000 - although I don't think that many adult chat girls are currently active. Whilst I was piecing together this review, around 1,000 were online, and that seems pretty consistent.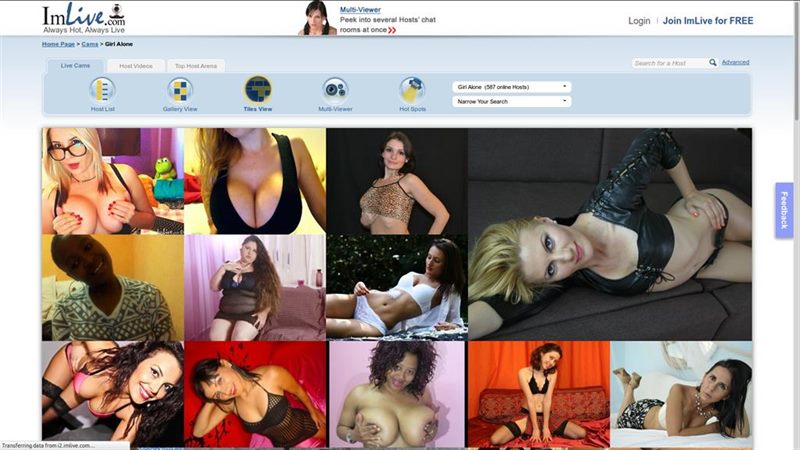 Help when needed
For once there's a really good FAQ section on the site. There's also help via phone and email.
Positives and negatives
Positives
✔ - If you, like me, have a particular sexual niche, then you might just find it covered.
✔ - It's an award winner, which must be good
✔ - Quite a few nice extra features
Negatives
✖ - Free chat is not the best - just the models endlessly touting for business
✖ - Free chat spam and autobots
Summing it all up
The first thing I'll say is that ImLive.com doesn't have a good reputation with the models. To such complaints I would say (a) no one forces you to do what you do (b) it's hardly the toughest job in the world to spend a few hours in front of a webcam and sticking your fingers up your ass when someone asks you (nicely) to and (c) if you're not satisfied, go and take your sexy bits and pieces elsewhere! Right, now that I have that off my chest, for the punter, I can't see much wrong at all with ImLive.com, aside from the slightly insipid and spamarised free chat. I like all those little extras they supply to keep you interested - more than your typical adult chat site. If you go down to ImLive today, you're in for a pretty damned decent horny experience.
Review of ImLive.com
- Reviewed by
hdcamsites.com