FetishGalaxy Review - Fetish Rules the XXX Galaxy
A very warm welcome once again to my exquisite HD Cam Sites reviews portal, and I hope I find you well and full of expectations for another excellent HD cam site review. If so, then this is very good as that is precisely what you will be getting. In this purposefully darkened corner of my site, I review cam sites for those good folk who do not wander off the trail when it comes to sexual matters - they are more likely to want to be kidnapped, gagged, bound, whipped and generally engage in some very illicit (but legal between consenting adults) sexual activities.
I am talking of course about fetishists, as you will of course know or why else would you be here? The site I am reviewing for you today is called FetishGalaxy.com, and it has been providing a welcome portal for fetish fans from porn dungeons all over the world since 1999, in one form or another. Originally it was just a community portal which hosted some very erotic and exotic videos for dastardly (in a good way) deviants. It eventually fell dormant until 2013, when a firm slap across the buttocks with a leather cat-o-nine-tails woke it up and it had transformed into the beautiful site I am reviewing for you today.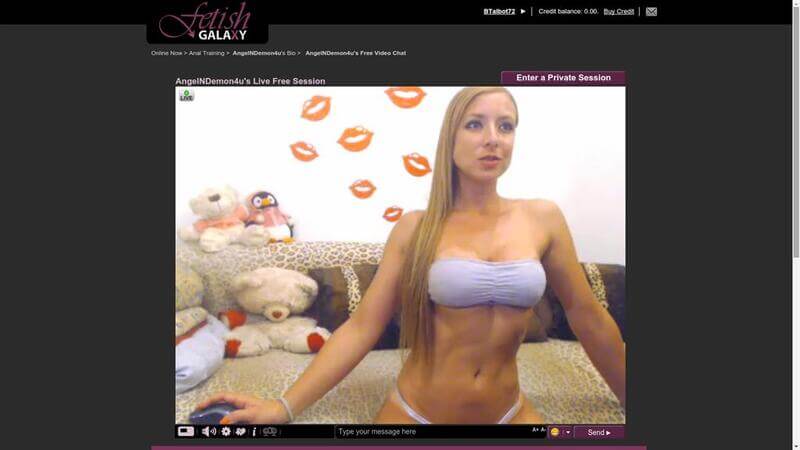 My considered thoughts
They do things a little differently at FetishGalaxy.com. Not a lot differently (aside from the emphasis on kinky sex of course), but definitely a little. For a start, the landing page looks like a very pervy version of Facebook, as you are presented with a news feed listing all those lovely folks who have signed up for the site in recent times. As a fetish-lover, you'll be far more interested in the links in the left hand pane, which list things such as cum play, face riding, medical, outfits ... probably as many sexually deviant acts as you can think of.
Among the things they do differently at FetishGalaxy.com is the way they refer to their porn cam models, who are known as "Live Experts" over on this side of the world wild web. There's an easy to find tab on the landing page that will take you to the place where all the simmering loveliness is hanging out in deviant ways, ready to both please you and punish you, no doubt. You will see people of all creeds, colors and sexes - so if you don't like seeing the same kinds of bits that hang down between your own legs then tough. Each live expert is represented by a thumbnail, and you can see their age, how they are rated (with a five star review) and if they're currently available.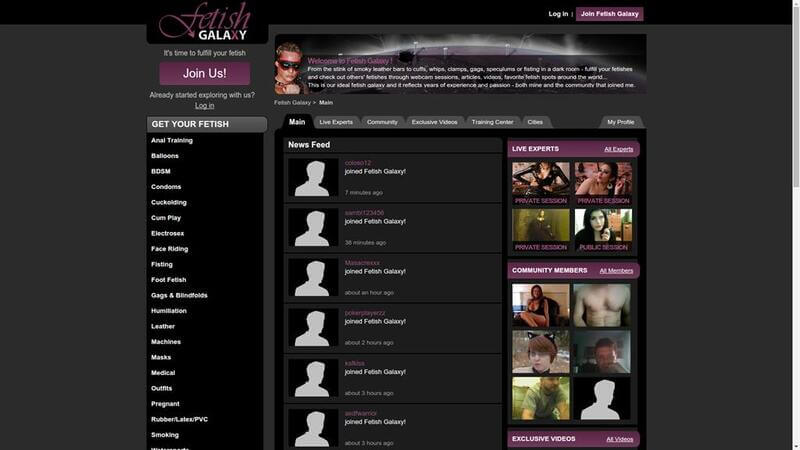 The "mouse hover" trick works here, and even brings up a smaller sub-menu that provides you with easy access to your chosen fetish cam performer's bio and any pics or videos they may have uploaded, and also details of the languages they should be able to converse in, which is very convenient. The performer cam rooms are very decent indeed, with plenty of controls so you can set things up just as you like them to be. The whole FetishGalaxy site has been very well designed.
Anything else?
There's that social aspect that I mentioned earlier, and you get to chat with other fetishists, and once you've gotten to know each other you can cautiously arrange a meet-up. You'll also find lots of example videos at the site, and a training guide that's designed to help you get the most out of your particular kink.
Becoming a member
All you need to do is pick your preferred member name and a password. You're asked to supply an email address but that's only in case you forget your member name or password in the future. There's no confirmation email you need to respond to here.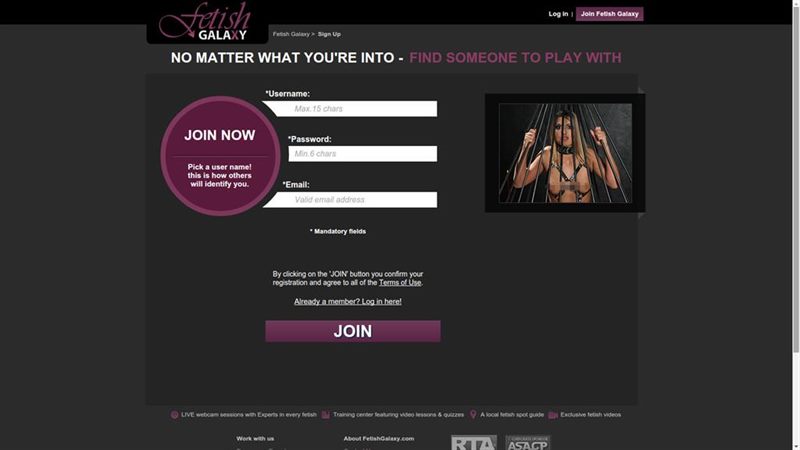 Let's get chatting
There are only two methods: Free chat (timed if you're just browsing the site, untimed if you're a member) and private chat. All the live experts are allowed to set their own price, and it can be anything from 0.99 to 5.99 credits per minute. Most of the experts charge between 0.99 and 2.99 a minute.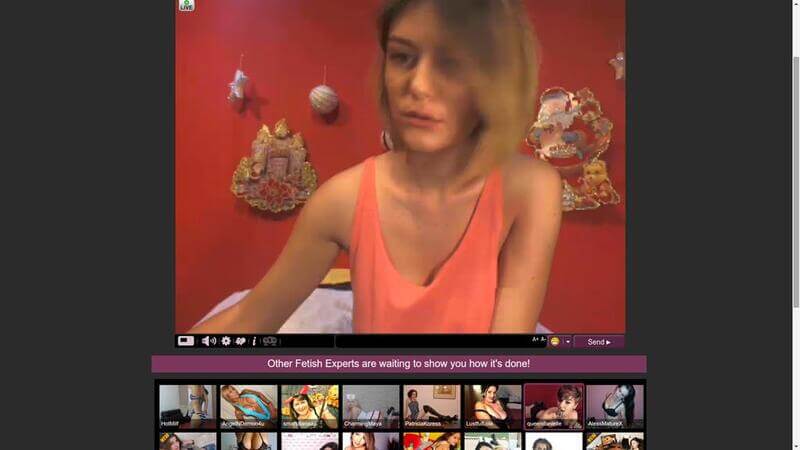 Quality of video
A lot of the fetish cam performers claim to have HD and not many of them seem to be lying. From my experiences, many of the cams here are up there with the best of them when it comes to adult chat sites. It is a little hit and miss though, in all honesty.
Putting your money where your mouth is
The pricing structure is very, very simple:
EURO €
GBP £
USD $
Price
Credits
Price
Credits
Price
Credits
1
1
1
1
1
1
Yes, I know I am not taking this seriously. Pack sizes are 25, 50, 75 and 100 credits.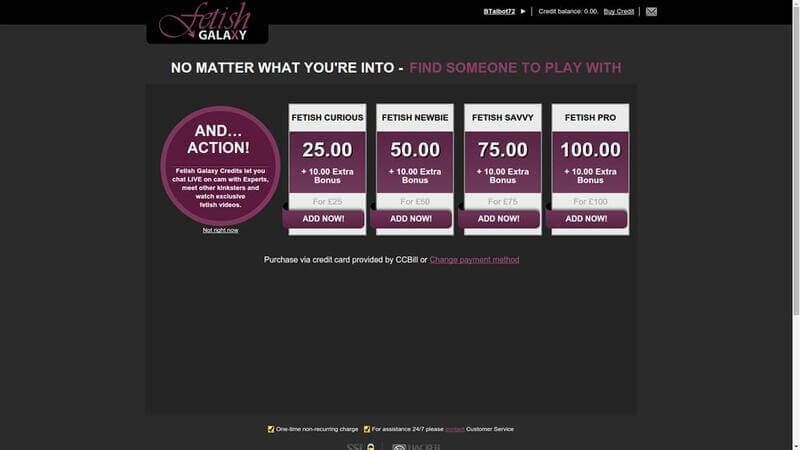 Ways to pay
You should be okay if you have a major credit card brand like Visa or MasterCard. There are no eWallet options.
How many xxx lovelies?
The facts are hard to divulge on this one, but I'd put it around the 2,000-2,500 mark. There are around 150 or so fetish cam models online whenever I've blessed the site with a visit.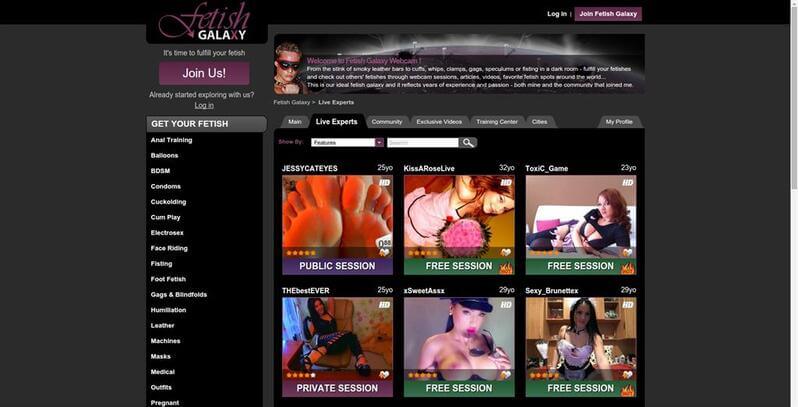 Help when needed
Ah ... this is the only place that FetishGalaxy lets itself down, as all you get is one of those email contact web forms. Nothing else ... not even an email address, and certainly no phone numbers or chat windows.
Positives and negatives
Positives
✔ - Lots of variety and extra features
✔ - A large percentage of the fetish cam models have very good cams
✔ - Easy to understand payment system!
Negatives
✖ - Just the lack of support options
Summing it all up
I'm not a fetishist myself, but if I were, then I think FetishGalaxy would definitely be the place I'd head to whenever I fancied some wild and wacky sexual fun - indeed I am a little jealous that dishy deviants have such a wonderful site dedicated to them. If they could only provide a little more in the way of support, this site would be as close to a five-star site as any I've ever come across during my sexual odysseys! And for me to say that ... you know it's really something.
Review of FetishGalaxy.com
- Reviewed by
hdcamsites.com