LiveJasmin Mature Review - Professional Older Gals
If you are looking for one of the best premium HD webcam sites, then give LiveJasmin a twirl. This site sets the standard that challenges its competitors. From its sleek website, it delivers a superb number of experienced mature models in high quality video resolution with a selection of private cam shows, which are all easily navigated. Sadly, there is no nudity in free chat.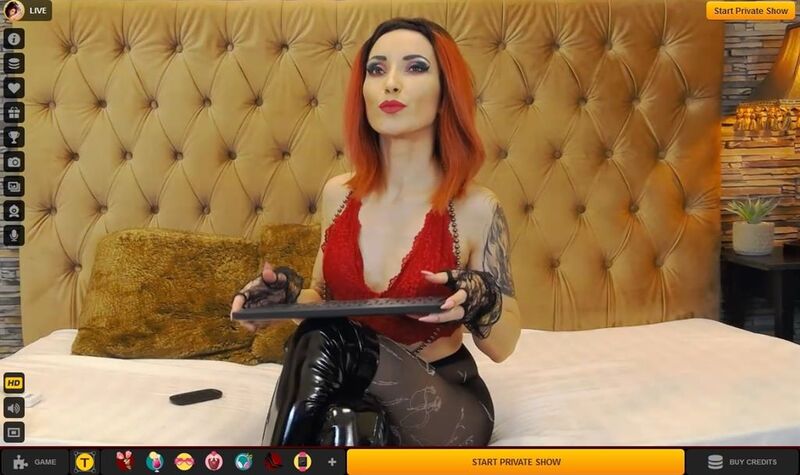 All this is not surprising as it was registered as a premium adult live chat site back in 2001. Since then, LiveJasmin has led the market and has received many awards. Being a LiveJasmin supporter, I have noticed that these milf cam hosts are mainly professionals and see this as their job preference. So, these live hosts understand what you're here for and provide you the special service you are looking for behind closed doors.
First Impression
As you enter the site and see the red matte background, you definitely feel like you've arrived in the red light district at LiveJasmin. This well designed HD cam site displays a wide selection of active cam performers in their gallery, with possibly the largest group of glam webcam performers. Each of these hot performers are presented in glamour photos that sets them above the rest.
Within each of the live cam rooms you'll see a smartly designed room with professional lighting. Not forgetting that the streaming quality is generally set to HD720p, as many of you will value the high quality resolution of these sexy cougars on your plasma screens.
Then there's the overall layout of the webcam page, which is navigated easily with a clear menu and sidebar with descriptions. This cam site has also changed the sidebar and advanced settings to have a slightly different list of attributes to suit your gender choice. For example, for ladies there's a choice of bra cup sizes, while for men there are different builds. These attributes are categorized by model, show type, price, willingness, languages spoken, age range, ethnicity, appearance and hair color.
The Girls You Will Meet
Most of the mature webcam hosts on LiveJasmin are from Europe and the USA, and then there are all the Latinos, Asian and ebony cam hosts as well. These sexy hosts from across the world, are mostly fluent in English and may speak other languages like French, Spanish, Italian, German and Russian.
The choice of older men also seems to go on forever, and they appear to be quite a mix of Latino, black, Asian and white sex cam models with strong attractive features and various body types. These male cam models share as much information in the bio as the cam girls and deliver a great performance.
In addition, there are also Trans Girl and Trans Boy categories. Since many of these performers register in both categories, there is little if any difference between the two. These performers are very beautiful and creative in their shows, so you'll definitely take pleasure in what you see, if you're into genderbenders.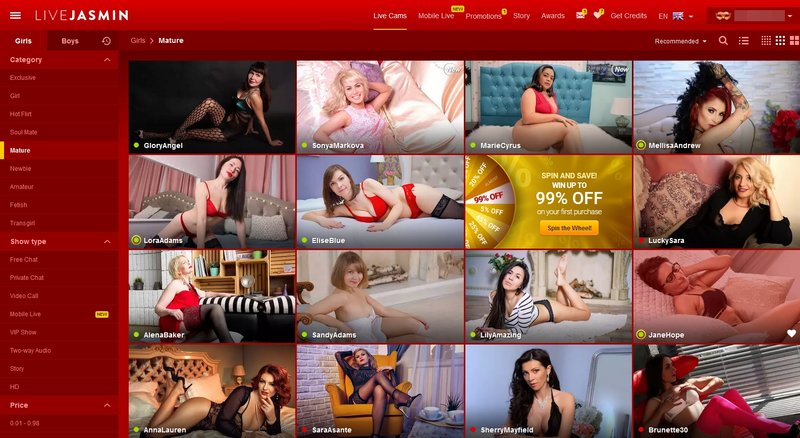 Top Site and Chat Room Features
Because LiveJasmin is one of the leaders in this industry, to maintain their position they are always developing new features for their cam site. Recently, the site added the Mobile Live option, so the live cam girls can log in and broadcast when they are out and about with their mobile phones. Thankfully many of the mature cam girls are taking advantage of this, as it is quite exciting to use this option. Especially when you see the girls in public places and get them to perform wherever they are. Be aware that the streaming speed will be restricted by her phone, but even so the platform runs well. Access to this feature is from the main menu at the top of the page.
Another great feature is the HD cam2cam functionality. This allows your model to see your webcam, so you can share your pleasure. As well as you being able to ask her for your fantasy, she can also ask what she wants from you. Opening the cam 2 cam is accessed from the sidebar menu in a model's room by selecting the mini video camera. You'll be asked to confirm this by a pop-up window. Also to stop anything disturbing you, I would recommend turning off any other applications using the camera, such as Skype.
Another interesting feature is the Story. It allows access for a week to some of your chosen cam girl's personal photos and/or video uploads. It's a social media option, where the model posts new sexy photos and webcam videos to keep you entertained.
Additional features include:
Soul Mate category for non-nude chats
Live Mobile - models on their smartphones
VIP Shows
Club Elite - loyalty membership program
High quality photos and HD videos of each model
Create your own Favorites List
LiveJasmin on Mobile
Overall, I would say the LiveJasmin mobile app is no different to the webcam site. It has most of the same functions, layout and features, but a few have been changed for the mobile. Some menu options have been moved to the sidebar, and there is no sidebar group filter and fewer language choices. Instead, you can use the search bar to access a group list to cross-filter. Thankfully, even though there are fewer options, you can still search with the same keywords from the desktop version, making it a little easier.
LiveJasmin is among the best cam sites with C2C on mobile. This is a very useful tool when traveling abroad or going out of town on business. For better viewing quality, I recommend using the C2C in landscape mode to view the model and switch to portrait to write her a message because the message box covers half the screen, and you'll miss half the show typing in landscape.
HD Webcam Quality
Since LiveJasmin displays high quality cams in excellent streaming quality, almost all webcam models broadcast from their cam rooms in HD720p. Some new mature cam models will use lower resolutions with a basic camera, at SD360p or SD480p, but this is rare, as all new live mature models upgrade their equipment shortly after joining up.
LiveJasmin runs their site with the best tech. However, some of the girls are in regions with poor streaming speeds. If you have difficulty seeing the online cam girls in HD resolution, then try deselecting the HD icon in the cam girls room in the bottom corner.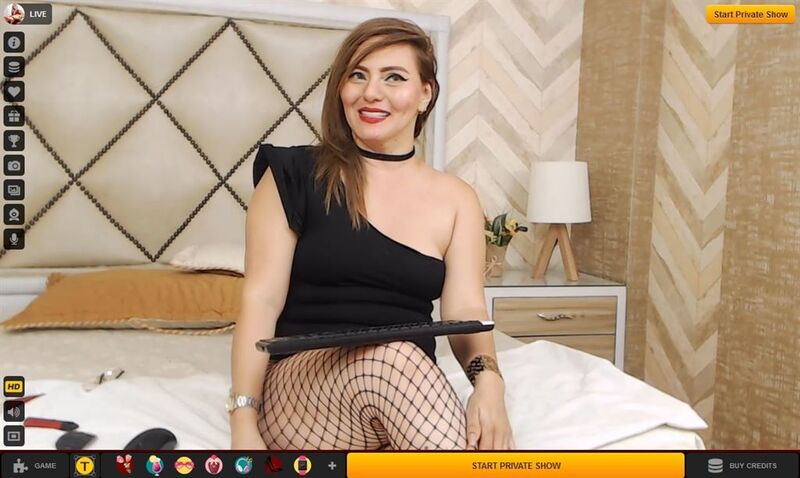 Becoming a Member
Joining LiveJasmin is no great task. It only requires your creativity in choosing a memorable username and the secret email address you use for private purposes, allowing you immediate access to your account. Once you've completed that, membership status is achieved upon making your first purchase.
You will immediately notice the promotion that pops up, giving you the opportunity to win up to 100 per cent bonus credits when making a purchase as long as you purchase within one hour of playing. This continues to pop up every time you log in, or if you take the offer after another 15 hours.
If you turn that down, a second promotional offer of 9.99 free credits is given once after you validate your credit card. Taking advantage of this offer is the only way to get free credits at LiveJasmin.
Purchasing LiveJasmin Credits
Making a purchase at LiveJasmin is relatively easy, as you choose one of the packages below. The best and most expensive deal has a credit value of $1.13 and the cheapest package is valued at $1.28.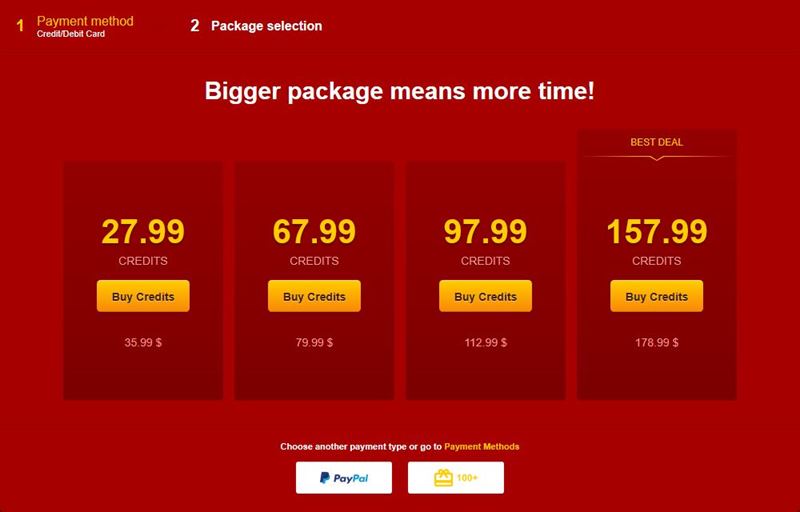 Sex Chat Costs
At LiveJasmin you have access to a few different chat options including public chat, private sex chat, VIP shows and also a sneak a peek. Since LiveJasmin is a legit premium adult cam site, they make sure that nudity and sex cam shows are restricted to private rooms.
Free Chat
it's easy to start a free chat at LiveJasmin, but without any sexy extras in open free chat. In most rooms that won't last long as your webcam host will want to get the meter going in the private chat room. However, the milfs and cougars here are professional and spend more time in free chat than on other cam sites, so take advantage to find out any useful information.
Private Chat
Going private has few different options to choose from. First, a 1 to 1 private cam chat starts at a minimum of $1.10 a minute with an average of $2.80 a minute. There's also a cam2cam option on the sidebar in the room, which is usually $1.00 to $2.00 a minute more than the private show price. Also 2 way audio is priced at a premium the same as activating your camera. Beware that each web model sets their own prices.
Additionally, you sneak a peek for 20 seconds at 1.99 ($2.20) credits, meaning you can look in a private show and take Snapshots at 0.30 credits a photo, but you can't comment, tip or give gifts. It's a fun option to get a taste of the models that always seem to be occupied.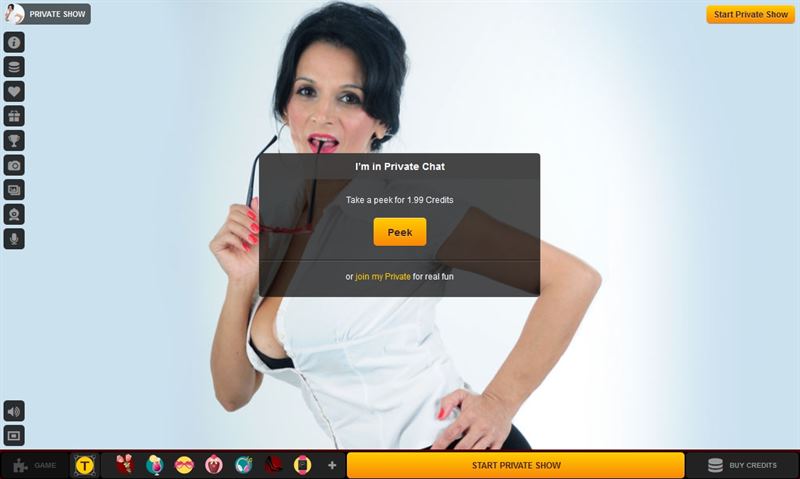 Usually when I visit a live cam site, I expect to see sexy cam girls stripping off for my pleasure. Although, I was startled by two groups on the sidebar, Soul Mate and Hot Flirt. These groups are very different to the rest since the hot cam girls in Soul Mate don't strip at all in Private Shows, while Hot Flirt girls chat and flirt than anything else. That's not saying the Hot Flirt girls don't strip and perform 1 on 1 sex shows, but it's recommended that you ask first as you might be disappointed.
VIP Show
These performances are a cheaper option than Private Shows as they are group shows, where you pay for a seat and wait for the show to start. The show only starts when the online cam host reaches her tip goal, which is displayed along with a time limit. If the tip goal isn't reached in time, the show is cancelled and you receive a full refund. These shows are accessible through the sidebar, or you can search directly by name in the search bar.
Payment Methods
Credits on LiveJasmin can be obtained using various payment options including:
CC / Debit Cards - Visa, Mastercard, Visa Electron, Visa Bleue, Diners Club, Maestro, Discover, JCB, Union Pay
PayPal
Skrill
Bitcoin, Ethereum and 50+ other kinds of Cryptocurrencies
Gift cards (Starbucks, Walmart, Target, Best Buy and others)
LiveJasmin set up their webcam billing platform to meet the international standards of PCI DSS (The payment card industry standards for compliance). McAfee and VeriSign rigorously scan and test for vulnerabilities to prevent your securely encrypted data from being accessed. Additionally, this popular cam website checks that no information related to mature live porn appears on a client's personal statement or any other documents that could suggest he has paid for services related to adult webcam content.
Customer Support
The customer care service is excellent at LiveJasmin, which explains why it's the best in the industry. They respond within minutes if not sooner with an answer to your question. I found this surprising as I'm used to the bots handling my question badly, but not at LiveJasmin. They provide live support 24 hours a day to all users. Additionally, inquiries can be made by email and phone as well, including a dedicated line for billing.
Positives and Negatives
Positives
✔ Excellent high definition streaming
✔ Mobile cam2cam
✔ Models can broadcast from their phones
✔ A huge number of professional models
✔ Super promotions for new members
✔ Navigation is user-friendly and very effective
✔ A selection of payment methods, including PayPal, Crypto and gift cards
✔ Immediate customer support 24 / 7
Negatives
✖ No free nudity in open chat rooms
✖ Limited types of shows
✖ Members pay extra for 2way video and audio
✖ Weak membership loyalty program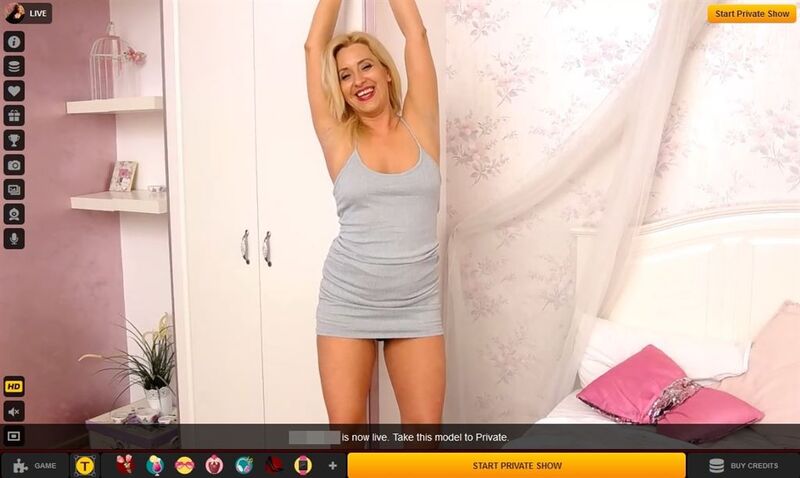 One Final Word
In short, LiveJasmin presents a huge amount of gorgeous mature cam models in HD720p. The features, like mobile cam2cam and Mobile Live increase your access to all the girls, whether you are out and about or they are. Also the sites navigation and different categories make it easy for you to access all the girls and benefits of the cam site. On the flip side, you can't preview the girls' forms in the nude, and you have to pay for every little extra on the site. With all that, I still find that LiveJasmin is a great cam site because of the viewing quality and the stunning older models.
Review of LiveJasmin.com
- Reviewed by
hdcamsites.com