Flirt4Free.com - Is that advertised HD all that it's cracked up to be?
Nice to say hello again. As you're here, I guess you're expecting another of my wonderful HD Cam Sites reviews. How am I to disappoint? Yes, I've been expanding my HD Cam expertise by looking around the web for another tasty adult sex cam site to run the rule over. The site in question this time around is Flirt4Free.com. I'm always attracted to any site that can provide the word "free" in the title. Read on to find out what else I think.
Flirt4Free.com is yet another site that has been around for a significant amount of time. The site can trace its roots all the way back to 1996, which sure is a long time in the world wide web scheme of things. I wasn't able to find out how the site looked in those in internet-fledgling days, as Flirt4Free.com doesn't allow itself to be archived, for some reason. Over time the site has amassed both a very loyal following and several awards ... seven in fact, including five from XBIZ, the adult porn industry publisher. I guess someone thinks that Flirt4Free.com is doing okay, but more importantly, what do I think? I guess you're just going to have to read on to find out!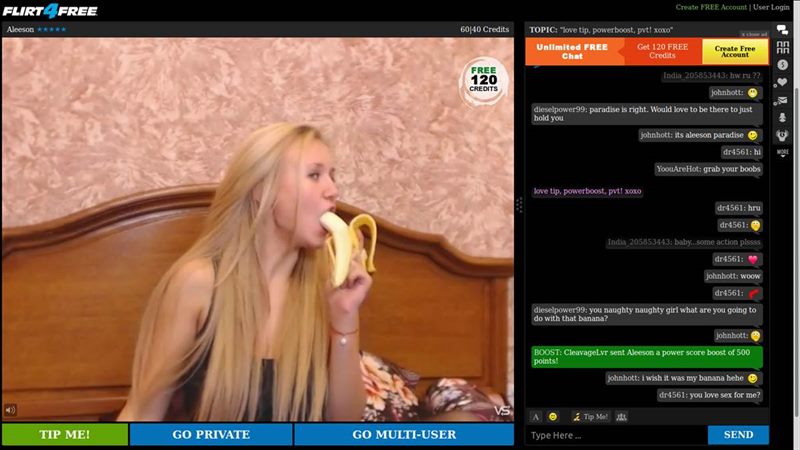 My considered thoughts
Pop across to the site and you're already on very familiar ground. They haven't good for anything much unique when it comes to the interface at the site, which is hardly surprising, as when you enter an adult cam chat site the last thing you are going to want to do is wade through a load of menus to get to where you want to be. It's hot cam models you are after, and it is hot cam models that you are going to be getting. They have, however, put a little extra thought into the site's design as you can access a little more info about each model by clicking on the "gear" icon in the top right hand corner of each model's thumbnail. You can also see what your chosen xxx cam babe is up to by hovering your mouse over her menu picture, unless she is in a private show, of course.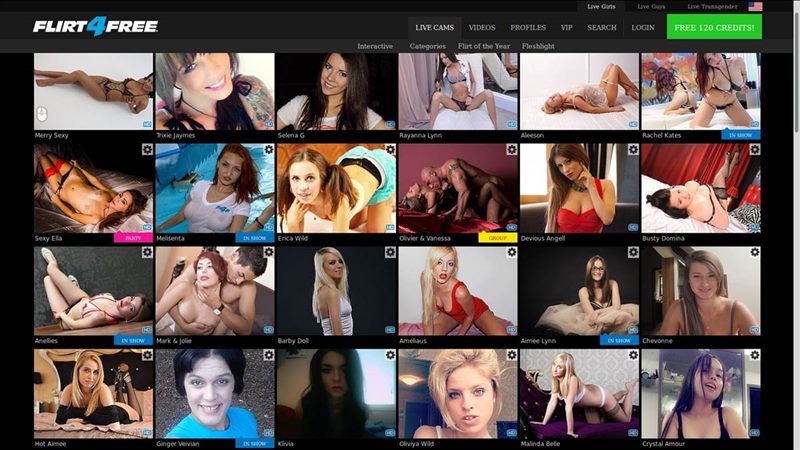 You're not going to be getting too excited about those little extras you have at the site, especially if you're determined to get as much for free as you can. You can do a little looking around, and enjoy a little bit of free chatting, but that really is about it. For anything extra at Flirt4Free.com, you're going to need to pay. There are lots of very high quality ladies at the site - some of whom you would not be surprised to see delighting audiences in a porn film. You do though have to pay a little through the nose to experience all that such sex cam models can offer you. It's mainly babes at the site, although there are a few guys, and transgendered people as well. And as far as the basic stuff at Flirt4Free goes, then that is about it, I'm afraid.
Anything else?
So, the site is called "Flirt4Free", yes? But that is about all you are able to do at the site for free, and I'm kind of guessing that if you have ended up at one of these sites, you're going to want to do a whole lot more than flirt. To do so, you need to get paying. As soon as you have bought some credits you are automatically upgraded to "Premiere" membership, which allows you a few bonus benefits, such as watching recorded set shows. To get the real deal at Flirt4Free then you need to upgrade all the way to VIP membership, where you get to experience a whole lot more. This includes access to a special, VIP-only video vault, and exclusive model photo galleries.
There's also a decent sense of community at the site, which includes a dedicated forum where you discuss virtually anything you want with your fellow Flirt4Free.com members.
Becoming a member
It's nice and easy to become a member of Flirt4Free.com. All you need to do is chose your username and a suitable password, and supply your email address. Once you have done that, you'll get sent a confirmation email with a link that you need to click on to activate your account.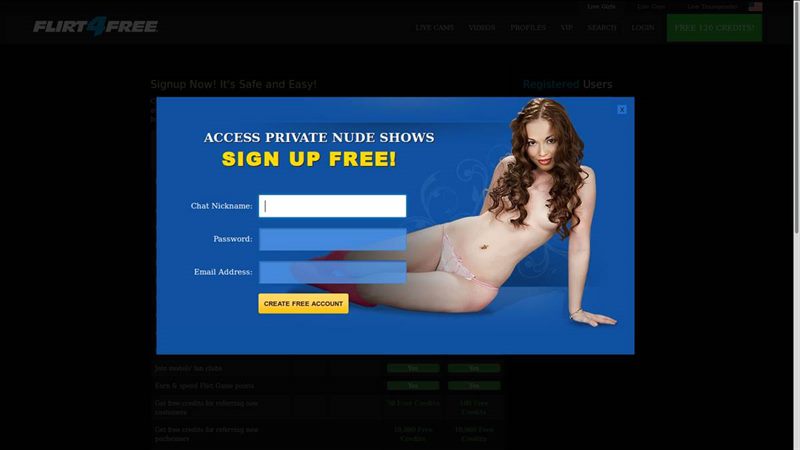 Let's get chatting
This is where I think Flirt4Free scores the biggest points. There's the free chats of course, and you can pay the going rate to indulge both yourself and your chosen babe with a little private action. There are a few other options. If the adult cam model allows it, you can pay a reduced fee to enter a private show and see what's (or who's) going down - although you you won't be able to interact with the performer at all. Another option is to join a group show. The model will set a price for her show, and if you and a few other guys chip in enough to make the price, you'll all be invited when the group show begins. The final option is where you can negotiate a price with the model for her to perform in a certain fashion.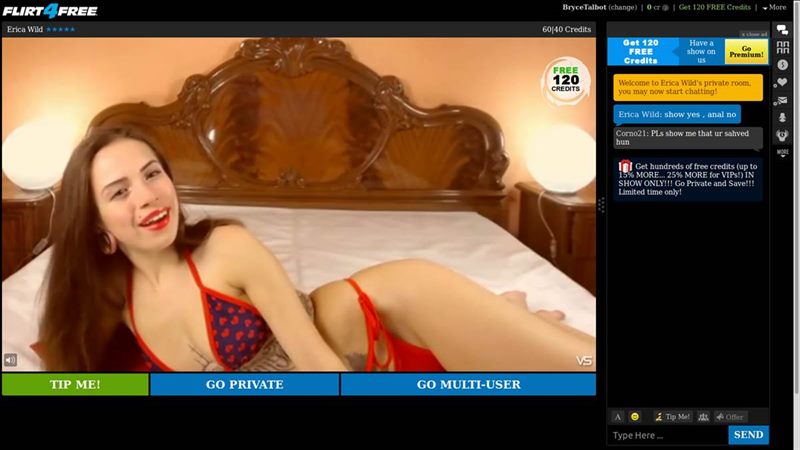 Quality of video
Naturally, this site is all about HD, so when I see HD promised and HD is not delivered, then I get a little angry. And I'm afraid to say that Flirt4Free.com does make me a little angry, as some of the HD is really pretty poor - pixelated and jerky. Some of it is perfectly fine though, so I guess it's just the luck of the cam!
Putting your money where your mouth is
They have a credits system at Flirt4Free.com, and it cost $1 for every ten credits that you buy. When you join the site you get a special deal for 120 free credits as long as you buy some credits on top. You can pay a little extra for VIP status if you want.
Registered users, who are first time buyers can choose to spend $10 for 240 Credits (90+150 Bonus) or you can choose to pay a slightly higher price of $25 for 415 Credits (225+190 Bonus).
There are two VIP packages available - basic membership at $39.95 a month, or $49.95 a month (includes gift of 300 bonus Credits). VIP members have access to extras and benefits which include: 1 hour feature shows with porn stars, 1000's of cam model photos and access to 150 free videos each day, to name a few.
For additional Credit packages (members only), I suggest using the EPOCH Payment Portal. From the homepage, click the small 'head' icon (located top right). This redirects you to an account information page, including a menu bar (left of page). Click Billing, then select Add Payment Account. Choose EPOCH.
Additional Credit Packages: 225 Credits for $25, 500 Credits for $50, 1000 Credits for $100 and 2500 Credits for $250.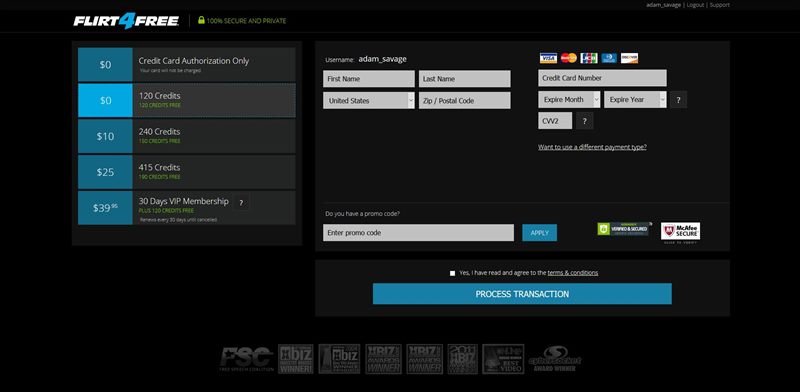 Ways to pay
MasterCard, Visa, Discover, JCB and Diners Club credit cards are the only payment methods accepted at the site.
How many xxx lovelies?
Quite a small number - only around 4,000 models are registered at the site. You'll find around 100 online at any time when you visit the site.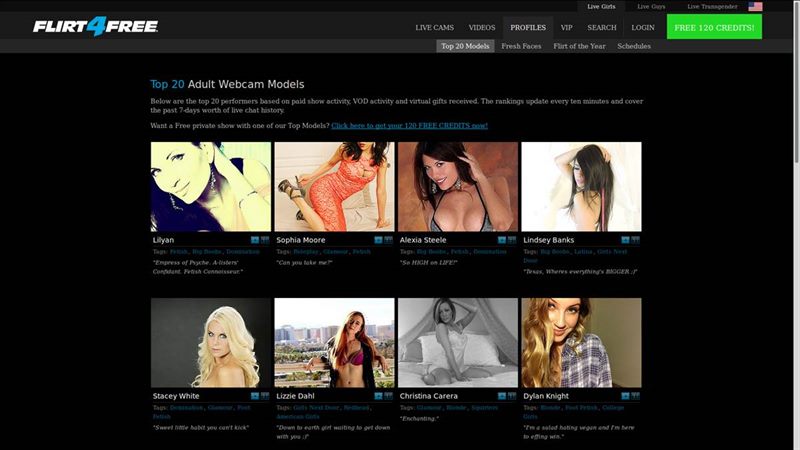 Help when needed
The forum is a very good place to get help, as you can chat with your fellow sex cam fans and discuss all aspects of the site. For official help, there is the live chat window, and email adresses and phone numbers are provided as well.
Positives and negatives
Positives
✔ - The sense of community - I really like the forum
✔ - The vast majority of the adult cam models are really worth lavishing your attention upon
✔ - If you're willing to stump up the cash, you can get a lot of bonus features
Negatives
✖ - It costs too much to chat to some of the hottest x-rated cam babes - as much as $9 a minute
✖ - The chat window at the site is too elaborate and distracting
Summing it all up
There only bad things I can say about Flirt4Free.com are the expensive fees some of the models charge (although it is quite easy to find less expensive babes that are still hot), the poor quality of some of the "HD" cams (although, again, you can find good HD if you look hard enough) and the lack of extras if you're just a basic member. Still, one of my mottos in life is "you get what you pay for", so if you want to get the very best out of the site, you're just going to have to take the plunge and tap in your credit card numbers. I think you'll certainly be delighted by the standard of x-rated babe you're going to be encountering at the site.
Review of Flirt4Free.com
- Reviewed by
hdcamsites.com