CamWithHer.com Has Both Potential and Problems
I wrote this review a fear years ago, it seems that CamWithHer have not maintained their standards. While they might be a HD cam site, they are not a site I could honestly recommend. CamWithHer never have more than a dozen models online, even at peak hours. Don't waste your time or money on them. If you want unsurpassed quality, you should check out LiveJasmin.
Hi! In case we haven't met before, the name is Walter and my profession is reviewing the best adult webcam sites online, as well as a few who are far from the best. I am a strict critic who believes that sexchats should always be awesome and that prices should always be fair and I expect to have fun on every live porn show I see. In this CamWithHer review I will offer you plenty of useful information that can potentially help you figure out if this sex cam community should receive your attention and cash. I will tell you how many live camgirls are there, evaluate the feature quality and price level and will hopefully provide you with a full assessment. Read what I have to say and I am sure that all of your questions regarding this nude webcam site will be answered.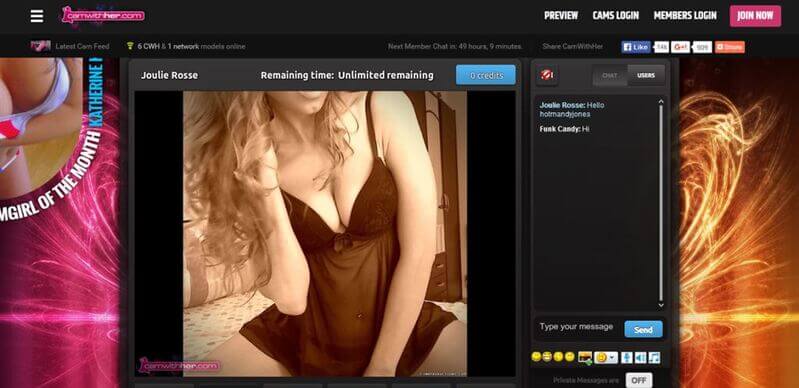 My considered thoughts
My first impression of this sex chat community was quite positive. The women seemed to be extremely attractive – models, but not so models that they become inaccessible, if you know the type. The photos were beautiful – hot and naughty and the camgirls had all sorts of sexy lingerie, something that I (and I am guessing 99 percent of the world's male population) always appreciate. However, when I looked closer I noticed that most of these gorgeous chicks were not online. In fact, there were only six live camgirls. That means I could hardly choose - I had to settle with what I have and it's a good thing that what I have were stunning women.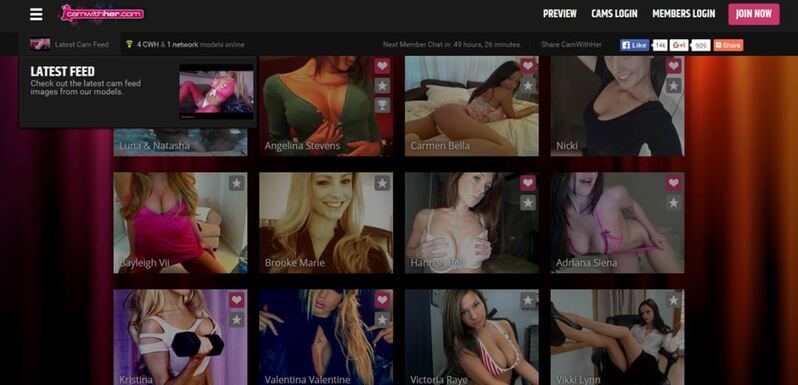 The chat rooms look good and the streaming was as close to perfect as it gets, but I was a bit irritated when I realized that I couldn't see the women inside the free chat rooms unless I buy some credits. I did – well, I had to, and besides: I was planning to watch a few live porn shows anyway (you know, for research), so it wasn't like I didn't need some credits to begin with. This is a pretty expensive adult web cam site. Cost per credit isn't too high, but the live camgirls charge as if they were professional pornstars – and from the look of it, they might actually be one. If they are, this would also explain the large selection of porn videos that you will find on Cam With Her, not to mention the bonus porn sites you can access once you upgrade your membership to a paid one.
Anything else?
CamWithHer.com has a few features that you will recognize well: Cam to Cam that will enable you to show the model what you're doing during the sex chats, audio, HD cams – you know what I'm talking about. There are also a lot of fun activities between the live porn shows: Video archives (which I am pretty sure I already mentioned, but if I haven't, I should have – they're phenomenal) as recorded webcam shows (past sessions) and many photos – all hot and raunchy.
Becoming a member
Basic membership on Cam With Her is free, which an option I expect any serious adult cam site to offer, although keep in mind there is also a paid membership. In order to join, you just need to make up some wacky user name and a password – preferably one you can actually remember. Then fill in an email and you're done.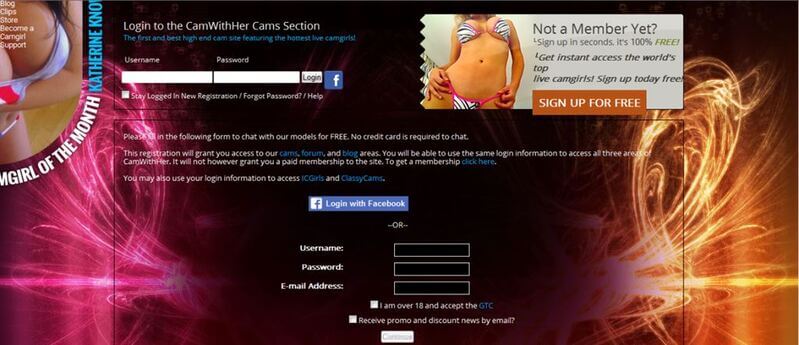 Let's get chatting
I wish I didn't need to offer information about the video chats on this live sex cam site, I really do, but the names they give chats here are very weird. For example, free chat is not a regular free chat – because you can't view the webcam model. The private video chat is not private – the camgirl performs for a few guys simultaneously. The VIP chat is the private show (finally) and spy is the same as any other adult webcam site. It's very easy to start a chat, but watch out for those names: They are quite confusing. It took me a few visits to figure them out.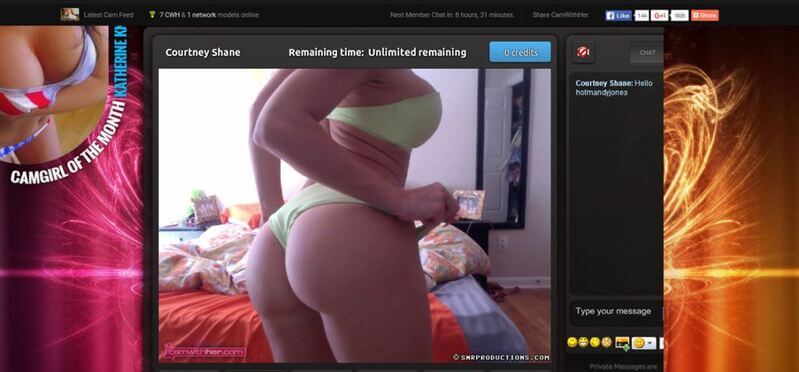 Quality of video
For the most part, I was very happy with the video quality on CamWithHer.com. It's obvious that this is an advanced webcam service and there is no difficulty enjoying premium sex shows. I have sampled a few chat rooms during my repeated visits and was always pleased. I would have liked to sample more – but the limited number of live camgirls stood in my way.
Putting your money where your mouth is
Let's start with membership costs. Basic one is free, but the paid one will cost you $24.99 for 30 days (reoccurring), $27.99 for 30 days, $59.99 for 90 days or $99.99 for 180 days – not all that cheap. What does this buys you? 20% discount on all webcam sex shows for starters. You also get access to member cam shows, ability to download recorded shows from the archives, ability to view images and videos and some bonus adult sites.
The prices for sex chats are relatively high. Group shows, which are referred to as "private chats" on CamWithHer, please don't ask me why, cost around 5 credits per minute, spy mode can cost 4.5 or sometime more, which is a lot to pay for the privilege of spying on someone who is already paying for the porn show. VIP webcam shows, the real private sessions, cost an average of 7 credits per minute and that is a lot.
I bet you now wonder how much a credit costs, right? Here are the details.
| | | |
| --- | --- | --- |
| Number of Credits | Cost in USD | Cost is Euro |
| 10 | $10 | €10 |
| 20 | $20 | €20 |
| 50 | $50 | €50 |
| 100 | $100 | €100 |
| 150 | $150 | €150 |
| 200 | $200 | €200 |
| 250 | $250 | €250 |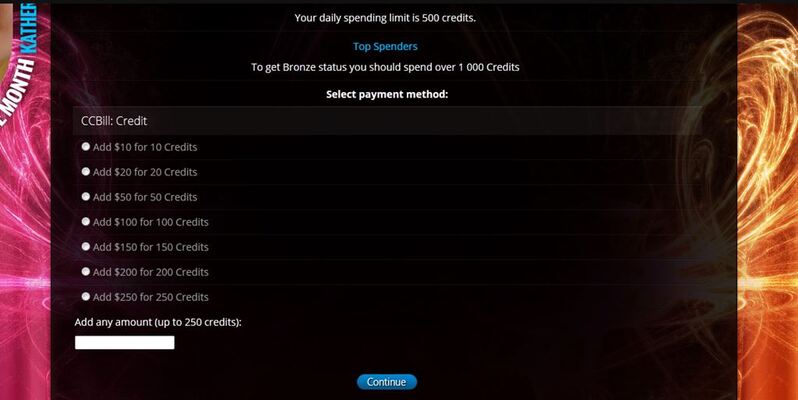 Ways to pay
There are several payment options to choose from on Cam With Her, so just picks whatever works for you. There is the traditional plastic: MasterCard, Discover, Visa and Diners' Club, and you can also use PayPal on an E-Check. Guys from Europe can choose to fund their accounts with EU direct pay and if you have some Bitcoins, the site accepts those as well.
How many xxx lovelies?
As far as registered camgirls, this website has around a hundred, and if you think this is a lot, then I would guess this CamWithHer review is the first review on my website that you have actually read. Spoiler alert: This is not a high number, especially when you look at the number of online chat rooms: There are no more than five or six available most days.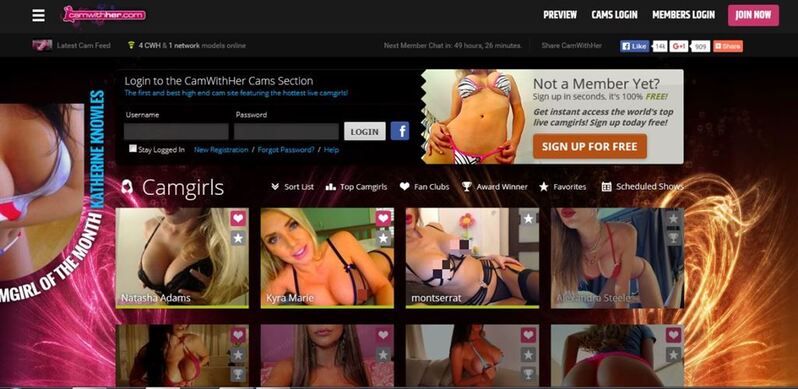 Help when needed
There is no Frequently Asked Question page on CamWithHer which is actually a pity. This sexcam site uses different terms than other services, so it would have been nice to see some kind of an explanation. There is, however, a Support link at the bottom of the page – of every page actually – and it will lead you to the location of a link to the Help Form, only it's not called a help form - 'Submit a Ticket' is how they call it here – this porn site just has to be special.
Positives and negatives
Positives
✔- The webcam models are unbelievably hot
✔- Navigation is simple and it's easy to find your way around
✔- There are many premium porn videos to enjoy
Negatives
✖- Prices are kind of stiff
✖- There aren't enough live camgirls online
✖- The site's funky terms for types of chats are annoying
Summing it all up
As I am coming to the end of this CamWithHer review, I have to admit that I feel a bit annoyed. If this adult webcam site would have been a complete waste of time, I wouldn't mind as much. What annoys me is that the live web cams actually hold a lot of promise – the women are beautiful, the platform is advanced, there are plenty of porn videos – why aren't there more models online? As is, I'm afraid that most of my readers will be disappointed by CamWithHer.com. Those who can handle a very small selection of chat rooms and appreciate a huge choice of videos should, perhaps, consider giving this site a try. Use the free membership to look around – at the very least you'll get to enjoy some smoking hot pics.
Review of CamWithHer.com
- Reviewed by
hdcamsites.com