Cheapest Chat Sites for Tranny Sex Cam Models
For all you penny pinchers, I have come up with the best cheapest tranny sites which offer superb adult shows for your nickel and dime. Or maybe even for free. And by superb, I mean video streaming quality as well. Coz what's the point of a great hardcore selection if there is no adequate HD connection. So, please browse my notes below about getting the best for less in the shemale live sex cam world.
Chaturbate

Chaturbate is a freemium platform offering practically complete access to full nudity for free. Although classified as freemium, I think it's more to the free end of the scale, because with such a huge offering of free hardcore action, payment is really optional. The majority of its models are amateur, so if this is what floats your sex boat - you've come to the right place.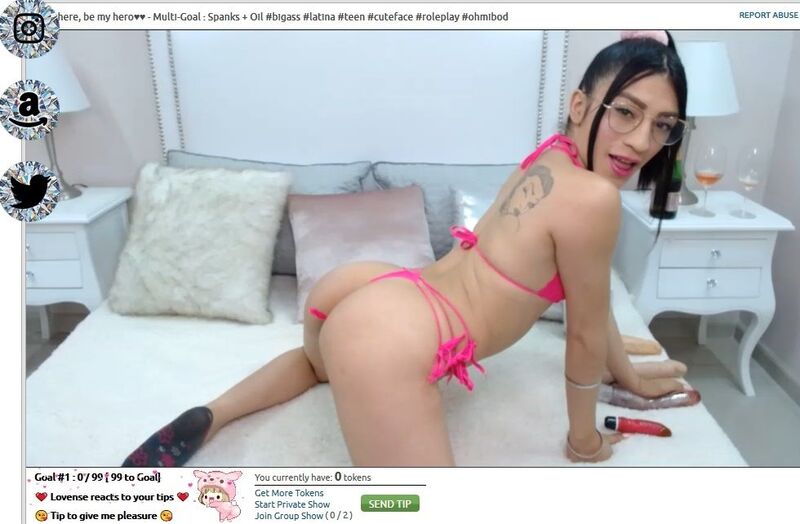 The trans action on the site is abundant - well into dozens of models. They come in all ethnicities and shapes: White, Latinas, Asians and Blacks. One common denominator to all of them - their huge dicks and beautiful faces. You can see all kinds of action: single, couples, orgies. The site is one huge unbridled shemale sex fest. This choice of models is less surprising if you bear in mind that Chaturbate allows you to become a broadcaster yourself.
The navigation into transgender paradise is rather easy - there is a dedicated button on the upper bar where all categories are listed. Click it and the first page of cam rooms opens up with all the active performers.
Moreover, those streaming in high definition, have their rooms marked with an HD toggle. When you get into the room and click it, the menu shows you multiple speeds. 720p and 1080p streaming a pretty much the norm, with many models offering even higher rates.
If, despite all the free stuff, you do decide to engage your chosen LadyBoy privately, you won't need to pawn your pet for that. The prices are closer to the cheaper end of the scale. The lowest rate for the private chat starts at $0.60 a minute and the average hovers around $2.70 a minute. Cam2Cam and 2way audio are included in the price. Don't forget it's an amateur site - you can become an adult broadcaster yourself when you open your camera for 1-on-1.
There are multiple options to pay for the tokens, and those include both traditional options like all major credit cards and also many alternative methods like cryptocurrencies and PayPal. The platform is totally secure with regard to the money transfer technology.
Tip of the Dick: top rated site on my list for cheap tranny action, because in reality, you don't have to pay anything to get the show. If you are a freeloader like me, Chaturbate's porn paradise is for you.
---
CamSoda

Well, what can be said about CamSoda that hasn't been said so far? Despite its being labeled 'freemium', I would categorically declare it being totally free, because here as well, you don't have to pay a penny to see live sex cam action. The models are predominantly amateur (and amazingly gorgeous), which works both sides - some like it and some don't. But hey, they are all free, so who's complaining?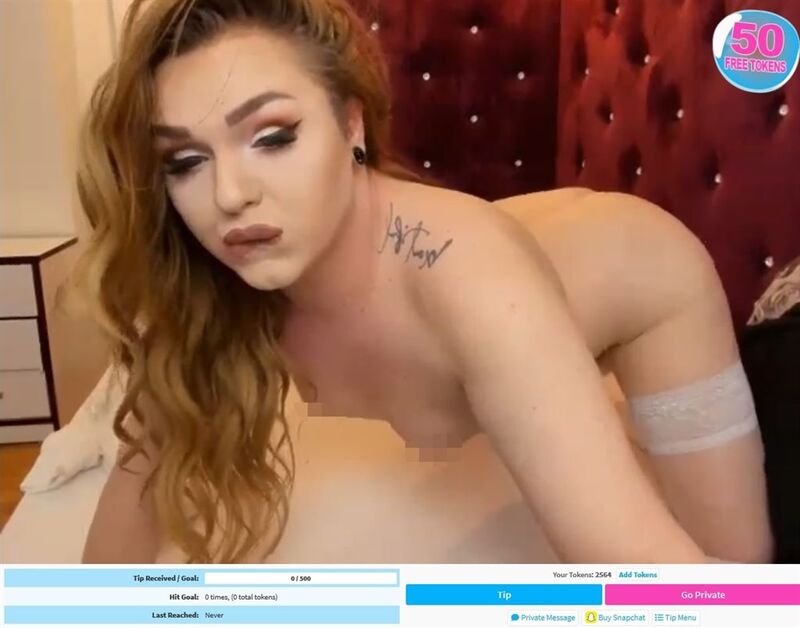 The choice of tranny action is not great. Below ten rooms at any given moment. Lets say that shemale sex is not this site's greatest forte, but hey, again - you don't have to pay to watch full hardcore shows. The models are a good mix of white and Latina tgirls. And being amateur, the shows may come across as a bit too "natural" and sloppy.
The search tools are another downer on this site, so getting into the trans action is cumbersome. There is a tiny blue settings wheel icon on the upper right corner above the screen, which opens up into additional tags, so you have to check the Trans button and 'hide' all the rest.
Kudos should be given where it's due - despite being totally free, all models stream in high definition. There is an HD icon on their cam room window that you can toggle on and off.
If you still want to splurge a bit and take your favorite ladyboy private, the rates are really reasonable. The lowest starts at $0.60 a minute with an average hovering around $3.00 a minuten. Cam2cam and 2way audio are usually included in the rates, so no extra charges here.
All major payment options are accepted, including many alternative ones like alt-coins and PayPal. The platform is totally safe for money transfers.
Tip of the Dick: second best site on my list for free transgender action, because you can get everything for no charge at all. Don't mind the meager choice - whatever is on offer is free.
---
MyTrannyCams

My TrannyCams is one hell of a fuck fest site dedicated solely to transgenders. No other genders are on the site. So if this rocks your cock, you have definitely docked at the right slot. The platform is a premium one, meaning you'll scarcely get any nudity for free, but even when dressed the babes are totally gorgeous. All ethnicities are there: White, Latinas, Blacks, Mixed race - all waiting to pleasure you to culmination. Although truth must be told, most of the cam performers are Asian or Latin.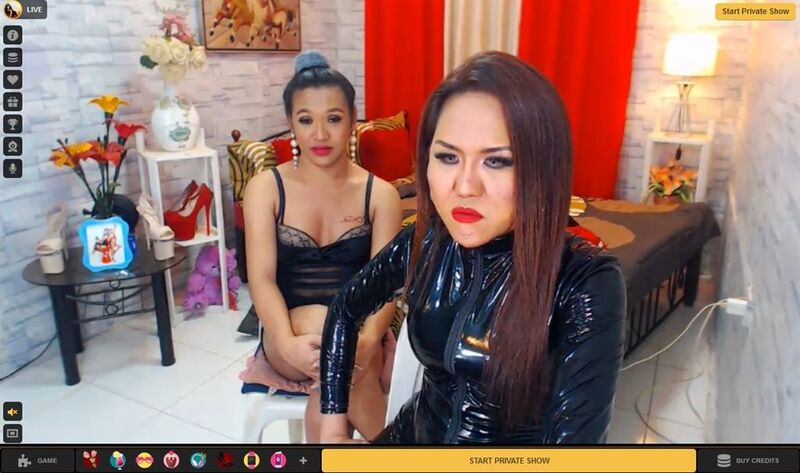 Having a site totally dedicated to Transgenders is no mean feat - it only attests to the demand out there for that type of sex action. The navigation is beyond easy - only one gender featured, the category bar on the left side of the screen lists all the available activity - you just scroll through and choose what live sex show to join.
The streaming is in HD of at least 720p. If higher quality is available, an HD toggle will be shown on the screen room. Usually, it's the next up resolution of 1080p.
The lowest chat rate starts at $1.10 a minute with the average being around $3.20 a minute. Cam2cam and 2way audio will be an additional surcharge of about $1.00 - 2.00/min for each, depends on the model's rate.
The site accepts all major credit cards, in addition to numerous alternative payment options, including gift cards, Bitcoin, and PayPal of course. Needless to say, the platform is totally secure with regard to money transactions.
Tip of the Dick: if you are a transgender sex cam aficionado and look for porn quality, this site is definitely for you. The standartization of models and video streaming quality is superb. Relative to the experience, the pricing is OK.
---
XLoveCam

So XLoveCam is another premium porn site with a nice offering of adult live cam shows. You'll hardly get access to any nudity for free (except for Topless Mondays), but when you become a paying member, the sex chats are really great.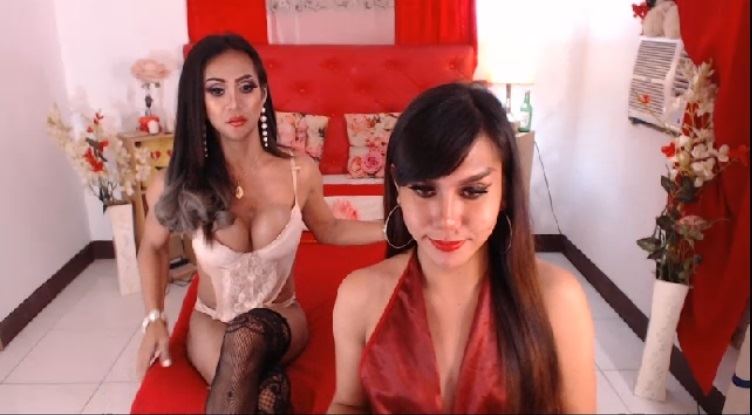 At any given moment, you can find about 20+ t-girls doing their stuff online. The selection is diverse and all ethnicities are represented: White, Ebony, Latinas and Asian. It's hard to gauge the proportion, but you can easily find your favorite trans performer, and take her for a private chat.
While the sexy LadyBoys are gorgeous, the cam streaming quality desires improvement. It's hard to find those that stream in HD - an expected minimum for a premium platform. Some minimal standartization is in order here.
So, no free XXX chats here, except for Mondays. Hence, if you wish to hang out with the tranny babes, you'll have to shell out some hard cash. But, the rates here at totally resonable. The cheapest and the average are very close, $1.80 and $1.90 a minute, respectively.
You can pay with all major credit cards (Visa, Mastercard, Discover, Diners Club), and also some alternative options like PayPal and Epoch. Pre-paid cards are also accepted.
Tip of the Dick: nice premium site with good selection of tranny action. Affordable, but in urgent need of a hi-def upgrade. Go in only if you have no other alternative.
---
Cams

So guys, Cams is one of the venerable 'oldies' in the live porn universe out there. It actually started out in 1999. But I will spare you the history lesson and just say that it's a nice adult premium site. Being premium, you can hardly get any nudity for free. And even when you do try to sneak a peek, you are constantly pestered by relentless pop-ups - either to sign up and later - to purchase tokens.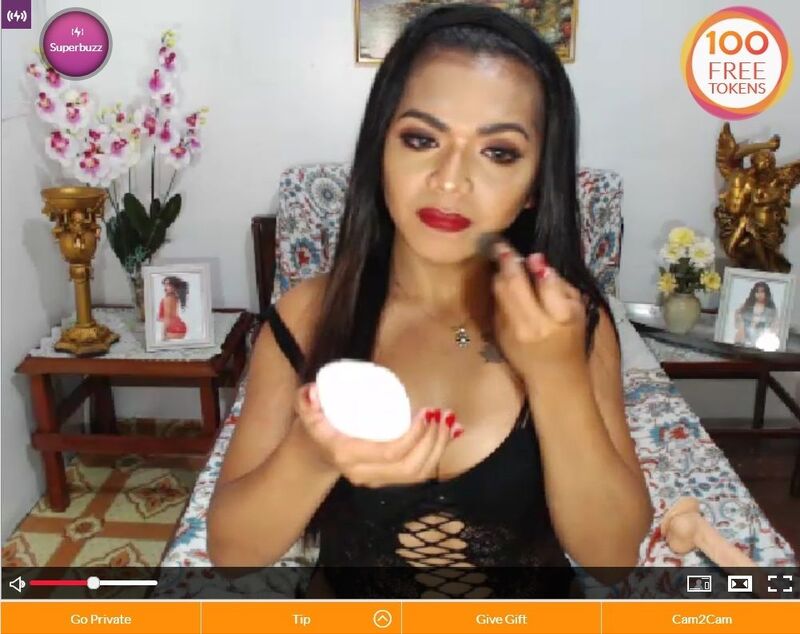 So it has a nice selection of transgender models. At any given moment, there are around 20 online. The girls are mainly Latinas and Asians, with an occasional white girl in the mix as well. Of different ages and styles, they are all really gorgeous and eager to please.
Getting to them is really easy, because site's navigation is super simple and intuitive. You can't go wrong with the three major categories in the upper bar (Female, Male, Trans) and some more detailed classification on the left side of the screen. When you get into their rooms, below the screen, you have a detailed profile of the performer, including all physical properties and preferences.
The video streaming quality is high definition for most of them, although there are some who still do low resolution. You can see which ones do HD from the icon on the screen room in a general category menu.
Now to the sensitive part - the pricing. These birds are not the cheapest, I have to say. You do pay a pretty buck for your hardcore indulgence. The cheapest rate for a private chat starts at $2.50 a minute and the average goes for around $3.00 a minute. But hey, those beauties might as well be worth it.
As a verteran site, they are also a bit old-fashioned with regard to payment methods. They stick to what they know and accept only the major credit cards, bank transfers, and checks.
Tip of the Dick: nice tranny selection and action, but a bit on the more expensive side. Limited payment options. There are more user-friendly sites, but if you are stuck for choice and it's your only option - go for it.
---
Conclusion
So the subject of this article was cheapest live sex cam sites offering transgender shows at high definition streaming quality. Basically - the most cost-effective ones. From this angle Chaturbate certainly takes the top prize back to the show rooms. While amateur models may not be everybody's kink, the value of free access to all the hardcore stuff with a reasonable amount of HD streaming rooms and the lowest rates for private chats make its offering unrivaled. If money is not an issue, then check out the other platforms mentioned here.
Review of Cheapest Cam Sites for Shemale Live Shows
- Reviewed by
hdcamsites.com