Fling.com is a Cute Sex Dating Community – Or is it a Webcam Site?
Today, gentlemen, it doesn't matter if you're in the mood to chat with a beautiful webcam model or with a slutty single, because I have got an interesting website on my plate and it offers plenty of everything. As this Fling.com review will quickly demonstrate, this adult dating community is also a kind of a sexcam portal and the result is an exceptional website that can satisfy any sexual craving.
Evidently, I am not the only one who holds this view. This is a huge community with millions of registered members from all over the world and many can be found online at any given moment. You get all the tools you need to hook up with a hot babe, to find no strings attached sex or just to chat live and watch XXX shows, and every fantasy you've ever had and were embarrassed to share can be easily explored and even expanded online.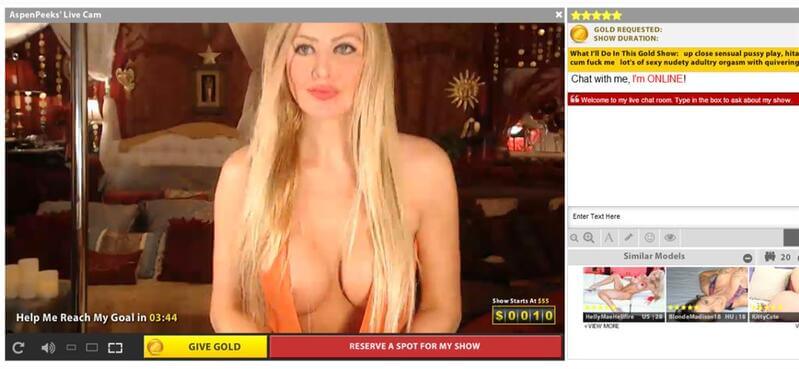 My considered thoughts
Usually I start my reviews with a quick visit to the relevant site and my Fling.com review was no different, I wish I could tell you that I remained professional and calm when I was instantly attacked with sexy images featuring horny women and couples going at it, but I am ashamed to admit that I got so overexcited that I almost forgot why I was online. After managing to collect myself though I've ventured into the profile pages and used the search options to assess what exactly I was facing. I ended up with a few hundreds of live singles in my area (no, I'm not telling you where I live, I've got enough stalkers as is thank you very much) and I was pretty thrilled by the selection and eager to try more.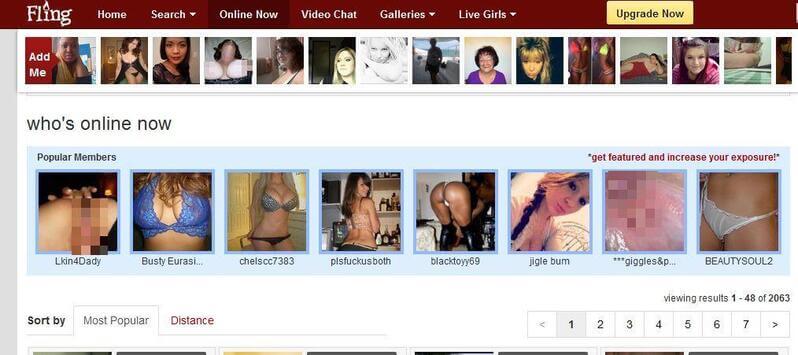 My only main issue was the mess, which was appealing to an extent, but borderline with sheer confusion. For example, it is hard to understand the difference between video chat, live members, who's online and models and the navigation could be a bit clearer. Also keep in mind that free membership is useless as far as contacting other members, so I had to upgrade before I could initiate communication. Before I did, I kept getting thrown out to the upgrade page, which was quite annoying considering that I just wanted to look around first.
This is not to say I didn't enjoy myself – of course I did, I just feel that I would have enjoyed myself more without the annoying delays..
Anything else?
This sex dating arena is not very big on features. You have some interesting options, like a rating tool that allows you to decide if a specific member is hot, and ultimately helps you get attention online, but the rest is your basic cam2cam, audio, IMs, etc. – nothing new. There is a very good selection of pics though, which is expected considering the number of horny singles that are registered to Fling.com.
Becoming a member
The first thing I had to do when I started my research for this Fling.com review was to sign up, and I am happy to say I did so in less than a minute. You only need an email to become a free member and while this free membership is pretty limited, it will still allow you to create a profile and manage it and to browse the site.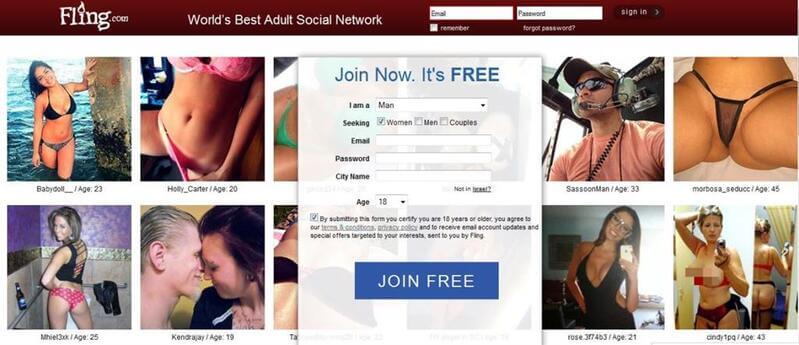 Let's get chatting
Fling.com suffers from multiple personalities. Is it a webcam sex site or an adult dating community? I am confused. On the one hand it's nice that finally there's an adult dating site that's honest about the presence of pro webcam models. On many other portals these babes are just promoted like regular "singles" and guys actually think they have a chance of scoring with them in real life, and meanwhile end up paying buy the minute. In this case a user can choose, and the camgirls are even on a separate section called FlingLiveGirls, but if this is the case – why are they there to begin with and not on a separate webcam site? Also, there are member chat rooms, so things can get a bit confusing. In any event, if you've read any of my other site reviews, you know that I am not the kind of guy to be complaining on having many chat rooms. You just have to tread carefully so you know which is which, and what category you're actually on.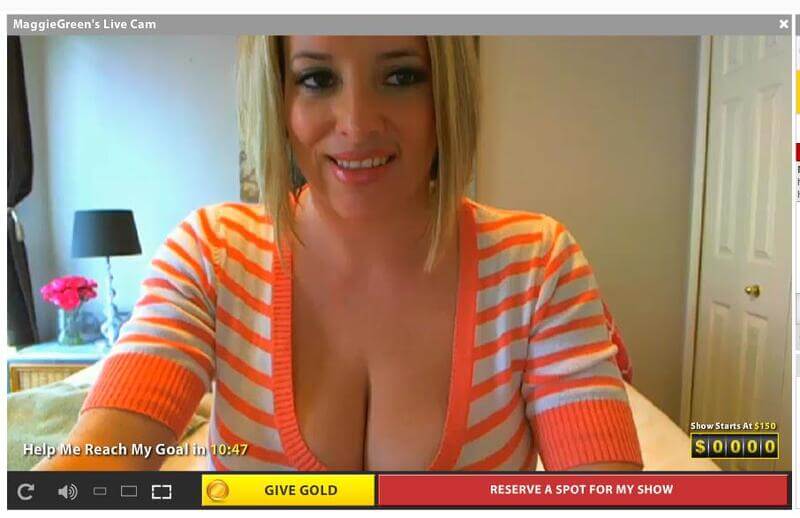 Quality of video
Video chat quality on Fling.com varies a lot. Some women have splendid webcams, others not so great. Streaming though was very good and as far as I could tell the site's platform is very well-made.
Putting your money where your mouth is
No need to break your piggybank to use Fling. There are two types of memberships: Silver and Gold, and they are both affordable. Silver membership costs $25 bucks for 1 month and $100 if you're committing for 12 months. Gold membership costs $1 for a 2 day trial, $35 for 1 month and $120 for 18 months, that's right – an entire year and a half.
As mentioned earlier in this Fling.com review, there's a free membership, but it won't get you far.
Ways to pay
You can use most of the major credit cards to pay for services on this sex dating site, you know - Visa, MasterCard, etc.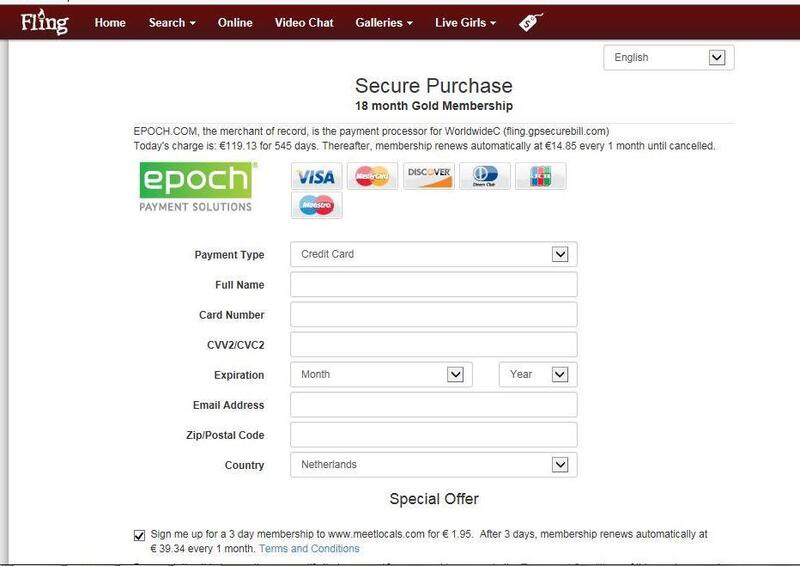 How many xxx lovelies?
Millions of men and women and couples and probably trannies too use Fling.com and there could be over 20,000 folks online on a good night, but this figure doesn't matter and I'll explain why. If you're after webcam sex, the relevant number would be the number of live chat rooms which is usually a few dozens for members and around 1,200 for models. If you are after an actual fling as in hooking up in the real world, you'll need to focus on women that reside in a fixed radius from your home and in that case I can't tell you how many chicks you'll find – fuck, I don't know where you live.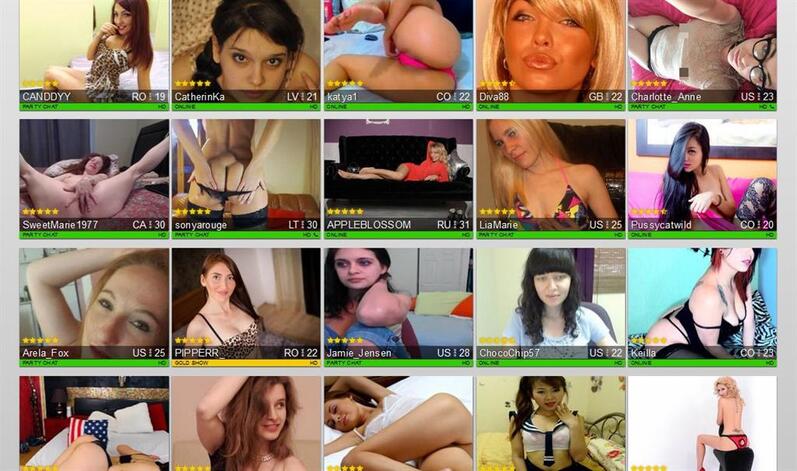 Help when needed
Look at the bottom for the help link and follow it all the way to a nice page that has contact option and FAQs.
Positives and negatives
Positives
✔- It never gets boring.
✔- The amateur women are hot and the camgirls are even hotter.
✔- If you choose the 18 month option, price is ridiculously low.
Negatives
✖- You can't do anything significant before you upgrade
✖- There are no memorable features
Summing it all up
We're now reaching the end of this Fling.com review and I hope you can guess where I'm tilting to. Fling is a great site with numerous members and a fine choice of live sex chat rooms and while you probably would need to pay for membership, you won't need to pay a lot and you'll be getting your full money's worth. I do find the whole mix up between models and singles a tad confusing, but I love webcam sex, so for me it's a win-win situation. Go visit Fling and use the free membership to get a feel of this sensual community. See if it'll impress you as much as it impressed me.
Review of Fling.com
- Reviewed by
hdcamsites.com