LiveAsianWebcams.com - a very good-looking Asian cam site!
Update: As of the end of the year, 2019, LiveAsianWebcams.com has merged with SakuraLive.com. Read our full review of SakuraLive, here.
Welcome once again to the Asian babes area of my HD Cam Sites web portal. Naturally, in this section I will be telling you all about the latest adult sex chat site I've uncovered in my quest to bring you all that is good (and not so good ... but not always in a bad way) about Asian sex cam sites on the web. The latest site I need to inform you all about is called LiveAsianWebCams.com. I guess that with a name like that there really is very little debate about the kind of content the site will provide for you. If you're still not sure then you wouldn't be reading this as you obviously lack the capacity to turn a computer on!
LiveAsianWebCams.com has been around since 2009, but did very little at first (just a parked domain name) as the site was obviously undergoing development. it sprang into proper existence into 2011 as the site you can see from the screen-grabs depicted here. The site has not been seriously developed since. It is owned by a company based in California, and that completes just about all I can tell you about the background to this largely secretive site.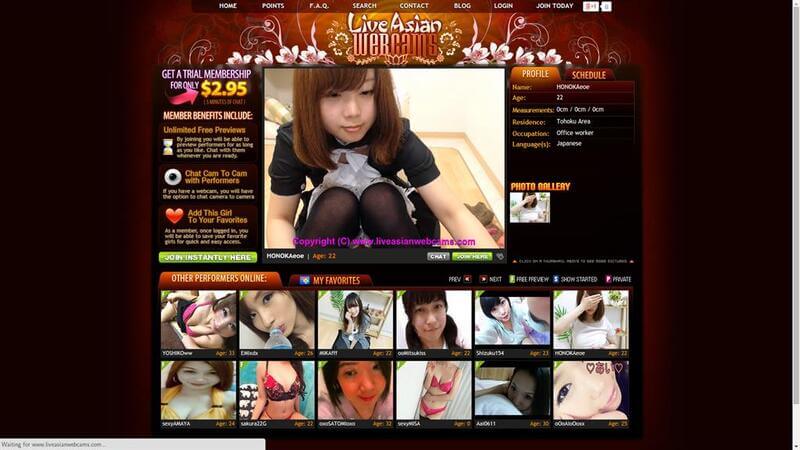 My considered thoughts
A nice greeting awaits you at LiveAsianWebCams.com. I suggest you either pop to the site (once you have finished reading this review of course) or even better, pop down to the bottom of this review and see the enticing screen grab. Unfortunately, such banner images are the most positive thing to say about the site, other than the site being rather pleasantly designed, in a graphic designing kind of way.
The menu screen is typical of most, although the menu thumbnails do not give away a great deal of necessary information - only the Asian sex cam performer's screen name and her age, and a tiny piece of text in the corner to display which kind of show she is involved in. You cannot obtain a sneak view of the model's cam by hovering your mouse over the image, either.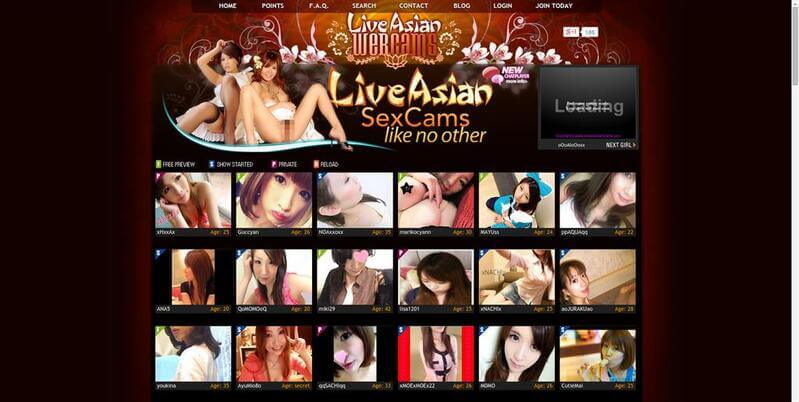 There is a menu of sorts but it is completely uninspiring. The "Points" selection ("Points" are what LiveAsianWebCams.com calls credits) takes you through the purchasing screen, and the "Search" screen has very few search options - just the age, skin color and breast size of the type of porn cam model you're seeking. The contact options are not very good (as I will describe later), and the FAQs look like they were written when the site came online and they haven't been updated since. The Blog doesn't even work at all (the blog is/was created via Wordpress yet the site is missing MySQL - the database extension needed for the blog to function). Aside from that, you have the "Login" and "Join Today" buttons.
The cam screens are just as unexciting. There's a very brief profile and a few photos. I assume registered members get a little more to look at. There is no indication as to whether any particular cam is HD or SD. The chat also opens up in a separate pop-up window, which the site sells as a plus point, yet I have the opposite view.
Anything else?
Full members get the limitations on free chat (see below) lifted, and the ability to cam-to-cam during private sessions. Aside from also being able to save a "favorites list", that is about all.
Becoming a member
The first screen for registration just asks you for your chosen username and password, and your email address so you can confirm your account. The second screen then asks you to register your credit card, and you cannot register at the site unless you do so. Registration costs $2.95, for which you get five free minutes of chat.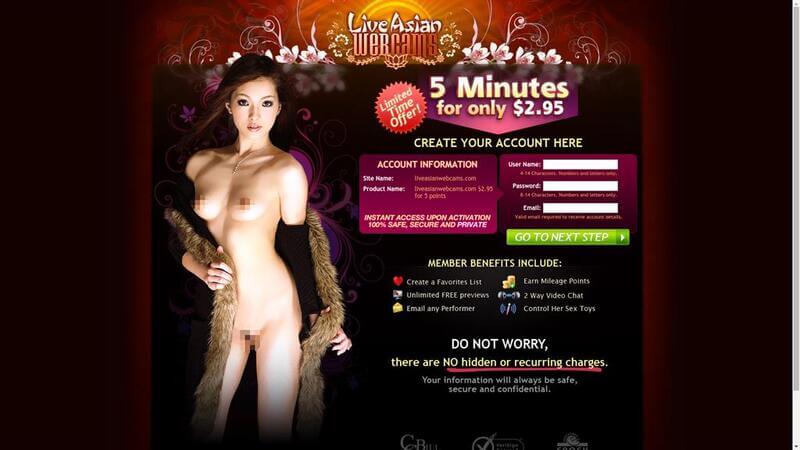 Let's get chatting
The out-of-date FAQs give lots of options but I cannot be certain they are accurate. There does not seem to be anything like free chat available. You can "free preview" which involves looking at a cam screen for one minute with no option to chat. The cam shuts down after the minute, and you cannot run a free preview on the same model twice. According to the confusing FAQs, any form of chat costs one point per minute, and one point costs between $1.80 and $2.50, depending on how many points you buy. One-on-one chat costs double that. There are other options available, but I cannot guarantee what is reflected in the FAQs is accurate.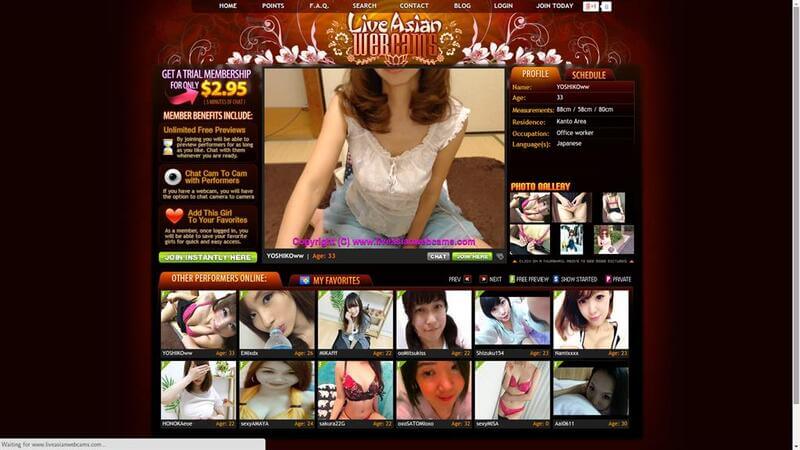 Quality of video
From what I've seen, the quality of the video is pretty good, but a little hit and miss. You can use the free previews to see the standard of the cam before going any further. There is no indication whether a cam is HD or not. Nearly all the models sit with the cam so their face is not in view. I am not sure if this is deliberate or not, but my best guess would be that it is.
Putting your money where your mouth is
The only info on the site about cost is that one point costs between $1.80 and $2.50 depending on how many you buy in one go. I guess such important information is only available to registered members. Don't forget it's $2.95 to register, for which you get five minutes of chat time.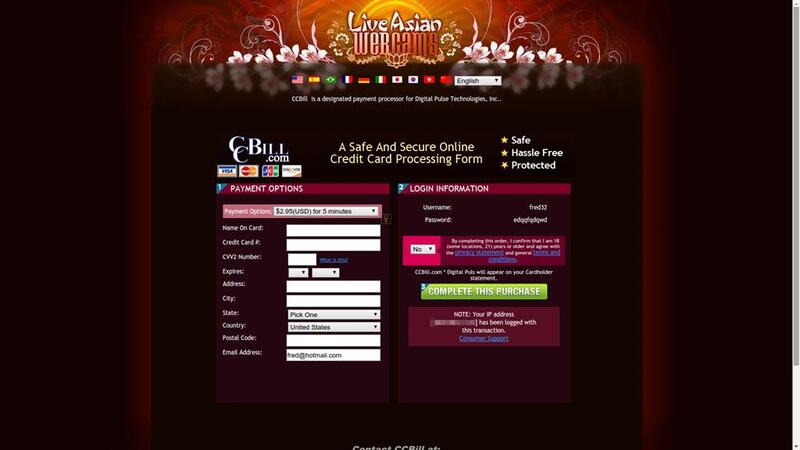 Ways to pay
Credit cards only here:
Visa
MasterCard
Discover
JCB
How many xxx lovelies?
There are just about 2,000 models registered at LiveAsianWebCams.com. You'll find a little under 80 or so online whenever you pay a visit.
Help when needed
Very poor support options. There is only a contact form. Any decent adult sex cam site should have at least an email address given, and contact telephone numbers.
Positives and negatives
Positives
✔ - The standard of the cam screens is more than acceptable
✔ - The banner images at the site are really ... phwoar-ish!
Negatives
✖ - No free chat unless you're registered and the free previews only last one minute
✖ - You can't register for the site unless you're prepared to register a credit card
✖ - The models hide their faces when in "free preview" mode
Summing it all up
I don't think that myself and LiveAsianWebCams.com are going to be the best of buddies. There is simply too much for me that strikes me as dissatisfactory about the site for me to regard myself as a regular user, and I'm more confident at receiving a higher standard of service is most departments elsewhere. You may feel a little more friendly about the site, though, I have to admit. You'll just have to visit yourself and find out.
Review of LiveAsianWebcams.com
- Reviewed by
hdcamsites.com