Not All Cam Sites Support Cam2Cam on Mobile - These 5 Do!
The next and necessary step in the evolution of HD live sex sites is Cam2Cam on mobile. The ability to interact with your model on the go, not being confined to a static computer screen significantly enhances your user experience and allows you considerable flexibility in managing your live porn time.
Unfortunately, only a relatively small number of adult cam sites have taken this evolutionary step and enabled their members the fun of going on camera on their smartphones or tablets. In this article, I will describe what is included in their mobile c2c services in terms of technology and prices.
CamSoda.com

CamSoda is one of the industry's leading freemium adult cam sites. You can watch full nudity for free delivered by the 400-600 hardcore models online in the public rooms. Of course, if you are into a 1-on-1 chat, you can enter a private room and enjoy a full HD solo porn show. These private rooms include a c2c connection plus 2-way audio, so you can interact with the performer.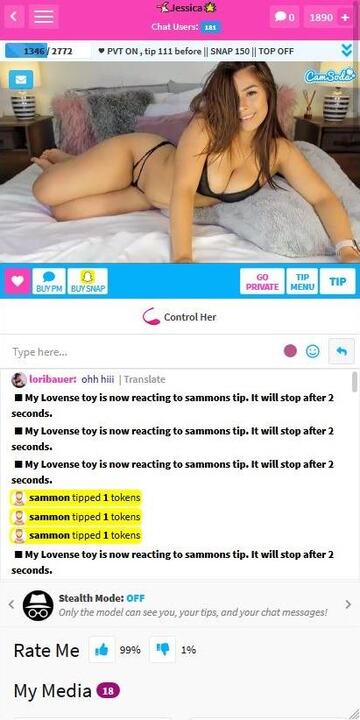 CamSoda was the first video chat site to make the technological leap and introduce Cam2Cam sex chats on a mobile. It made sure that starting such a chat would be easy for any user equipped with a smartphone and a decent WiFi connection. The broadcasting quality looks crisp and streams smoothly, similar to what you expect from your desktop. Thankfully, a number of models broadcast in HD, promising you a hi-def show.
What I really like about CamSoda, apart from the free nudity, is the option to record your private shows. This option exists on a mobile as well. One of my greatest joys is to review the live chats I have had with the cam girls. Then I figure out what I missed and what could have been done better. And in light of that, I come better prepared for the next private sessions, which improve from one show to the next.
In fact, to establish a cam2cam link with a performer on your cellphone, enter a model's chat room and start a private chat. Then you tap on a small green camera icon and you're good to go.
The average price of a one-on-one porn show on CamSoda is $3.00 a minute. Although c2c and 2-way audio are included, it's still not cheap. Luckily, you'll be able to find models charging less. The cheapest price I've seen was $0.60 a minute.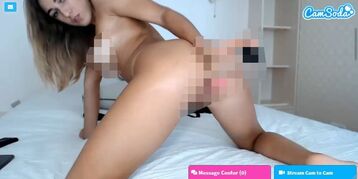 Last but not least, another feature that I find to be highly useful is the ability to set a private chat date with a model in advance. For busy people such as myself, this feature is a life saver as it helps me find quality c2c porn time amidst a sometimes impossibly tight schedule.
---
LiveJasmin.com

When you hear the words a 'premium adult sex cam site', LiveJasmin immediately jumps to mind. By far, this is the best live porn place on the web thanks to superior HD streaming quality and stunning xxx models all well adept in the art of performing in front of a webcam.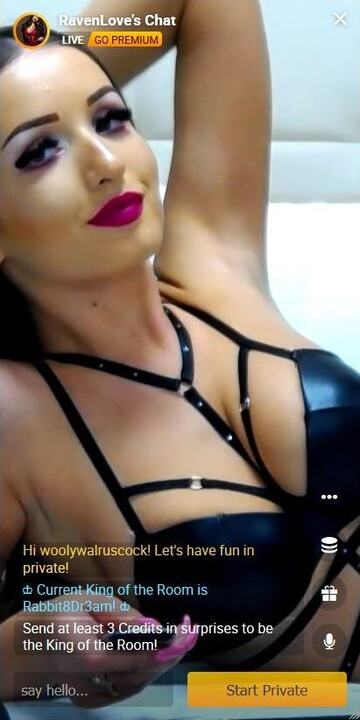 On any visit to the site, you will find more than 1,000 beauties waiting to give you a good show. Also, LiveJasmin has a large section of male and trans models if you are into it. The site can be viewed in 18 languages, promising a truly global reach. LiveJasmin doesn't offer too many features. Its philosophy is simple, yet effective. It lays sole emphasis on HD live porn shows of the best quality available. Everything else is an unnecessary distraction. As such, the site offers advanced Cam2Cam options on your computer screen and on mobile.
Being a premium website, LiveJasmin doesn't show nudity in the public rooms. To experience the real porn action, you'll have to enter a private chat with the model. You can do that by tapping on the Start Private button in a model's room.
If you want to start a Cam2Cam chat from a mobile device, look for the '3 dots' icon (it appears beside the chat window) and press on it. You will see more icons opening on your smartphone screen. Press on the webcam icon to turn on your camera. It's simple. All it takes is a few taps and you can interact with a beautiful model in full HD.
A live one-on-one show costs on average $2.80 a minute. The cheapest show I found (and I ran quite extensive research) stood at $1.10 a minute. It is quite expensive compared to other adult sites, which support HD Cam to Cam on mobile, but good quality has its price. Once you go on c2c on your cellular device with LiveJasmin, you can expect virtually zero malfunctions.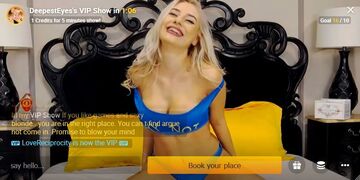 Undoubtedly, the best thing about LiveJasmin's mobile c2c feature is the broadcasting quality. Putting aside high definition streaming, which goes without saying, once you start a private chat on your smartphone, you will see the model zoomed in (You can zoom out with a quick double tap on your screen) covering the entire screen. It gives you a sense that she is really near you and that you can actually touch her.
---
Flirt4Free.com

At Flirt4Free, you'll see a superb display of sexy cam models glamorized in the gallery through an array of elegant professional photos. This premium sex chat site is easy to navigate since it's clearly organized and provides a host of features and shortcuts to connect to your preferred cam models.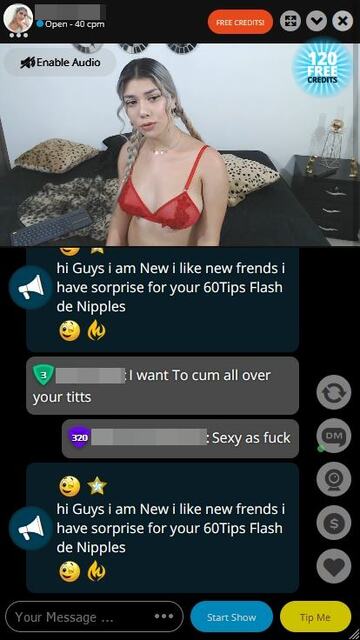 The numbers look good on this premium HD cam site, where they parade over 600 cam models. Also, you'll notice by the sleek design of the mobile site along with it's exceptional customer support that you're at a professional cam site with all the trimmings, including streaming high quality resolution up to HD1080p.
Making use of cam2cam on a mobile device is accessible from all of the private cam rooms and live shows including group shows and party chat. There is only one catch, you need to become a VIP in order to enjoy the benefits. Of course, you should already realize C2C is not available with the Voyeur Mode.
To access the mobile Cam2Cam enter into any private room and select the middle icon on the right of the screen. This presents two options, one, to test your cam2cam, and two, the Cam2Cam buttons to switch on it on. Also, if you're running the old Flash plugins, C2C is accessible but limited to private and multi-user shows. Alternatively, if you've installed the free WebRTC option from Firefox or Chrome you can access C2C in all shows.
On average, the cost for a private show is about $4.10 a minute. Although, the cheapest show is significantly lower at only $0.45 a minute.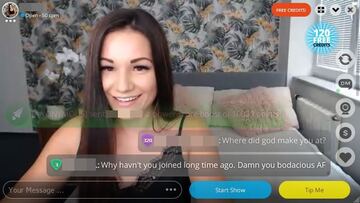 From my perspective, the best advantage of using FLirt4Free's mobile phone Cam2Cam feature has got to be the ability to use it in all show types. While the high streaming quality helps, the fact that I can use this in a private chat, party chat or a group show makes this very tempting.
---
xLoveCam.com

xLoveCam is another sex cam site that stands at the forefront of the adult industry. At any given moment, it hosts around 400 online beautiful performers, many of which are stunning Milfs and Gilfs ready to entertain users looking for c2c sex chats with mature ladies on their computer screen or mobile device.
One-on-one porn shows on the site come in two forms. The first is called Private Chat, but it is not 100% private as up to 4 other users can invest credits and spy in. The second is called Xclusif and as the name suggests, it enables users to be alone with the performer blocking spectators.
Both Private and Xclusif chat rooms broadcast in high definition and fully support Cam2Cam and bidirectional audio on mobile without any additional cost apart from what you have to pay to start the show. In Private Chats, voyeurs cannot go on Cam2Cam with the model. This privilege is preserved only for the user who initiated the chat. What is more, voyeurs can only see the model's feed, so no need to be concerned. What you will choose to do on the camera is for the model's eyes only.
To open a mobile camera2camera link, you need to invite a model to a Private or an XclusiF show and press the 'share camera' button. It's simple and intuitive to the extent that even the most technophobic user will manage to get along.
A private camera to camera chats cost $1.90 a minute. If you search a little further, you will find some lower rates of $1.80 a minute. For an Xclusif chats, you will have to add around $1.20 a minute.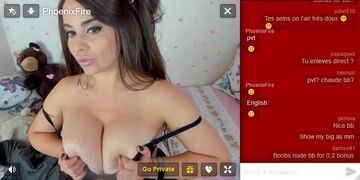 In short, two-way camera and audio on mobile give xLoveCam the upgrade it needs to be on the list of the leading live sex sites today. But apart from that, the site offers some additional cool features and events that make it popular among many porn users. For example, the menu bar in each chat room enables users to access internal pages without returning to the homepage. Also there is "Topless Monday" on which most models appear topless in their free public rooms every Monday.
---
SecretFriends

Secretfriends' chat rooms offer a premium and a freemium experience at the same time. On the one hand, you will be able to start interactive 2-way camera shows on mobile like the top premium sites I have reviewed above. One the other hand, you will enjoy some free nudity that you will rarely find on premium sites.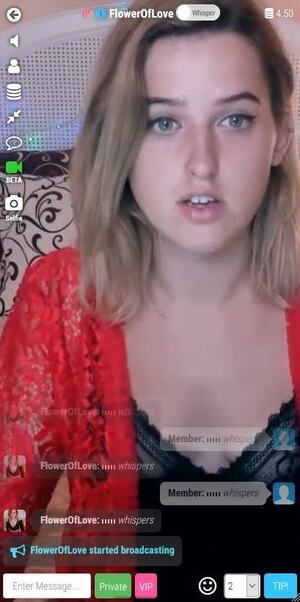 True, there are not too many performers ready for live chat on Secretfriends - we are talking here about close to 100 sex cam girls online most of the time. But when judging each model individually, you will be mesmerized by the beauty of the girls SecretFriends hosts. More than that, the large majority of the chat rooms, private and public, broadcast in high definition. All the rooms enable Cam2Cam on your desktop, laptop and smartphone.
As to audio, there is a difference between the show types you will choose. Private Chats, which allow peekers, will not include your audio. You will be able to hear the performer and not the other way around. VIP Chats, which exclude peekers, have 2-way audio. You will be able to communicate with the model verbally in addition to watching her on C2C.
To enable Cam2Cam enter an live performer's cam room and select the green Beta button and then Start. It's really easy to use and costs the same as a VIP chat.
What prices can you expect? By and large, private c2c chat costs $2.50 a minute. VIP chats demand an extra $0.50 a minute.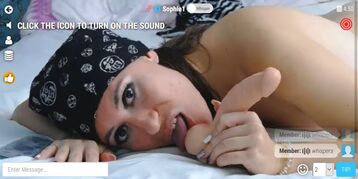 What distinguishes SecretFriends from its peers are, undoubtedly, its unique features. The most noticeable one is an online casino. You can actually bet on credits by playing Poker, Blackjack, Slot Machines or Wheel of Fortune. In other words, the site offers you the two most basic elements the constitute every man's pleasure: hi-def interactive live sex and gambling. What else can you ask for?
---
A Few Final Words
It is no secret that web browsing today has shifted to the mobile environment, and that also includes live porn. More and more online sex cam consumers rely less on their computer and more on their smartphones. They rightfully expect to have the same enjoyable experience on their cellular devices as they have on their laptops and desktops.
The five adult cam sites I've examined in this article are pioneers in their field as they understand that HD broadcasting and basic Cam2Cam on a computer screen are no longer enough. Their members must be able to engage in interactive sex anywhere without being confined to one place.
The site that I dig the most for turning on my phone's camera is CamSoda. It simply has a very intuitive setup, good private chat show prices, and some of them most wild girls online.
Review of These 5 Cam Sites Offer Cam2Cam Over a Mobile Device
- Reviewed by
hdcamsites.com