BongaCams.com - Where your dick isn't the only thing that pops up!
Hmm. I have a little bit of a headache at the moment, but I guess it wouldn't be fair if you came here expecting another one of my fantastic HDCamSite reviews and came away all disappointed. I can't have you bad-mouthing poor old Walt all over the weird and wonderful world of the world wide web can I? Anyway. hold onto your hat and hold my hand, and off we swing ...
The site I have chosen to appraise this time goes under the amazing name of "BongaCams.com". Now, what sort of a name is that, really? I guess all the good domain names had gone by the time the site decided to enter the fun and feisty world of online adult sex cams. And I'm guessing that that's a pretty good guess as the site has only been up and around since 2012, which as I am sure you will know makes it a real newcomer among all the sites you'll find reviewed on these here pages. There's not a great deal of information I can gather about it on the web (aside from some pretty poor reviews - but hey, I like make my own mind up). It was started in 2012 (as I said) by Beron Services Ltd, who don't seem to have that much of a presence on the web either. it all looks a little shady to me, to be honest, but on I shall press.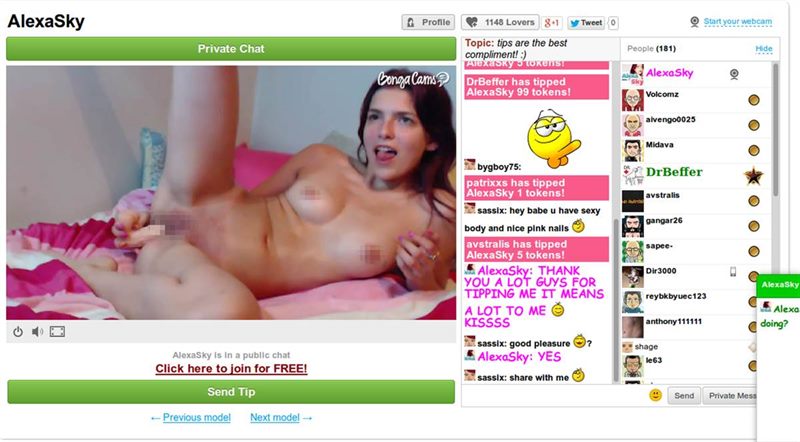 My considered thoughts
BongaCams.com has all the essentials of an adult sex cam site, that can't be argued with. The menu starts off (once you have cleared the first of many, many, many annoying pop ups) with a webcam sneak view of the ladies who are waiting to pleasure you. Even though most of them are in free chat, you will see that lots of them are willing to display the goods they have. I think this is because the main way for the sex cams babes to make money at this site is via tips, so they go that tiny little bit further to entice punters to chip in. If you want to keep an air of mystery about the site, then I suggest you switch over the the thumbnail view. You are also able to adjust the size of the cam or thumbnail windows, which is pretty nice. There's the usual categories menu on the left hand side of the screen (although it has much fewer categories than other menus I've seen), and there's usually some promo menu across the top.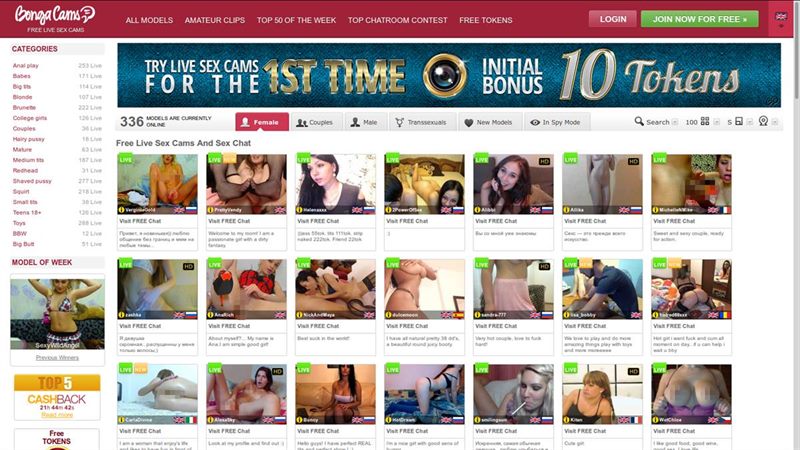 One thing I must warn you about is that if you have a fear of pop ups, then do not go anywhere near this site. I have already told you about the "RU OVER 18" pop up ... well, that's just the tip of the pop-up iceberg. You really need to install some kind of pop up blocker, but I had one installed and it didn't help. If you're just trying to browse the site for free, you get a pop-up exploding onto your screen every sixty seconds or so telling you to register. Of course you register to get rid of the incredibly annoying pop up ... only for it to be replaced by another pop up telling you to buy credits every sixty seconds again. It really gets annoying, and it puzzles me as surely potential members to the site are going to be put right off by this tactic? Obviously, not everyone, as the site gets four million page views a month.
As I said, If BongaCams.com has a minimum list of boxes it needed to check in order to become an adult amateur cams site as fast as possible, then it surely has managed to check all those boxes. There's nothing overly wrong with the site (aside from the pop ups), but there's absolutely nothing exciting about it either.
Anything else?
No, not really. No videos, galleries, VIP scheme. It's all bells and no whistles.
Becoming a member
Another minus point for BongaCams.com here. When I clicked the "Join For Free" button I got a pop up that only asked for my email address. I thought this was quite convenient, so that's what I went for. I got the email telling me my account name, and it was just an unmemorable string of letters. I though I could change it ... but no, I was stuck with it. At least I could change my password ... but no - I tried FOUR times and it failed ("Your Password Link Has Expired") every time. I recommend that if you do register here, you use the registration screen below: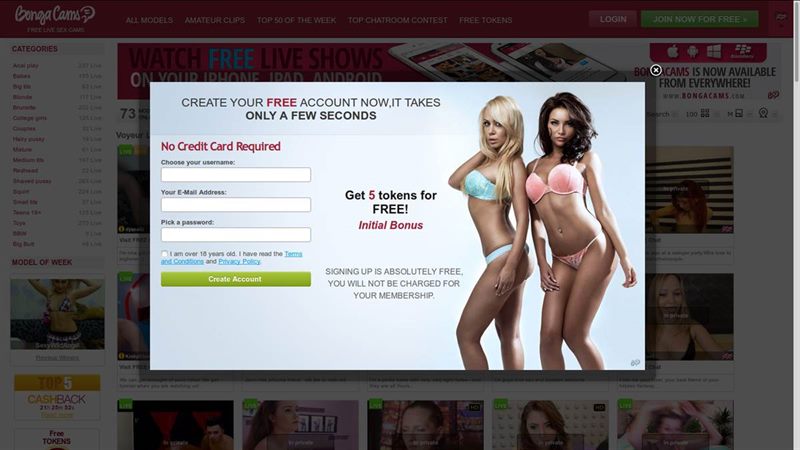 Let's get chatting
There are five ways of chatting:
Public Chat - The usually useless public chat where you're annoyed by pop ups and the camgirls ignore you.
Private Chat - 30 tokens a minute. Private in so far as other punters are allowed to look in.
Group Chat - 15 tokens a minute. The xxx model will start the show when enough (at least three) people have joined.
Voyeur Chat - 8 tokens a minute. Entry into someone else's private show, although you can't interact.
Full Private Chat - 35 tokens a minute. Same as private chat although no voyeurs are allowed.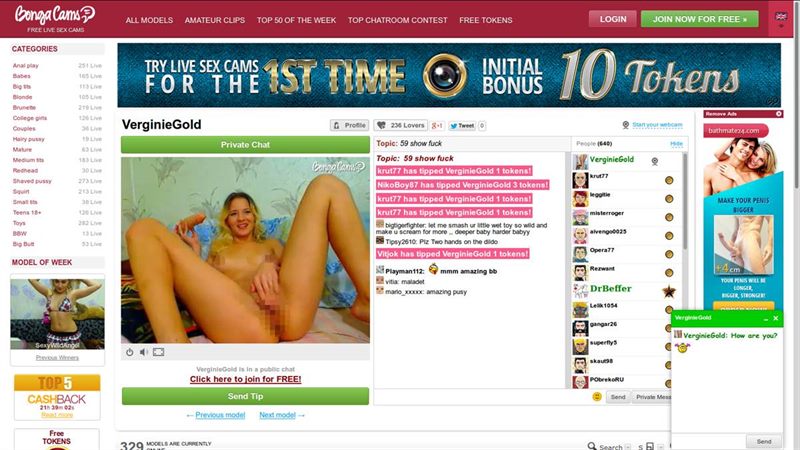 Quality of video
Not all the girls have HD, but the HD I have seen is okay. Not brilliant, but not bad either.
Putting your money where your mouth is
You buy (and spend) tokens as BongaCams. Here is a list of the available packs:
EUR €
Price
Tokens
€1.99
9
€4.99
29
€9.99
71
€24.99
200
€49.99
425
€65.99
565
€74.99
670
I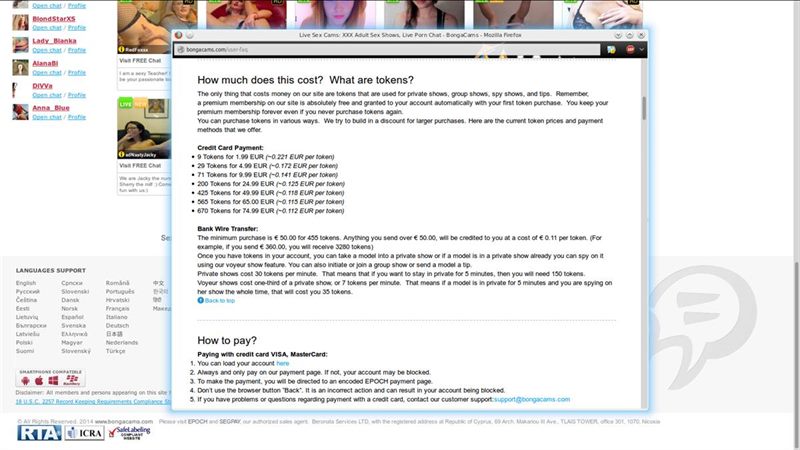 Ways to pay
Wire Transfer is available as long as you spend a minimum of €49.99 for 455 tokens. You can also use MasterCard or Visa. Amazingly, both Bitcoin and PayPal can be used.
How many xxx lovelies?
Various sources claim between 2,500 and 3,500 on the site. You'll find well over 100, and sometimes pushing 200 online at any one time.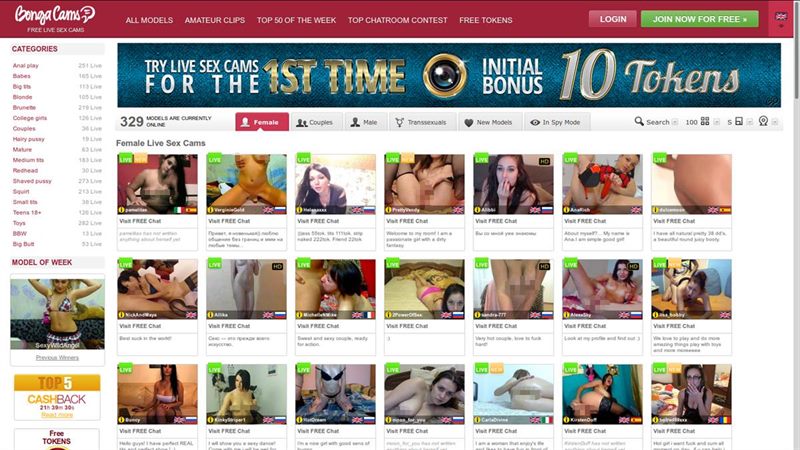 Help when needed
BongaCams.com does not have a good reputation it seems for customer support, reading other reviews across the web. There's a decent enough FAQ although it should have been proofread as it is littered with errors. You can try the email and phone numbers, and there's a live chat feature as well.
Positives and negatives
Positives
✔ - Lots of raunchy sex cam ladies ready to go quite the way, even in free chat
✔ - No problem with some of the HD, which of course is really important
✔ - No hidden fees or extras
Negatives
✖ - Some of the models are a bit "ropey" - and there have been some complaints that they don't do what you ask
✖ - Those pop-ups certainly get quickly annoying very quickly
Summing it all up
Not sure where I stand on BongaCams.com, and reading other reviews across the web, neither do lots of other people, as some hate it, but just as many love it. It gets brownie points from me for being transparent - no hidden fees, monthly fees, VIP packages for extras etc. You buy tokens, and then you spend tokens in whichever way takes your fancy. I hear that some of the models aren't that good at following instructions, as a lot of them do not have English as their first language. BongaCams,com loses points from me for that godawful stupid name, and for those pop-ups which will have you chucking your laptop out of the window. For now, BongaCams.com gets a caution thumbs up from me, but I really suggest you do your own homework for once and take a look around at the site yourself.
Review of BongaCams.com
- Reviewed by
hdcamsites.com