TrannyCamModels.com - wanna get dirty with pervy porno performers?
Good afternoon. Or good evening or good morning, wherever it is where you currently find yourself. it is afternoon here in New Mexico, and a very fine one at that. I have just spent the previous couple of hours growing accustomed to the latest cam site to fall beneath my expert gaze. As you have found this particular region of my website, I suspect you already understand that the site I will very shortly be telling you all about is a niche site for the particular enjoyment of people who enjoy viewing shemale sex cams. This is indeed true, and the site I shall be telling you about is TrannyCamsModels.com.
From my initial investigations it appears that TrannyCamModels.com is a clone site, from another site called Cams2Chat.com. I have also found that some other sites - the vast majority of which appear to be Asian in origin - link into the site to share their cams, which I suppose helps to keep the numbers of adult sex chat models available up. Both sites are owned by a Las Vegas based company called Labuyo, and TrannyCamModels has been around since 2007 as a transsexuals cam site, created by a company called Interactive Management Systems. IMS are linked with Labuyo in some way I could not completely ascertain. TrannyCamModels.com underwent a radical makeover in 2013.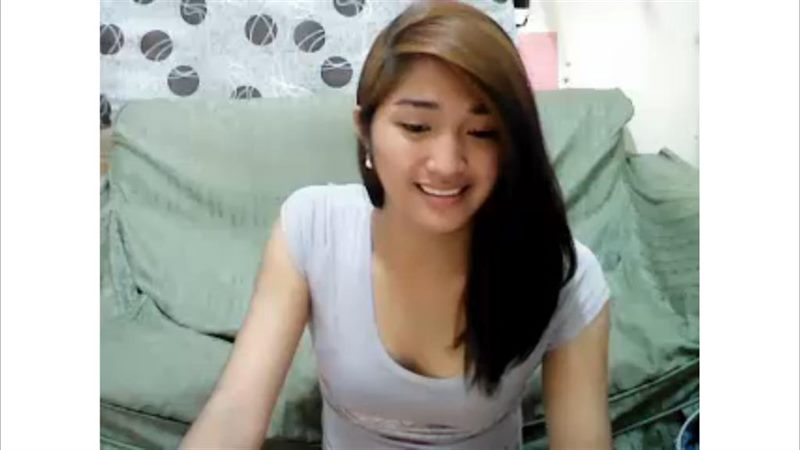 My considered thoughts
My initial thoughts at TrannyCamModels.com were good. The color scheme has been well-chosen - pinks and blues on a deep purple/black background - which inspired me to think this was a site worth dealing with. The menu thumbnails are a little small, and the information you are able to glean from them is not particularly inspiring - just the "alleged" locations (most of them have USA flags, but once you start chatting with the models, you find they are mostly from the Philippines) of the models. You can see the model's profile from the menu, and if she is (again, allegedly) streaming in HD. The mouse-hover trick to view the model's current activities unless she is in free chat also works at this site.
The menu along the top allows you to see who is online and to view all the profiles of the models currently registered at the site. If you have registered, you can access your favorites list if you have saved any models to it, your personal profile if you have set one up, your search history and any messages you may have received in response to your own from the sex cam shemales. Finally, you can access the site's rather scant FAQs, and the equally scant support options.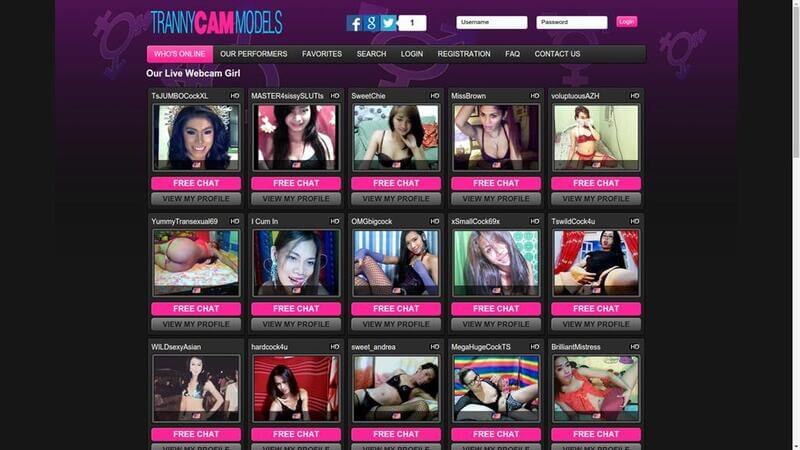 The cam views themselves are not that inspiring, and really do need to be brought up to date. The initial applet window is rather small, but can be expanded. Going full screen is not really that recommended as the image does become quite blurry, even if the model says she is streaming in HD. All the functions you need to access can be accessed by the cam screen, including those all important pay buttons.
Anything else?
As sadly seems to be the norm with these "cloned" sites, not a great deal of extra benefit is available. The models have both image and video galleries, but most of the explicit items have to be paid for.
Becoming a member
To join, you need to select a username, a password, a screenname and to type in your email address. For some reason that is not explained you also need to indicate your gender. Once all that is done, just confirm that you agree to the T&Cs and click "Register". You are all set once you have replied to the confirmation email. Doubtless if you already a member of that other site I mentioned, then you are already a member of TrannyCamModels.com by default.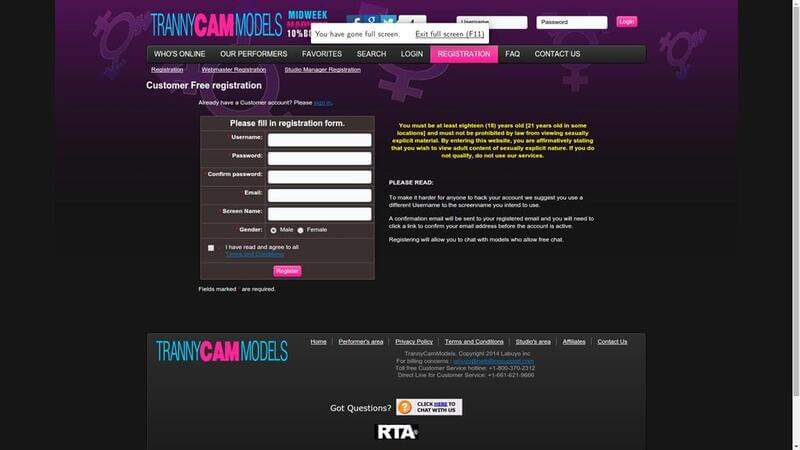 Let's get chatting
Free chat IS free, but you are limited to an hour of free chat per model per day. There are two types of paid chat - Group Chat and Private Chat. The only difference is that more than one tranny cam viewer is allowed into Group Chat.
All forms of paid chat is available at the bargain price of $1 a minute.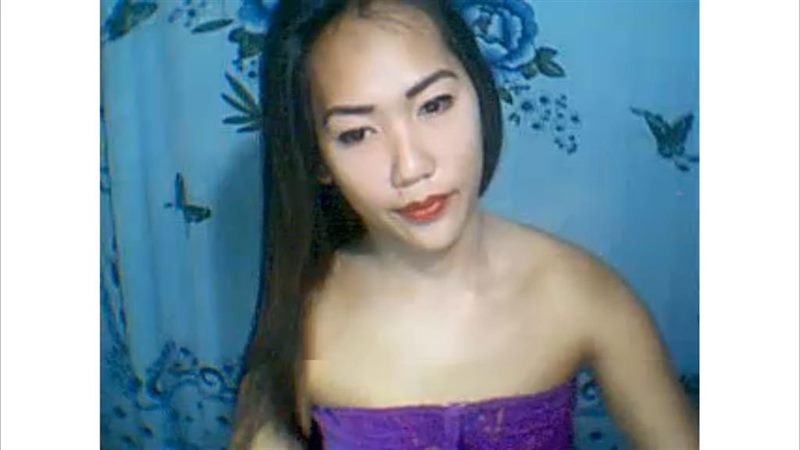 Quality of video
I am not impressed by the standard of the video at the site. If a model is advertised as HD, then the cam should be crystal clear, even in full screen. This is simply not the case at TrannyCamModels.com, especially in full screen mode. Some cams are better than others.
Putting your money where your mouth is
Credits are available at the rate of $1 per credit, and can be bought in packs of 25, 50 or 100. All purchases come with a 10 percent bonus. This is by far the cheapest rate I have ever seen at any sex cam site, tranny or not.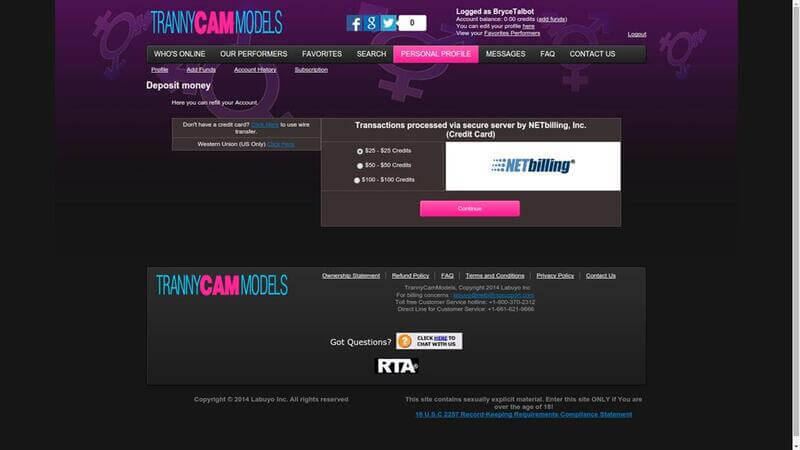 Ways to pay
All major credit cards are accepted, and you can also use wire transfer and Western Union (US only).
How many xxx lovelies?
There are just over 1,000 models registered at the site. On average, whenever you log on, there are around 50+ shemale cam models of all shapes and sizes available to chat with.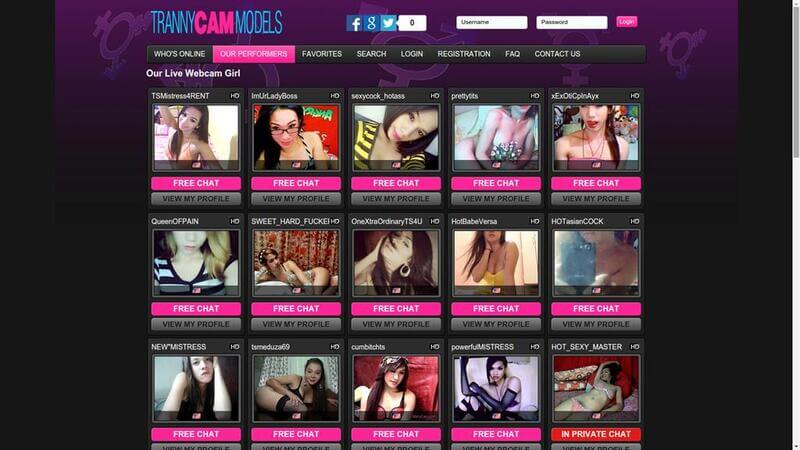 Help when needed
The support functions are not exceptional, to say the least. The FAQ page is hardly worth the webspace. There is a live chat app but every time I used it, it simply timed out after three minutes or so with the message "All our operators are busy". The only other contact method is a message box.
Positives and negatives
Positives
✔ - Going private is very cheap - effectively less than one dollar a minute
✔ - The sex cam performers are usually very friendly and polite
✔ - The design of the site has been very well thought out
Negatives
✖ - Not enough support options
✖ - Not enough extra features
✖ - Because of the cheap rates, most of the models lose interest if you're not prepared to go private
Summing it all up
The main selling point of TrannyCamModels.com is of course those inexpensive rates. Less than a dollar a minute is really the bottom end when it comes to adult chat sites. Also, if you like Asian sex cam models then you are going to be absolutely delighted by the available models, and there are plenty of very nice and polite models to choose from. The negatives are the usual gripes - lack of bonus features and support options, but at less than a dollar a minute, you shouldn't really expect the world!
Review of TrannyCamModels.com
- Reviewed by
hdcamsites.com