AdultFriendFinder is a Huge and Successful Adult Dating Site
It's time to make way for the prominent AdultFriendFinder.com and if you have not yet heard the name before you must be living with no internet access for the last decade. This is one of the largest, if not the very largest, adult dating community and it has gathered itself fans and followers all around the world. Just to make things clear though: When I say "dating" I mean hooking up, because no one on this website is looking for a serious relationship. You can find casual sex or even the occasional fuck buddy or swinging partners, but it's more about the genitals than about the heart.
As my AdultFriendFinder review will demonstrate, this is certainly a site that knows what it's doing. Hey, you don't stay on top for so many years without understanding users' needs and desires and as far as passion goes, Adult Friend Finder is a genuine expert. The features may not be dazzling and the streaming quality is not always brilliant, but the amateur babes are real and horny and there are plenty of them waiting to get it on. Want to learn more about this site and your options? Read on my friends, and I'll make sure you won't be left with a doubt in your mind.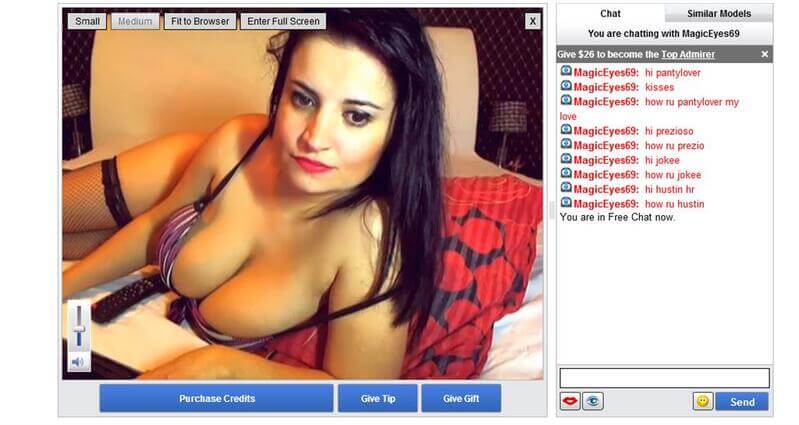 My considered thoughts
First of all, you have to understand one thing: Adult dating communities may have sex chat rooms, but they are not adult webcam sites. What is the difference, you ask? The women, of course. On many XXXCam sites all of the chicks you see will be trained models, looking like goddesses but not always very enthusiastic and the chances of you hooking up with them outside of the web cam is… I'd say about a solid zero. On adult dating sites the women are real, which mean you do, at times, run into some fugly chicks, but all the babes are real and so are their orgasms. AdultFriendFinder.com is a special type of sexy singles community. It has both member chat rooms and model chat rooms, which means users enjoy the best of both world.
Now I will not tell you that I love the design of this site, because it is definitely esthetically challenged. However, by the time you'll start flirting with the cheating wives and slutty single women you won't really care about the design and besides, I'm a guy, what do I know? Maybe retro is chic again. There are several interesting features online and I recommend you take advantage of them all. Keep in mind that unlike sexcam arenas, the babes here are looking to be satisfied, not just to satisfy your needs, so you need to put in a bit more effort. Don't worry: It pays off.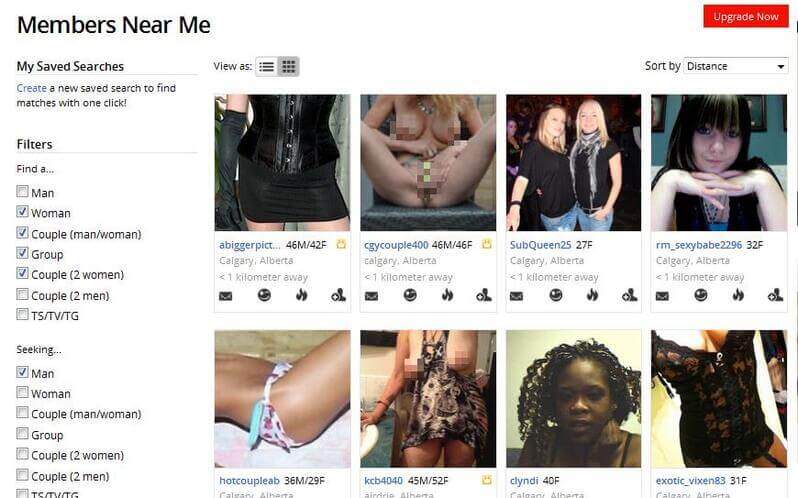 The site will provide you with all the tools you need to find the perfect woman – or the perfect hookup and then a dozen more. Use the advance search options to define exactly what it is you're after but try and remember that these are real people, so don't pay too much attention to stuff like hair color and breast size, and instead allow yourself to really browse the database of singles and couples and see who turns you on.
There are a lot of matchmaking services online where most if not all of the profiles you see are fake, but this is not the case with Adult Friend Finder. This is a really popular site and it has millions of registered members, many of which are active and horny. You may think that this is old fashion now at the age of sex apps that let you get a booty call in a click of a button, but the truth is that people really enjoy themselves online. There are so many things you can do, so many people to meet and it's not just about the sex, but also about the flirting, the friendly teasing and the erotic online adventures. In fact, it's a great place to hang out even if you stick to cybersex.
Anything else?
Remember that this is a sex dating community and even if you are antisocial by nature, it's a good idea to try and explore its social aspects. You don't have to look for friends – even though the word appears in the name of the site, this is not why people join it, but you will come across some kinky folks online and you don't have to actually date them to enjoy their company. Trust me: If you know what's good for you, take advantage of the social options on the site such as the forums and groups. I don't want to spoil the surprise, but a lot of naughtiness takes place in there and it's a shame if you're not a part of it.
Becoming a member
Signing up is totally free and you really don't need my guidance to register. Just follow the instructions, fill in the type of person you're interested in banging and if you can't be bothered to fill all the information, skip and come back to it later. I hope I don't really need to tell you that free membership is not enough. Gold membership is the only tool that will guarantee that you get attention from other singles and while you are certainly invited to use the free membership to test the water, this is more of an intro than a serious, full membership.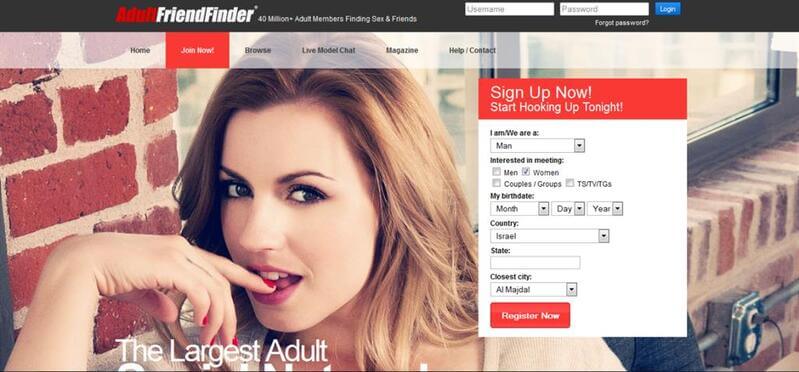 Let's get chatting
As I've mentioned earlier in this AdultFriendFinder review, this site has two types of chat rooms. One is member chat and the other is model chat and whichever you prefer, just make sure that you're in the right category. Models sex chats re basically adult webcams, where you can pay by the minute and watch hardcore sex shows. The camgirls are stunning, so I have allowed myself to enjoy a few, and the quality of the chats was simply excellent, Then there are the member chats which are inconsistent. Some are sexy and wild (although keep in mind that only Gold members can access them) and some feature less than appealing amateurs. I must confess though that I found myself enjoying the amateur chats more than I expected. I've gotten used to watching slick and perfect women eager to please me on XXX sex cams and having a real babe chatting, flirting and then asking me to touch myself for her while she watches was quite exciting, and the new rules and the fact that it was more of a mutual game than a show contributed a lot of thrill and made the chat really special.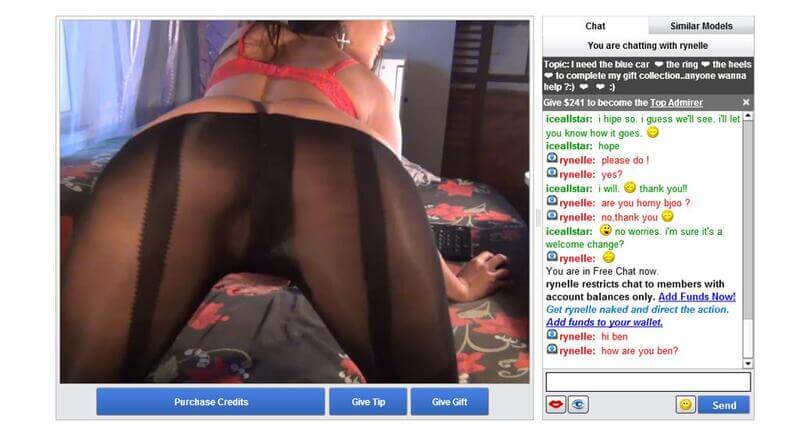 Quality of video
The quality of video chat depends on who you're chatting with. The pro camgirls have got HD and looking amazing and the members... well... there's good and there's bad. In any event, streaming is okay (not as good as LiveJasmin, but who is?) and the platform works great.
Putting your money where your mouth is
There are really only two types of memberships on AdultFriendFinder.com: The basic free one and the Gold Membership. As I have said over and over again, you must upgrade to get pussy, but luckily this is not an expensive site at all. For beginners I totally recommend the 1 month gold for $20, which is a special price which is only offer once to new members. It's a great way to see if the site works for you, but I'm betting you'll be signing up for many more months after that.
If you are not a new member, one month will cost you exactly $29.95 and 3 months $59.80, but you'll also be getting one month bonus. A complete year of dating and fucking costs $179.10, but it's actually 18 months because you get 6 months extra as a gift.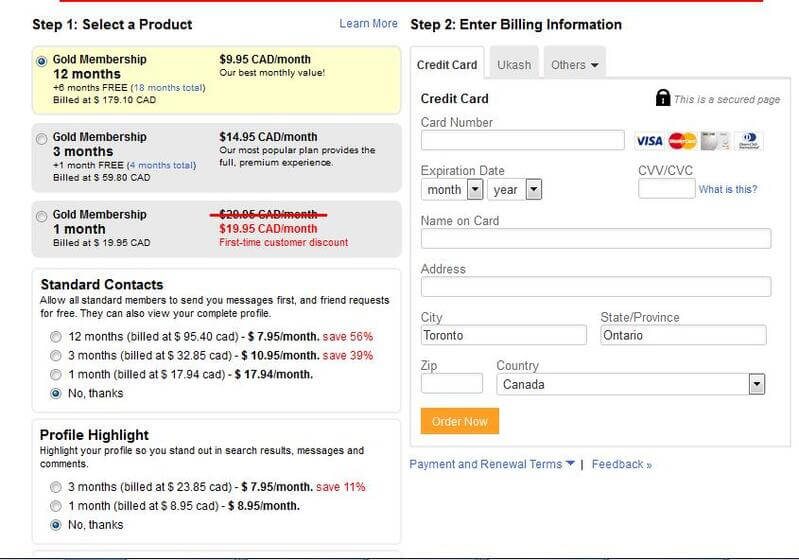 Ways to pay
Only four credit cards can buy you the way to a hot date on AFF. Visa, MasterCard, Diners and Discover. Don't want to use your plastic? That's fine. Money Wire, E-Checks and UKash are all acceptable.
How many xxx lovelies?
The site has millions of registered members and around 80,000, yep, I got the number right, are online. However, if you are looking for hot singles in your area and want to actually meet these horny people face to face, you will need to limit your search to local sex partners and then the number you'll be left with depends on where exactly you live. There are around 800 camgirls online - the professional kind I mean.
Help when needed
The FAQ is okay, although I personally could do with a few extra answers. You can contact the site if you need more assistance. I've tried it and am happy to report the Customer Team was nice and attentive.
Positives and negatives
Positives
✔ - You won't find many adult dating sites that have this number of women online at any given moment.
✔ - The Cupid tool is a great feature that will help you find a perfect match without working hard.
✔ - The free member chat rooms feature hardcore action at no cost – these are just horny chicks that want guys to watch them while they finger themselves.
Negatives
✖ - Streaming quality is far from being amazing and I'd like to see more HD on the member chat rooms
✖ - You run into plenty of unattractive people on teh regular chats and need to invest some time in sorting out your options.
Summing it all up
I think that I have made it very clear through this AdultFriendFinder review that this is a very good adult dating site. I have enjoyed myself online even more than I have expected (and considering this site's reputation, I have expected quite a lot) and will certainly be coming back to chat, play and maybe get myself a smoking hot date for tonight, The fact that there are so many babes who are just sitting in front of their computer and looking for their next fling caught me by surprise, because in all honesty, I was kind f under the impression that it was some mail fantasy that porn sites were eagerly promoting. AdultFriendFinder.com proves that there is plenty of real sex available online. You just need to know where to look.
Review of AdultFriendFinder
- Reviewed by
hdcamsites.com