5 Sites Where you Can Watch Hot Gay Cam Shows and Pay with Bitcoin
Live porn users have different tastes and preferences when it comes to watching hot boys performing for them. But they all have one thing in common. They highly value their anonymity. Paying with cryptocurrencies is one of the best way to guarantee this anonymity. Below are what I deem to be the 5 best gay cam sites that will let you pay with bitcoins making your transactions considerably more secure while keeping your true self faceless and nameless.
CameraBoys

CameraBoys is a top-rated all-gay premium cam site with around 50 performers sitting in fancy chat rooms and waiting for you around the clock. Almost all of them are professional cam performers who broadcast as superior hi-def quality promising you a crystal clear view of their shows.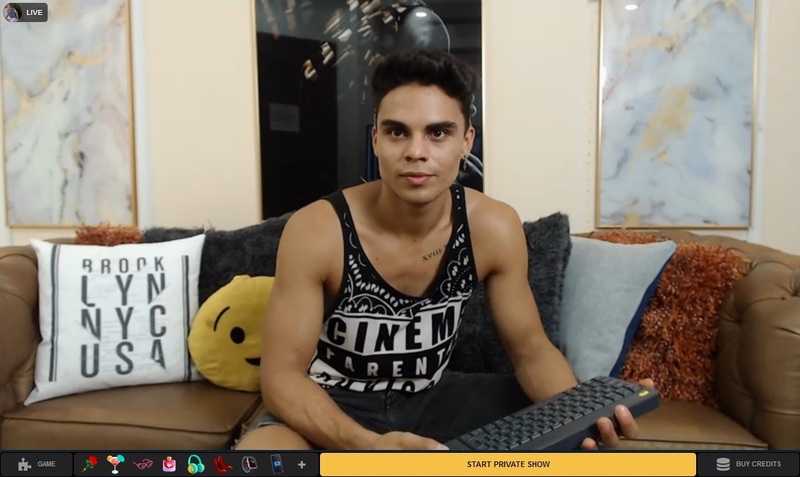 The site has an advanced filter letting you trace your desired type of model based on numerous parameters you can cross-reference to narrow each search and make it much more precise. The Willingness category enables you to spice your searches with hot niches and kinks like Anal Sex, Live Orgasm, Butt Plug, Oil and Strapon.
CameraBoys accepts more than 50 cryptos, among which are bitcoins. If you decide to use one of these cryptos, you will pay an average sum $2.50 a minute for privates chats with the site's cam boys. The least expensive models will charge you $0.90 a minute. These rates are around 10% cheaper compared to a credit card. Take into account that, regardless of your payment method, you will be asked to add additional 1-2 dollars a minute for a cam2cam chat and the same amount for bidirectional audio. On the bright side, you'll be able to open your cam on mobile.
To pay with bitcoins, tap on Get Credit on the header. You will see credit packs you can buy with a credit card (which is the default payment method on the site). Press on Payment Methods below and choose Cryptocurrencies. You can choose a credit pack from what is shown to you or enter a custom amount which must be higher than the equivalent of $196.99. You will be transferred to a page where you will be asked to choose the type of crypto you wish to pay with. Be advised, if you choose a small credit pack, some of the currencies will not be available. Next, you will have to enter your email address for a payment receipt and then press on Pay with the coin you chose. Finally, you will be shown the deposit address and the exact sum of crypto money you will have to send to that address.
CameraBoys has a nice promotion for newbies. Once you complete the sign up process, a Wheel of Fortune will appear on your screen. Spinning it, you can win up to 100% extra credits on your first purchase. You will have one hour to make this purchase to realize the bonus you have just received. If you procrastinate, the Wheel will reappear later on for another spin.
---
Flirt4Free

Flirt4Free offers you a big selection of 150-200 boys you can watch live at any given moment. You will find among them performers of all shape and sizes from muscular Bulls and heavy and hairy Bears to tiny Twinks, tall Giraffes and even older Chickenhawks. The site has multiple chat options, good HD streaming, unique features and extraordinary reward and VIP programs with hefty bonuses and great benefits.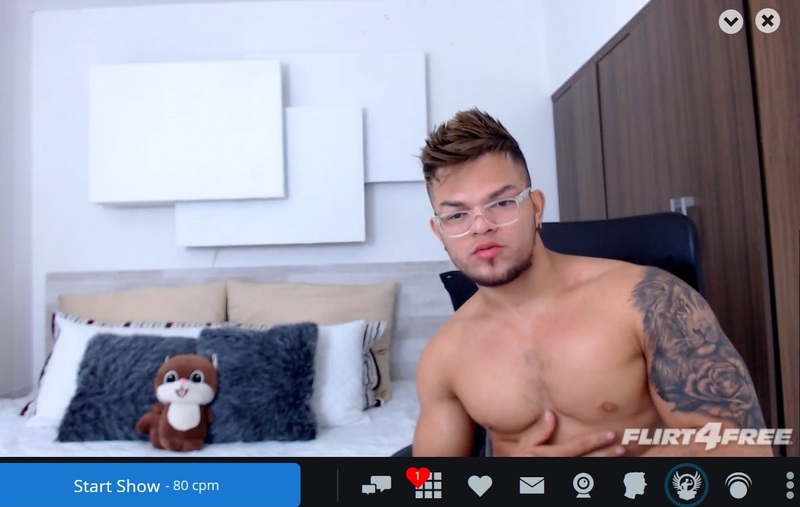 If you are into kinky stuff, Flirt4Free has a whole section 100% dedicated to hardcore live action called the Fetish Community. There are 2 communities, one populated by cam girls and the other by cam boys. Whatever you choose, you will run across more than 50 kinky categories and models who are expert in domination or, conversely, have a submissive personality you can easily mold based on your perverted whims and desires.
If you are looking for more relaxed and conventional live shows, the site has a highly effective search mechanism allowing you to trace a model by room type - i.e. live show type, price, language and dozens of categories covering tons of gay porn niches.
Like CameraBoys, Flirt4Free will be willing to take your Bitcoin along with a variety of other cryptos. The price you will have to pay for a private chat with one of the site's cam boys using a cryptocurrency is similar to credit card and it stands at $3.90 a minute on average. If that is too high for you, you will be able to find models who charge as low as $0.50 a minute. There aren't too many of them, but there are quite a few who will charge you affordable rates that revolve around $2.00 a minute. Whether you choose to pay more or less for a 1 on 1 show, you won't be charged extra for a c2c chat, which you can initiate on your home computer or on your smartphone.
There is another cheap option at your disposal. Most models give a Multi-User show in which you can join other participants and, like them, tip and chat with the model. You will not be able to activate your camera (unless you were the first user in the show), but you will save around 25% compared to a private chat.
To use bitcoin or any other crypto to pay for your live shows, press on Buy Credits on the upper bar and then on Change Payment Method. Choose Crypto and tap on the credit pack you wish to buy. You will be directed to a page where you will have to choose the type of currency you want to use. Tap on Bitcoin and enter your email address below to get a receipt. Press on Pay with Bitcoin and you will reach a payment page showing you how much exactly you have to pay and the deposit address.
Flirt4Free has a great reward program you will highly appreciate if you intend to visit the site on a regular basis. The rationale behind it is simple, yet effective. You get points for every action you do on the site. These points can be converted into a variety of perks including credit bonuses on new purchases and free access to premium videos.
You may also consider signing up for the site's VIP program in light of what it offers you. For $39.95 a month, you'll unlock awesome benefits, such as 200 free videos a day, free hour-long live feature shows, enhanced private messaging with models, unlimited access to your recorded shows and a 5% discount on all the videos you will buy.
---
Stripchat

The moment you set foot on Stripchat, you will feel you have reached the land of plenty. Most hours of the day, the site hosts more than 3,000 performers, of which approximately 250 are breathtaking guys coming from all over the world. Many of them have left their shame at home and perform wearing their birthday suits in their public chat rooms enabling you to watch plenty of tight butts and phalluses and quench your thirst for naked men.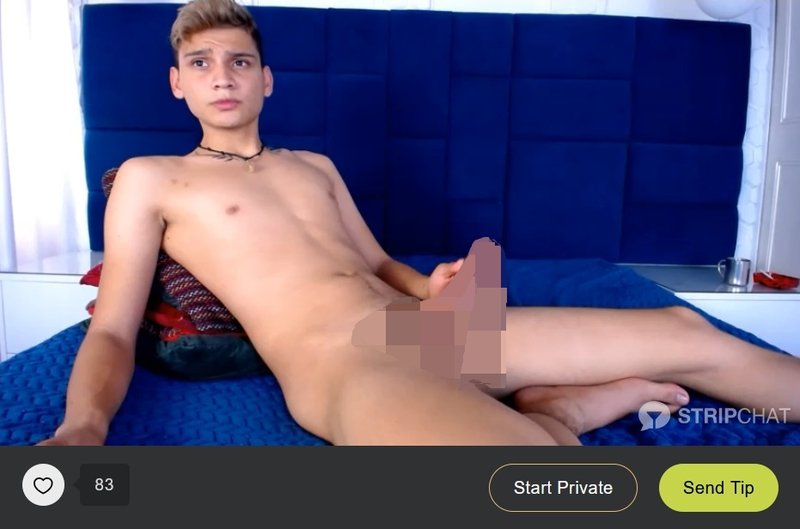 Stripchat also has quite a lot of chat categories adapted to performers from each gender group. You can see these categories arranged in alphabetical order by pressing on All Categories beneath the search bar. The Gays' categories mainly consist of multiple ethnicities, but there are also niches like Anal, Daddy, Gay Couples, Masturbation if you are into JOI and BDSM if you like fetish.
Stripchat will be happy to accept your bitcoins and other cryptos. A private show paid with one of these coins costs $3.80 a minute on average. Minimum rate is $0.80 a minute. Most models will charge you 30-50 percent extra for cam2cam and many of them have minimum chat duration which can range from 5 to 15 minutes. If you opt for the more expensive c2c chat, other users will not be able to spy on it in contrast to a regular private show.
To fund your activity on Stripchat with bitcoin, press on the tokens tab on the header and on Buy Tokens. Select Bitcoin as your preferred payment method and the credit pack you are interested in purchasing. Press Continue. You will be taken to a page where you will be required to choose the exact type of crypto you want to use. Choose Bitcoin and insert your email address so as to receive a receipt. Press on Pay with Bitcoin and you will land on the final payment page detailing the deposit address and the exact sum you will have to allocate to complete the transaction.
The more veteran and highly ranked models have a Fan Club you can join as a Soldier, Lord or Prince for a respective sum of $9.99, $19.99 and $49.99 a month. Apart from the status they bestow, a special badge will appear near your username indicating your place in the hierarchy. All titles allow you to send private messages to your model and spy on his private shows for free.
Stripchat is the only cam site today offering you virtual reality live shows. The VR feature is relatively new in the Gay section, so you will not find a model capable of engaging with you in a VR chat at all times. But keep on trying, you will eventually run into such a model and enjoy an exciting stereoscopic performance. On your part, you will need to download a special application and equip yourself with a headset.
---
BongaCams

More than 100 extremely sexy men dying to entertain you 24/7, free public nude shows, high resolution broadcasting, and advanced cam2cam apparatus make BongaCams a great site for live gay chats. If you decide that you want to sign up and become a member, you will benefit from great promotions yielding hefty token bonuses.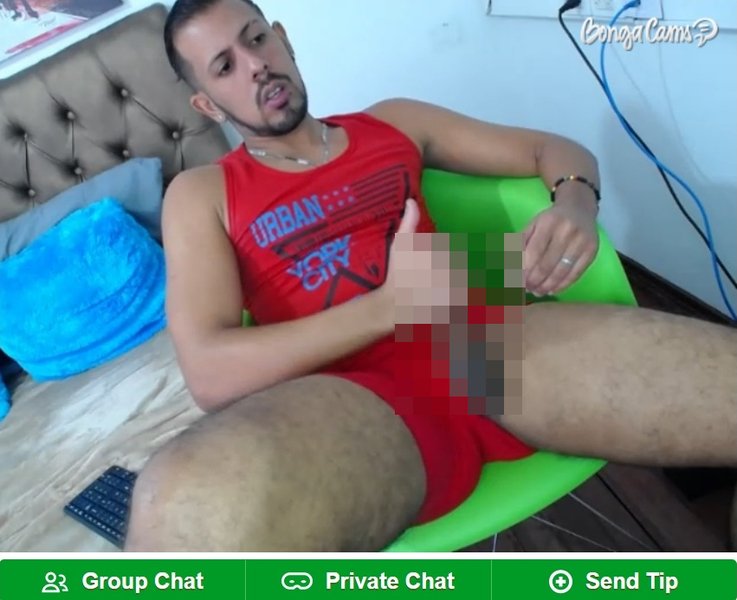 To find a guy that matches your personal preferences, the site has a nifty search tool with many options and categories you can choose from. In addition, there are hundreds of tags with gay models specializing in all sorts of niches, some of which you will surely going to like, for example Cum Inside, Cum in Mouth, Double Penetration, Rimming and the list goes on and on.
A private chat paid with bitcoin will cost you 60 tokens a minute which are around $4.50. This is a standard price all across the site. Other users can peep into your show. To shun these spies, you will have to opt for a Full Private Chat, which is 50% more expensive.
In case these rates are beyond what you can afford, you can start or join an ongoing Group Chat. If you are the one who has started it, you will have to wait until at least one more user tags along for the action to begin. A Group Chat is 50% cheaper than a private chat.
You can open your cam on your computer and mobile phone and unlike other sites, you can do it not only in a 1 on 1 show but also during a public chat while you are in the models' open room. Only the model will be able to see you and not the other users. As a rule of thumb, c2c does not require an additional fee, though the models are at liberty to charge extra and some will do so.
Paying with cryptocurrencies on BongaCams is relatively easy. All you have to do is tap on Buy Tokens on the site's header and choose cryptos as your payment method. Then, select Bitcoin and enter the number of tokens you wish to buy (For cryptos, there is a minimum buy of 40 tokens). You will be shown exactly how much you have to pay. By pressing on Buy Tokens, you will be transferred to a payment page with a deposit address.
BongaCams has great promotions designed for newbies and veteran users alike. The moment you finished signing up and make your first purchase, you will receive a bonus of 10 tokens and become a Gold member for life. If you make this purchase from your mobile phone, you will get back 50% of the tokens you will spend on the site as a gift (up to 100 tokens). If you refer a new user, you will get 50% of his first purchase as a bonus. The Cashback Offer gives 25-200 tokens to the biggest spenders every 24 hours. Some of these promotions are fixed. Others change constantly, so you had better keep track of the changes.
---
xLoveCam

xLoveCam has a smaller collection of around 20 boys you can chat with at any given time. But what it lacks in quantity it makes up for in quality. Each and every one of these boys is a sexy cam performer you will find hard to resist. The site's greatest advantage is its low chat rates making it ideal for users who are on a tight budget but still want to watch gay one on one shows.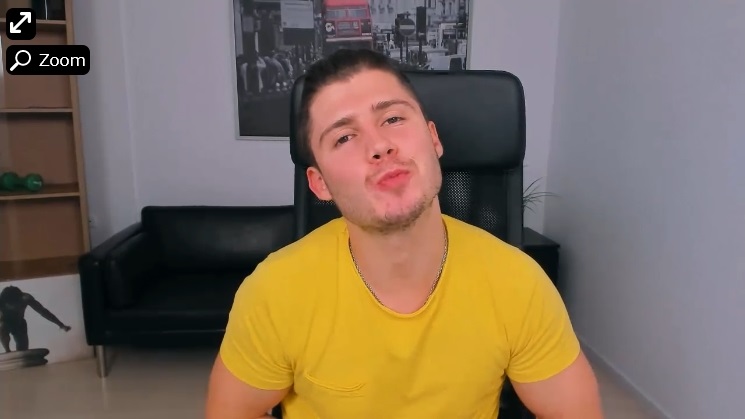 Public nudity on xLoveCam is not very common. Most of the model will get naked in private sessions, but there are exceptions as some of the more liberal models will be willing to get rid of their clothes while they are performing in their open chat rooms.
If you want to watch some nudity and have no patience waiting for a model to strip in public, you can, of course, opt for a private show. If paid by bitcoin, it will cost you $2.00 a minute on average. The cheapest models take $1.90 a minute. These rates are 8-10 percent higher than what you would pay if you were using a credit card. Despite that, they are still low compared to most other cam sites especially when taking into account that you won't be charged extra for opening your cam, which you can do on your computer or smartphone.
Private shows on xLoveCam can be accessed by other users either as active participant if they pay the model's rate or as passive onlooker for a lower price. If you want to get rid of them, you will have to invite your model to an Xclusive Show, which is in most cases around 25% more expensive.
To pay for your chatting activity with bitcoin, press on Add Credits on the upper bar and choose Crypto Currency among the payment methods put at your disposal. Then, choose your credit pack. You will be directed to a page where you have to choose the type of crypto you want to pay with, which is Bitcoin. Press on Continue to reach the final payment page where you will be given a deposit address.
Some of xLoveCam's models have a video gallery you can watch on condition that you become their VIP member. Most cam boys charge 4-6 dollars a month. The cam girls usually charge much more.
---
Conclusion
Cryptocurrencies in general and bitcoin in particular are bastions of anonymity and security. Using them as payment means, you will not need to disclose sensitive financial data, a credit card number or any personal details.
By accepting bitcoin, the five cam sites reviewed here will enable you to cover your identity with a thick fog screen while you are doing all sort of naughty things with your favorite gay model in a 1 on 1 chat - things you surely don't want anyone else to know about.
If I had to choose one site I would recommend more than the others, it would be CameraBoys. This site focuses entirely on live gay porn, which is a reason in itself to prefer it to its competitors. In addition, its superb HD streaming and professional cam performers make it an ideal place to watch hot men performing live for you.
Review of 5 Best Gay Cam Sites Accepting Bitcoin
- Reviewed by
hdcamsites.com