Webcams.com - lots of lovely sex cam babes for you to enjoy with top HD streaming
Announcement:
Webcams.com rebranded and morphed into MyDirtyHobby.com. All I can tell you is that the features are nicer and the amateurs are hotter, so check it out by clicking the button below!
Hello there. It is the weekend where I am, and I've managed to find a spare hour or so to review one of those wonderful adult chat cam sites ... you may have heard of them? My focus, as ever, will be on the HD side of things, but rest assured I will be giving everything at the site a real Walt-once-over.
The adult cams site I have chosen to review this time is Webcams.com. I appreciate that not many people reading my review are as clever as me (few people are) so how's about that for an easy-to-remember site name? If you're wondering what you might find on Webcams.com, then I do wonder how you managed to even switch on your computer. I suppose you could be forgiven for thinking the site might have contained lots of webcam reviews, but if you did then you're going to be very surprised indeed! If, however, you think the site is going to be full of lots of lovely xxx cam babes, then you're on the right lines. I think the site may have started out with purely non-devious intentions, as a place for webcam owners to meet and chat before the naughtier side of people won through and it became something a great deal sexier. The site has been up and running since 1998, and started as a German site with a list of international webcams. It was eventually purchased by an amateur sex cams site called www.99cams.com, and eventually 99cams moved all their functioning over to the more popular domain name, to bring punters all the sexy cam girls at the Webcams.com site.
My considered thoughts
Okay, so that's the detective work over with (I really hope you appreciate the extra effort I put into these reviews) and time to get down to more interesting business. I can safely say that Webcams.com really does seem to be ready and willing to deliver from the get-go. I was greeted by a lovely pose by porn-star Ashley Sinclair, who was about to deliver a scintillating and no doubt sexy live show for all budding xxx cam fans. Seeing a site showing such a sexy lady is something to get really excited about! The rest of the babes on that first menu screen were pretty damned hot as well. So, so far, Webcams.com seems pretty keen to deliver, but the question is ... does it?
My further explorations revealed that ... yes, I think it does! The lovely ladies I encountered were indeed lovely ladies, and as part of my background research for this review it seems that Webcams.com just doesn't take on any webcam model who might want to show what they've got on the site - it has certain standards. True, as I toured the site I found a couple of ladies who perhaps might want to reconsider their current money-making ideas, but on the whole, the xxx cam babes were of top notch. The site itself is very easy to use, and reacts fast.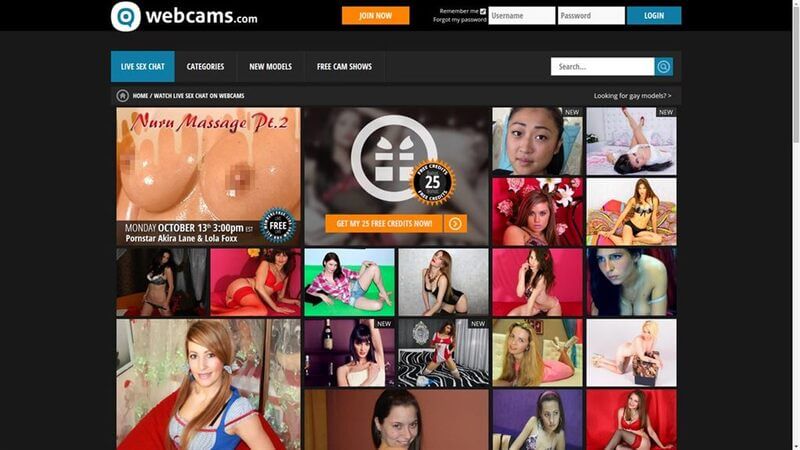 I soon discovered that at Webcams.com it is really only the chats they are interested in. There's the usual free chat of course, but I found that the models can "block" you by telling you they're only willing to continue to chat to you if you go private. This was pretty annoying. There's a great menu screen where you can choose categories - from the mundane such as hair colour, to the steamier side of sex with BDSM. You can look at the new models, and that's about it.
You can "preview" the sex cam girls if you've seen someone you really want to get to know a little better by moving your mouse over the cam model's thumbnail - which will then switch to a view of what her cam is currently displaying (unless she is in a private chat of course). The only other thing of interest I think you'll find at the site are the regular sex shows by talented porn models. Aside from the gorgeous Ashley Sinclair, the site had up and coming shows with Akira Lane, Lola Foxx, Samantha Rone and Dee Dee Lynn.
Anything else?
Not much to be honest. If you join cam sites hoping for lots of little extras, then you're not going to find much to get excited about at Webcams.com.
Becoming a member
First up, you're going to need to know that to become a member of Webcams.com, you need a Visa, MasterCard or Discover credit card. You cannot join the site unless you have a card. You do not need to make a purchase to join, although when you are a member you're subjected to a minimum weekly charge of €/£/$1 a week. So sign up by clicking on the "Join Now" button at the top of the screen. You need to fill in your username, password and email address at first. The next step involves filling in your credit card details, after which you are good to go.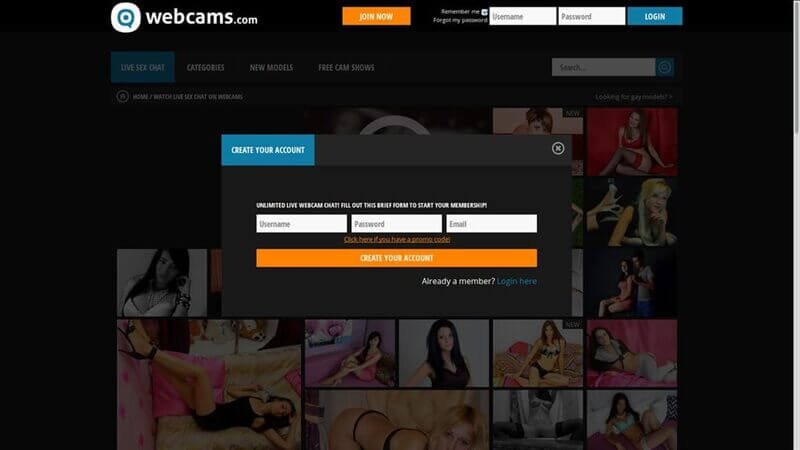 Let's get chatting
There are only two chat modes. Free chat and private chat, for which you of course pay.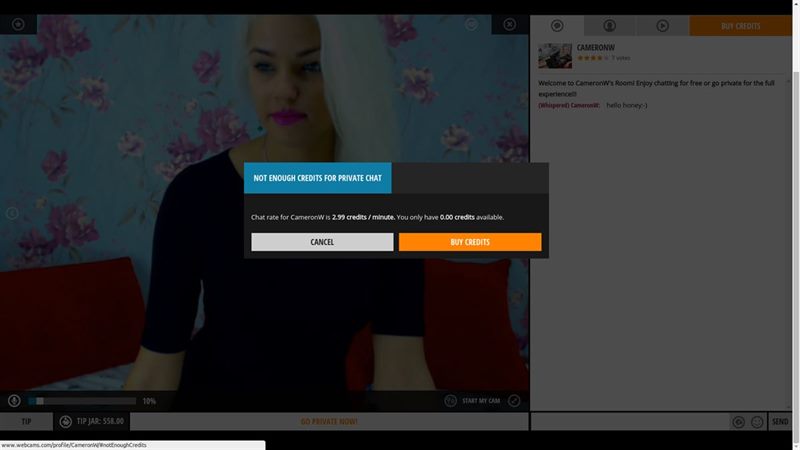 Quality of video
This is where Webcams.com scores big in my estimation. The streaming quality is really excellent, in both standard and high definition. I guess this is where your weekly charge goes - on the dedicated Webcams.com servers. The streams are some of the best I have seen, right up there with LiveJasmin and Sexier.
Putting your money where your mouth is
There's that nominal charge I keep mentioning, and when you sign up you do get the opportunity to buy a small amount of credits at a heavily discounted rate. The usual prices are as follows:
EURO €
GBP £
USD $
Price
Credits
Price
Credits
Price
Credits
€7.99
10
£6.66
10
$10
10
€23.99
30
£19.99
30
$30
30
€46.99
60
£36.99
60
$60
60
€66.99
90
£52.99
90
$85
90
€78.99
125
£69.99
125
$100
125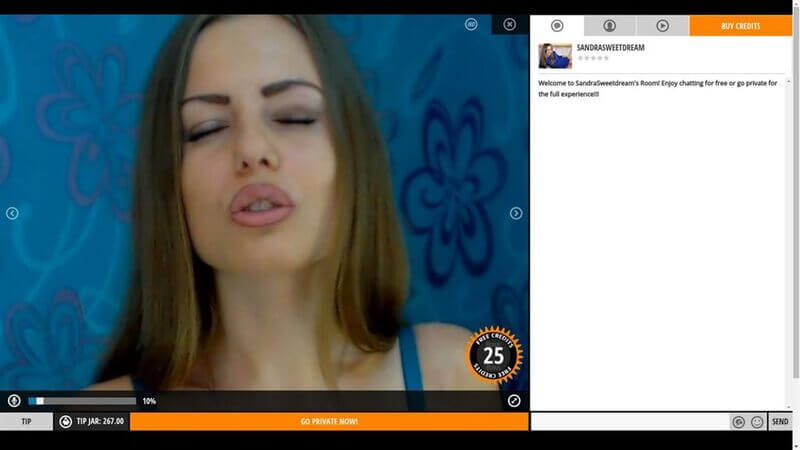 Ways to pay
Only Mastercard, Visa and Discover are available.
How many xxx lovelies?
There are between 4,000 and 5,000 models available at the site. You will usually find around 300-400 online at any one time.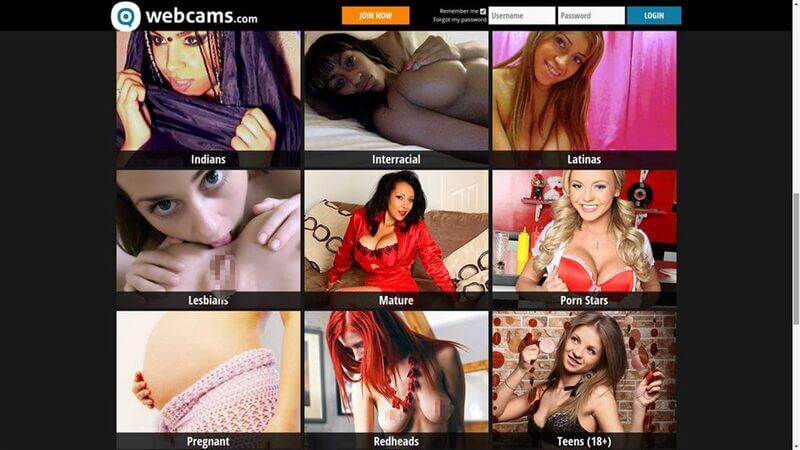 Help when needed
There is live chat, but even though I'm a pretty patient guy, I found there was too much hanging around, and once the chat just quit on me without any warning. There's also an email messaging system and phone numbers you can use.
Positives and negatives
Positives
✔ - The high quality of the streams, both HD and SD
✔ - The high quality of the babes
✔ - The high quality of the site itself, in design and the speed at which it functions
Negatives
✖ - You need to use a credit card to sign up, and there's that nominal weekly fee
✖ - The models can suddenly ban you from public chat, and insist you go private to continue
Summing it all up
So, does Walt give Webcams.com the thumbs up? Well, as the prime remit for my excellent review site is HD Cams, on that alone I have to give a huge thumbs up. I found the streaming lovely, and the best I have encountered at any of the sites I have reviewed. I also really appreciate the high level of xxx cam models I have encountered. The negatives ... you need a credit card to sign up, that weekly charge whether you use the site or not, and the fact that the girls can turn off free chat to tell you to go private. Giving things the old Walt weigh up, I'm coming down with a positive recommendation for Webcams.com, with those reservations in mind. Why not take a trip yourself down to Webcams.com and find out yourself if it's to your liking?
Review of Webcams.com
- Reviewed by
hdcamsites.com