6 Cam Sites with the Hottest Girls for Exciting Femdom Live Chats
Imagine an alternative reality in which you are completely devoid of your power and self-dignity being totally subjected to the control of a sexy and vicious xxx model using your body like a her own puppet. These kinkily electrifying fantasies can be fully realized in a c2c environment where you and your dom can make almost anything (as twisted as it can be) happen. The following are the top 6 live porn sites for femdom cam2cam chats.
CamSoda

CamSoda is a leading freemium cam site with 600-800 active models who shamelessly perform naked in public chat rooms allowing you to enjoy their beautifully bare bodies free of charge.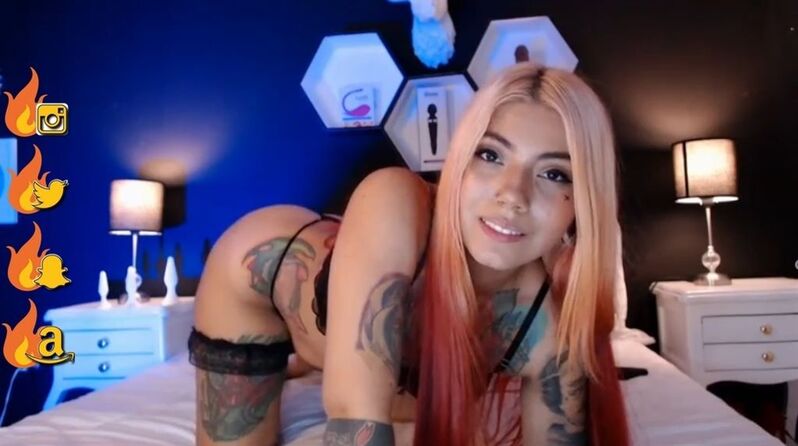 The action in the site is organized in hundreds of themed tags covering almost any porn niche you can think of. Since there is no search tool that will enable you to get to hardcore-oriented tags, you will have to browse through them manually, seeking out the ones populating cam girls willing and capable of giving you a femdom live show. This can be a little time consuming, but also great fun as you will encounter tons of chat rooms with naked girls.
A quick and superficial search will come up with the following femdom-relevant tags: Bondage, Mistress, BDSM, Spank, Role Play, Slave, Kinky, Torture, Dirty Talk and, of course, Femdom. These are what I found, but I am sure you will come up with plenty of other tags with dominating models who are control freaks. The site has more than 700 pages with different tags in them, so the potential is huge.
A few words of caution are in place. Since CamSoda's performers can categorize themselves as they see fit, you may find girls who do not match the tags they appear in. It is a process of trial and error till you come across the ideal dom who will know how to exercise control of your body and soul.
A 1 on 1 femdom chat with one of CamSoda's fetish models will cost you $3.00 a minute on average. However, you can quite easily find girls who will charge you as low as $0.60 a minute, making your live porn sessions highly affordable. Cam2Cam is included in these rates.
What I like most about CamSoda is its interface. On its main pages, the models' preview galleries simultaneously display on video what is going on inside the chat rooms giving you an all-encompassing view of the action on the site and helping you choose which room to access based on your preferences at any given moment.
In addition, CamSoda is one of the few sites that offers cam2cam on mobile making it possible for you to engage in interactive fetish live chats on the go.
---
LiveJasmin

Supreme HD streaming and more than 1,000 highly trained xxx models skilled in performing in front of a webcam turn every live porn chat on LiveJasmin into an unforgettable experience.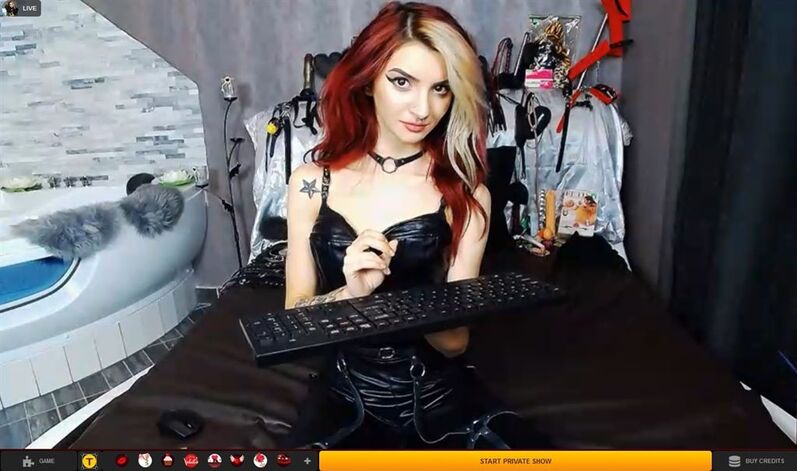 The site has a nifty search tool through which you will easily be capable of finding femdom cam girls who will turn you into a submissive shadow of a your former self.
On the Category column in the search tool, you can tap on Fetish and get to the site's hardcore section. You can also cross-reference it with relevant parameters on the Willingness column, such as Dominant and pinpoint your search for a dominating performer. When I did this, I reached more than 30 sexy models holding whips and chains in their hand.
For a femdom 1 on 1 show on LiveJasmin, you will have to pay $2.80 a minute on average. The minimum rate for a private chat on the site stands at $1.10 a minute. However, if you want the show to include c2c and 2-way audio (so the model can see and hear you suffer), you will need to add 1-2 dollars a minute per each feature.
What makes LiveJasmin really great is its unique promotion given to new users. When you open an account, a wheel of fortune will appear. Spinning it gives all sorts of credit bonuses of up to 100% of the package you will purchase. The wheel will reappear every 15 hours or so with more bonuses.
More importantly, much like CamSoda, LiveJasmin's cam2cam feature is responsive to mobile devices. You will be able to enjoy exciting interactive hardcore live porn shows when you are outdoors and not only when you are in front of your personal computer at home.
---
Flirt4Free

Flirt4Free hosts 400-600 gorgeous models, most of whom broadcast in hi-def quality. Moreover, the site is strongly committed to Fetish webcam porn with a Fetish Community wholly dedicated to hardcore action.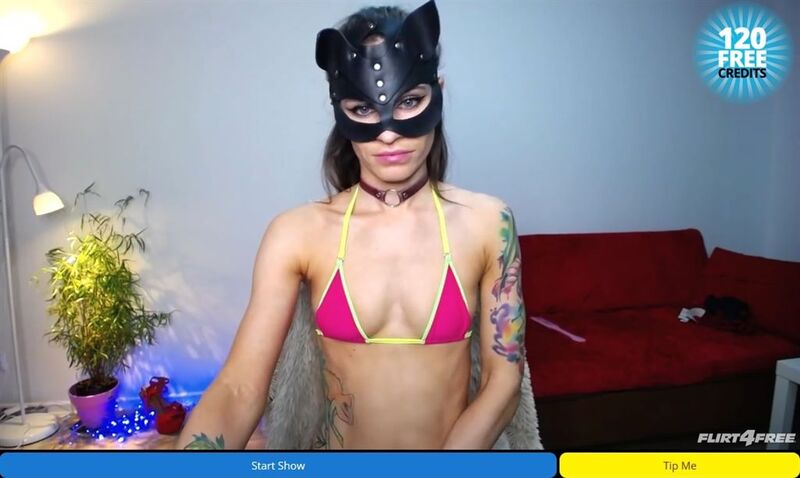 The Fetish Community section on the site includes more than 50 categories of almost any fetish niche that exists in the porn industry. In Each category there are a couple of chat rooms hosting xxx models who have turned kinky live sex into a career.
Relevant niches for femdom cam sex you will find in the Fetish Community can be, needless to say, Domination and Bondage. But you will surely find girls who will be happy to be your mistress in Slaves, Public Humiliation, Orgasm Control / Denial, Role Play, Pain and Punishment, Collar and Leash, Chastity Training, Whips, and Discipline. You may also find a dom in the Trampling category, where ladies will be delighted to step on you, reducing you to nothing.
A private sex chat with a fetish performer on Flirt4Free costs $3.90 a minute on average. If you find this rate to be a little too high for you, you will not have a problem tracing much cheaper models. The minimum chat rate on the site stands at $0.55 a minute, which is, undoubtedly, more than affordable, especially when cam2cam is included in these prices.
Lastly, the site has a lucrative VIP program. For $39.95 a month, you will upgrade yourself to a VIP member and enjoy a variety of perks, such as sending performers emails - including attachments. If you crave humiliation, you can send her a dick pick before gearing up for an SPH cam girl session. Additionally, you are enabled to turn off users in chat sessions (no Grey users), 150 daily videos for free, full access to archives and adult star video clips, and more.
---
Stripchat

On Stripchat you can video chat with more than 1,500 breathtaking models. The large majority of these models perform in their birthday suits, promising you an endless stream of free pussies, tits and ass.
But you want more than just nude girls; you are looking for fetish performers who will dominate you during every second of the show. Stripchat provides exactly that.
The site has an All Category page that displays all its porn categories in alphabetical order. You will finds there quite a few that are hardcore-oriented. I can think of BDSM (In fact, the site has a couple of BDSM niches with Milfs, Grannies, Teens and Twenties), Bondage, Hardcore, Mistress, Play Games, Russian Spanking, Role Play and Slave.
A one on one femdom chat on Stripchat costs $3.80 on average. The minimum price for such a chat is $0.80 a minute. Yet, some models on the site will charge you around 30% extra for c2c and bidirectional audio (which comes as default if you pay for the privilege of opening your webcam).
What distinguishes Stripchat from its peers in the live porn industry are its VR chat rooms allowing you to enjoy the thrilling experience of a panoramic sex chat. The site's VR area is usually populated by around 10 performers. It should be mentioned, though, that virtual reality cam porn demands downloading a special program and getting some proper equipment, which is a little expensive.
---
LivePrivates

LivePrivates is known among sex cam users for its fantastic hi-def streaming and its approximately 1,000 absolutely stunning performers, a large majority of whom are live porn mavens.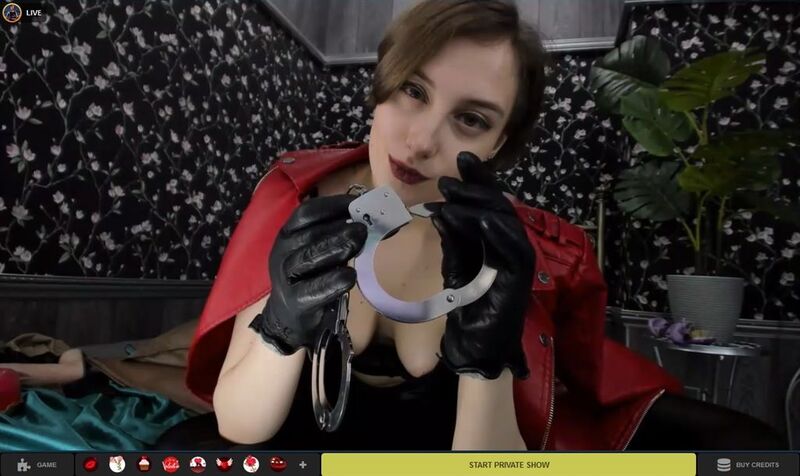 The site has a lot offer in terms of hardcore and fetish, especially when it comes to the domination niche. If you go over its advanced search tool and select the Fetish category, you will be taken to a page displaying close to 80 chat rooms with models giving kinky performances. Add to your search the Dom parameter you will find in the Willingness category and you will be directed to mistresses who specialize in all form of subjugation and repression. They will easily assume the role of your personal tyrant giving you zero leeway throughout their shows.
For a private femdom chat on LivePrivates, you will be charged $2.70 a minute on average. The minimum price you will pay on the site for such a chat is $1.00. These rates do not cover cam2cam and bidirectional audio, for which you will have to add 1-2 dollars a minute per feature.
LivePrivates' new members enjoy an awesome promotion that consists of a wheel of fortune they will need to spin right after the registration process is completed. Each result the wheel gives is a fortune in itself as it includes a credit bonus that can be as high as 100% for every package you will purchase. This wonderful wheel will keep on appearing with additional bonuses every 15 hours, so there is much to look forward to.
Similar to other top-notch adult cam sites like CamSoda and LiveJasmin, LivePrivates' c2c feature works on mobile. You can be outdoors and still enjoy fetish live porn with the performer seeing you in your most vulnerable state.
---
FetishGalaxy

What can be better for femdom live porn enthusiasts than a cam site that is exclusively fetish-like in its orientation? Welcome to FetishGalaxy and its +100 online performers who take the art of hardcore sex one step forward.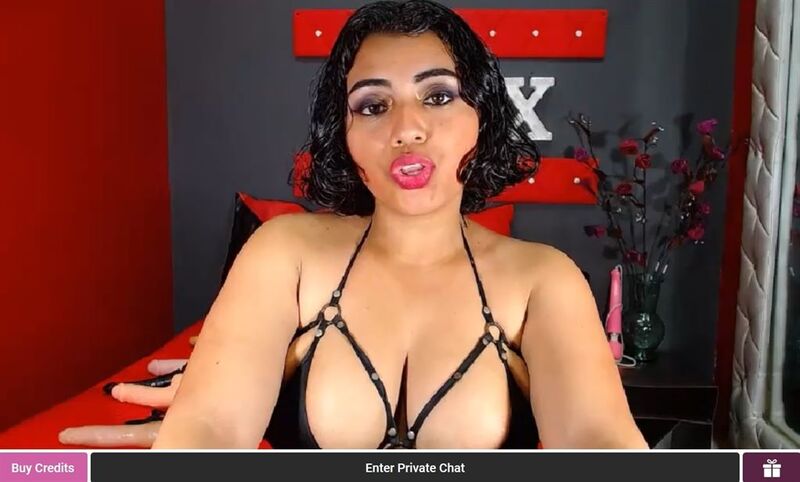 The site's search tool presents all the fetish niches you can base your chats on. There are 30 to choose from. Some of them are highly relevant for femdom c2c shows, like Bondage, Gags and Blindfolds, Humiliation, Orgasm Denial, Whips and, on top of all of these, Domination. I would also opt for Medical for the simple reason that after a live session full of gagging, tying and whipping you will surely need a hot female doctor to take care of your wounds (and your injured dick if you just had a chat in which you were not allowed to cum).
The average rate of a private sex chat on FetishGalaxy is one of the lowest you will find on the web, at $2.50 a minute. You may even run across performers who will not ask for more than $1.00 a minute. Cam2cam is included in privates.
Sounds great, especially if you like long sex chats and you do not want to go bankrupt. However, these cheap rates have their price. Streaming quality on the site is mediocre as most models employ SD cams. On the bright side, if you can settle for less than hi-def quality, you are surely going to enjoy cheap thrilling live porn shows with plenty of kinks.
FetishGalaxy has a lucrative reward program according to which your membership status increases (Bronze, Silver, Gold, VIP) the more credits you spend. High status entails hefty bonus credits and free access to the site's paid-for features.
---
A Few Final Words
The sites mentioned in this article will enable you to enjoy the most exciting femdom c2c chats in the live sex industry. Each one of these sites has its merits. LiveJasmin and LivePrivates boast superb HD broadcasting quality, high-standard performances given by professional cam girls and c2c on mobile. Flirt4Free has a whole online community of fetish models that will be happy to dominate you in their shows. Stripchat hosts a great number of beautiful girls and offers VR chat rooms. FetishGalaxy is purely dedicated to hardcore cam2cam sex and nothing else. Its cheap chat rates promise you affordable live porn sessions even if you have to compromise over broadcasting quality.
I kept CamSoda to the very last for the simple reason that this site is my number 1 choice for femdom interactive chats. The site's sex theme tags combined with good streaming, beautiful models performing naked for free and mobile c2c make it rise above its peers.
Review of 6 Best Live Porn Sites for Engaging in c2c Femdom Chats
- Reviewed by
hdcamsites.com