Best High-Def Gay Mobile Cam Sites
Finding a great gay cam site may not sound like a grand challenge, but one that offers all you need for an optimal experience - impeccable HD streaming, amicable models, extra features, budget friendly prices and a great mobile version in particular - make that mission much more difficult. This list covers not just one, but 5 sites that offer all of the above, and then some. To find your dream hunk and chat with him on the best mobile sites around, check out the list below.
Cameraboys

Voted as our #1 gay live cam site for a cam2cam experience, Cameraboys offers one of the best online platforms for gay c2c chats, along with a fantastic mobile experience. I'm referring not only to the countless amateur models vying for your attention, but also to the hi-def live cam shows given by highly professional gay performers you will rarely find elsewhere.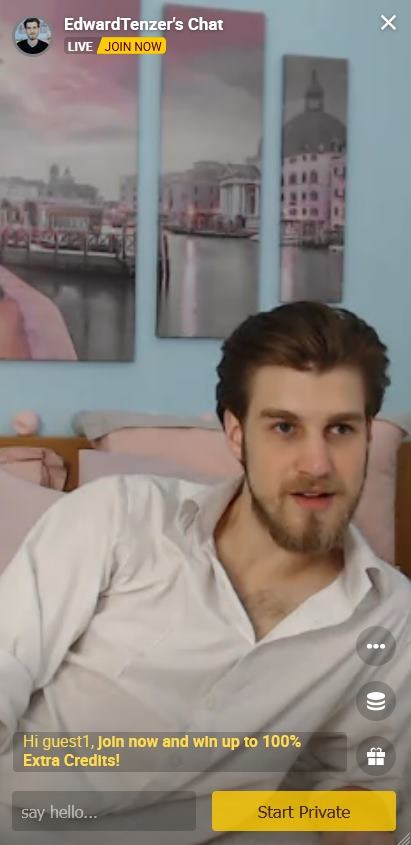 It's super easy and fun to navigate the site, both on mobile and desktop version. On the left is a handy search engine that includes the most popular categories and show types. On the top right you'll find a multi-option search where you can choose, for example, to filter Language, Age, and Willingness (What the host is comfortable doing in private chats).
Cameraboys is a premium site, which stands not only for superlative HD quality (A minimum 720p in all rooms), features and models, but also for publicly free chat rooms without nudity or sex. You're sure to find a hairy chest or two, little sneak peaks here and there, but nothing more. That's not a surprise considering prices aren't cheap for the bounty this gay site offers. It makes the free chats the perfect place to get to know your groovy guy before you decide to take him on a private on one one session to take the intimacy to another level.
The average price of these chats is $2.75 a minute, with the cheapest at $1.00 a minute. That may not sound too bad, but unfortunately there are extra charges of 1-2 dollars a minute for 2-way audio and cam2cam. On the mobile version, there's once again an extra charge for c2c. But not to worry, the site's search tool will make it quite easy for you to trace the cheaper models.
To use the mobile version there's no need to download anything, simply go onto the site on your mobile. To activate the 2 way audio/video click on the right where there are cam and mic icons. You'll be prompted with the price, you only need to accept and start your chat with the gorgeous dude whose company you just can't get enough of.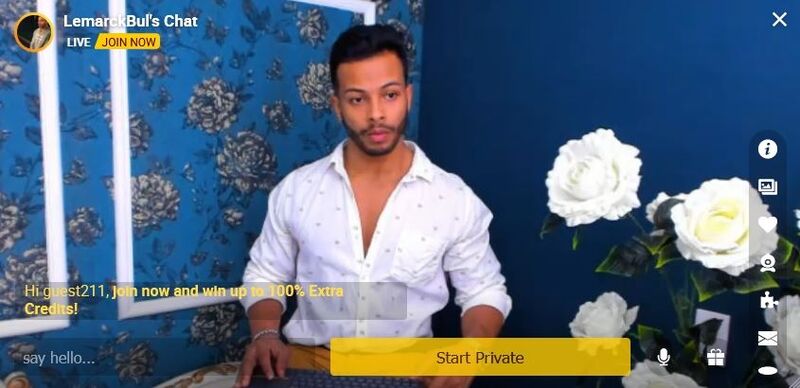 ---
Flirt4Free

Flirt4Free is absolutely an entertainment based site encouraging members and models to interact. It has superlative HD quality, crisp sound, and some of the most beautiful models in the industry. These are not just models, they are very much entertainers. They're funny, accommodating, and always ready with a laugh. Though the site also has Women and Trans models, there's a great array of male models, around 200, a relatively high number for a premium site.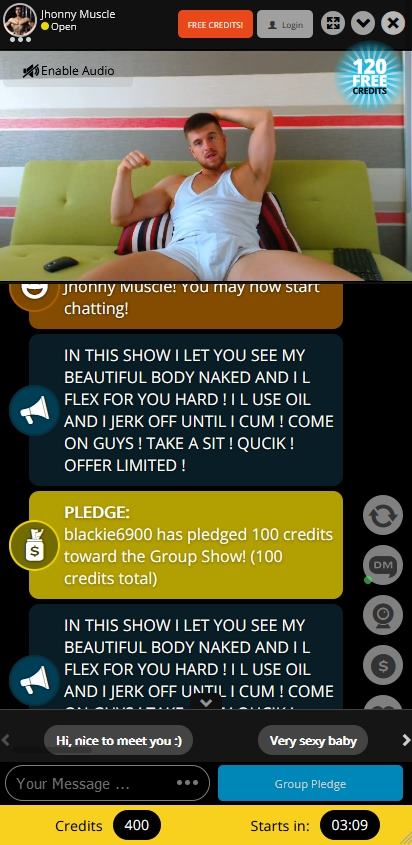 To find the chiseled men, simply click on Gender on the top right of the main page, and you'll immediately see the male models' thumbnails with their profile pics. These pics are impressive and professionally shot, and are very much indicative of the quality of boys you are about to meet. Though Flirt4Free is a premium site by all accounts, you may occasionally encounter raunchy adult antics in the free rooms as well.
Although the average price for a 1-minute private chat is $3.90, you'll run into some of the lowest rates for a premium site - just $0.55 a minute. And there are additional live show options at affordable prices, such as Multi-User Shows, Party Chats and Group Shows.
To keep things even more budget friendly, Flirt4Free offers a great VIP program which includes free premium videos, coupon codes and special promos. It will cost you $34.95 a month. Another perk for using the site is a rarity in the live cam world. You can pay with a gift card, those that have been sitting around since your birthday. Use those bad boys to make your own kind of birthday.
As for the mobile version, navigation on your phone is simple to do, just like on the site. When you turn your device sideways, you'll have the option of switching to full screen by clicking on the video itself. When watching on the phone, you have the option of rewinding the video back to a previous moment, so you can keep rewatching your favorite parts. However, with the keyboard active, you can only see part of the video. But, on the bright side, the video won't jump up and down while you type, you can scroll up and keep typing.
With amazing HD streaming quality on the mobile and the desktop sites, extra features such as Forums for members and models, and a slew of performers who are both beautiful and lovely, Flirt4Free offers one of the best mobile experiences there are.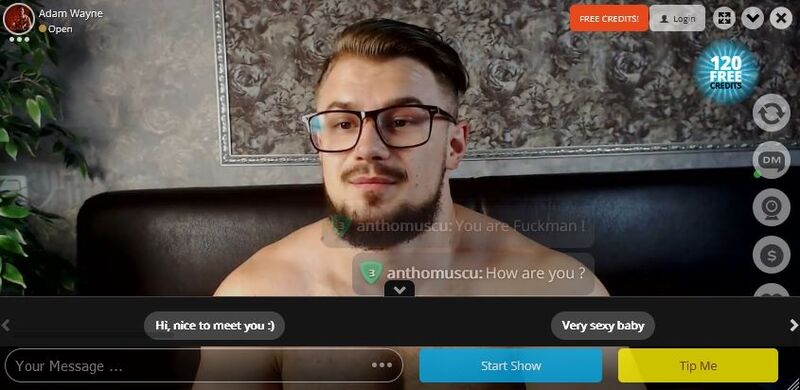 ---
Stripchat

Stripchat is another recommended site for cam to cam gay chats. Its Boys section contains more than a hundred good looking and quite liberal xxx models. When I say liberal I am referring to the fact that Stripchat is a freemium site. It basically means that you'll get to see tons of nudity in the open HD chat rooms, where you can interact with the performer and tip him to make his performance even wilder.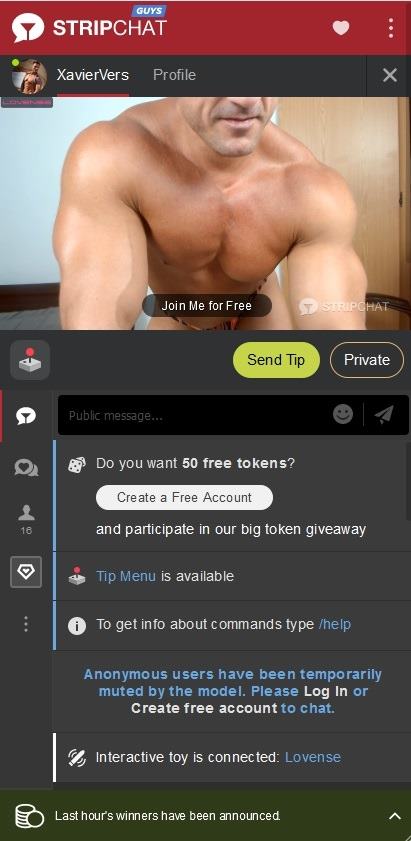 Stripchat's male performers cover every genre and fetish you can think of, but first things first. When you land on the homepage click on Guys on the top left. Here you'll find hundreds of boys online, many playing with themselves waiting to see who's going to pay them a visit in their cam room. Stripchat is known to be incredibly fetish friendly, which you can easily tell by the countless categories in the search engine.
If you are looking for a more intimate show, a 1 on 1 sex chat with one of the site's male performers will cost you $3.80 a minute on average. The cheapest rate is $0.80 a minute. Be advised, cam to cam gay chats are more expensive. If you feel like opening your webcam, you will be ask to add extra tokens depending on each model's individual rate. You can find cheaper option watching Spy Shows (Spying on another members' private show) and Ticket Group Shows (Multiple member shows), both a fraction of the potential high rates of private chats.
Stripchat can be viewed on any smartphone or mobile device. The mobile version intuitively loads and offers almost all the features the desktop version has. The only thing you can't do if you're accessing Stripchat on your mobile device is initiate a cam2cam chat session. Good news is that everything else on the mobile version is great, such as writing in chat, which doesn't obscure the screen, and the address bar goes away once you scroll down.
Another special feature we saved for last is unique to Stripchat and is also available on mobile - Virtual Reality. That's right. The site's VR Cams rooms promise you a thrilling out of body experience with the hunk of your dreams. At the moment, there very few boy models capable of giving you VR shows. Hopefully, there will be more in the foreseeable future. Take into account that you'll be required to download a special app and obtain a headset to chat with the site's models in a virtual reality environment.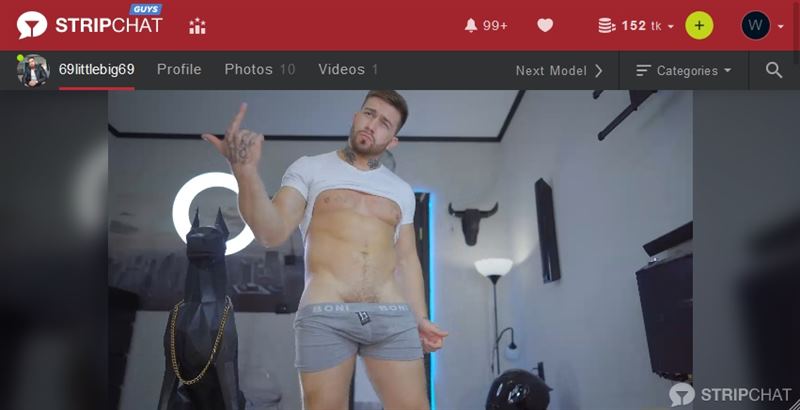 ---
BongaCams

BongaCams is Europe's most popular freemium cam site. The site is filled with gratuitous nudity with more than a few men happy to share their ample assets with one and all. The models on the site are primarily amateurs, but that doesn't mean they won't give you an enjoyable show. The majority of the models are European men, mostly from Russia. The mobile version has gone through quite a few upgrades and is now excellent, and even includes c2c, which is rare for freemium sites.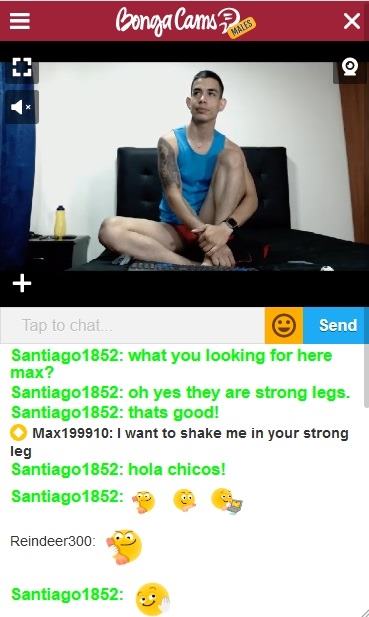 BongaCams is composed of free chat rooms, where users tip for requests. You can even activate your webcam in the free chat rooms, and the guys you are watching can watch you too. The private chat sessions on BongaCams have a fixed price of $4.50 a minute. Private chat still allows other users to spy in on your show, just like you can spy on theirs Unless you choose Full Private Chat, which is 50% more expensive
To make things more low cost, you can spy on someone else's private show for just $0.40 a minute. Another low cost option is finding a model hosting a Group Chat and paying only $0.80/min, along with other members. The site's reward program will enable you to upgrade your membership status through your purchases. Higher status brings with it great benefits, such as chatting invisibly, using colored comments in chat, receiving free gift cards and even kicking from chats members of a lower status.
The main downside of the site, particularly in the male category, is the streaming quality. Most of the guys stream in SD, which can cause lags and jumps, not great for a visual experience where you don't want to miss a thing. If you click on the HD tag the number of rooms will narrow to about 20 (Out of 100), but we can happily report these are usually the hosts that have the most experience, and really have their performance down to an art. Sometimes quantity isn't everything.
To expand on the great mobile version, which in many ways can be considered better than the desktop version as it makes streaming issues go away, BongaCams thought hard about what to do when you turn your phone sideways and came up with a great solution. You get the full video feed and the bar to chat on one screen. That being said, while typing in the sideways position is comfortable, you'll have to switch to the portrait view to watch and talk at the same time. In portrait, you can see the chat history beyond the last line.
Flicking left and right switches between the live chat rooms on BongaCams. You can press on the white + to open up more options. It's where you'll need to click if you want to tip or start a private chat. As of August 2020, you can interactively chat with the site's models on your mobile device using c2c.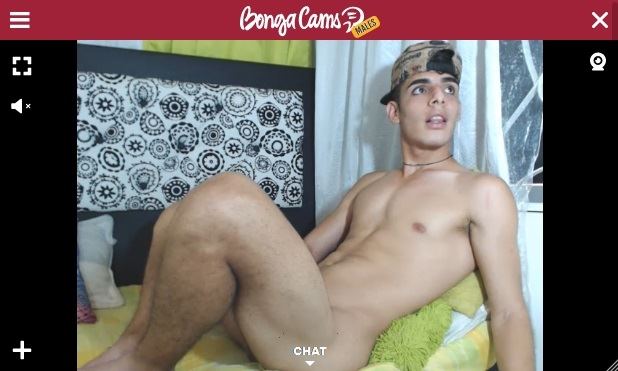 ---
LiveJasmin

LiveJasmin is one of the top sex cam sites operating today thanks to supreme HD streaming quality and high standards of professionalism demonstrated by its models. With over 60 stunning gay models online on this luxury site, a user-friendly interface and a multi-optional filtering tool, there's not much LiveJasmin can't offer that you're not looking for.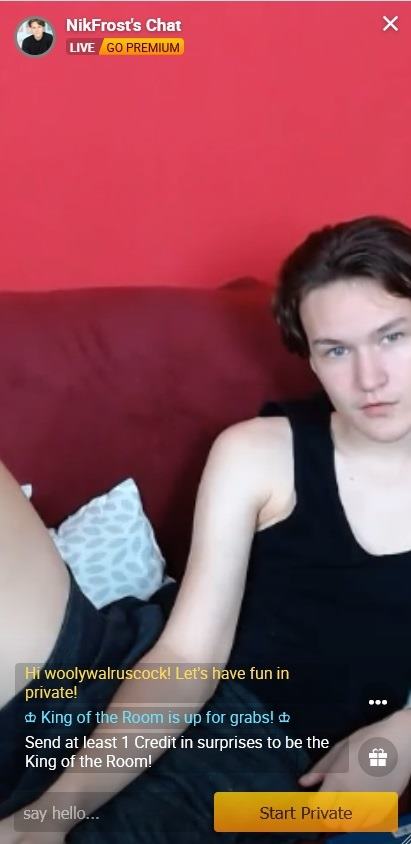 LiveJasmin has some of the best video quality you'll see on any adult chat site in the business. The vast majority of the shows on the site stream in either 720p HD or full 1080p HD, and run without any stuttering issues whatsoever. On top of this, LiveJasmin seems to have strict rules on how its models can stream on their platform. To put it bluntly, they have to be hot and experienced, but they also need to have good streaming equipment, a tidy working space and a webcam that's set up to fully capture them at all times.
Being a premium site with no nudity in open chat rooms, most of the action on LiveJasmin occurs in private sex chats. The price of these chats is $2.40 a minute on average. If that is too much for you, you will be able to find models that will charge as low as $1.00 a minute. However, take into account that activating cam to cam on the site requires an extra payment of 1-2 dollars depending on the model himself. The same goes for 2-way audio. Despite the sometimes lofty prices, you can find the cheapest prices among models with the New sticker and the Promo sticker. Also, consider a VIP Show which is still excellent, but includes multiple members, as a super cheap option.
LiveJasmin was designed to look like a glamourous photo shoot. This stunning quality of experience is not lost when viewed on your Android or iPhone. While most chat sites let their hosts broadcast in whatever quality they want, LiveJasmin has standards. All models broadcast at a minimum of 720p, with many going for the full 1080p.
When accessing the site from a phone's browser, you'll be prompted to download the LiveJasmin Free Mobile App. Whether you interface with a browser or the app, the available c2c feature on mobile will be your new best friend. The mobile version lets you pan the camera by pressing (and holding) the screen and tilting your phone, or minimize the show to a smaller screen by dragging it to the bottom, so you can browse the site while still enjoying some brotherly company.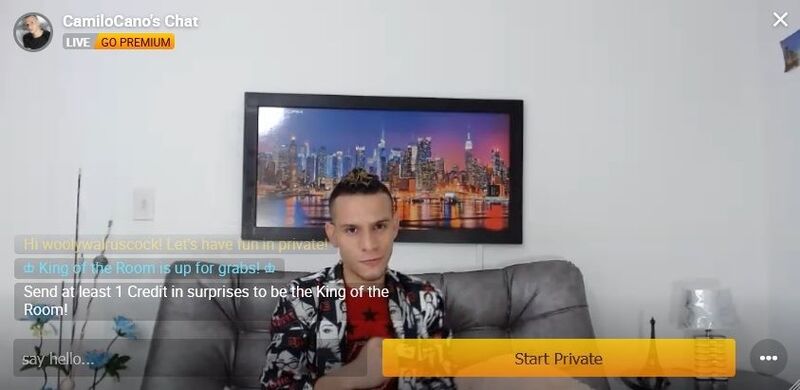 ---
Conclusion
As you may have gathered from the run down, any one of these 5 sites offers an exemplary mobile and desktop experience, specifically aimed at gay models. These sites offer different points of excellence, such as LiveJasmin luxurious overall look, Flirt4Free's light entertainment stance, or Stripchats' multitude of fetish inclined performers.
Despite these excellent choices, we select CameraBoys as the grand winner. It's the only site that offers everything you could possibly need: gorgeous models, reasonable pricing, superior HD streaming quality, a fantastic mobile version with c2c capabilities, and fun extras to keep you occupied long after the sexy time with your beau. Cut to the chase - this is where you should go to find the hottest online cam boys.
Review of Best HD Gay Mobile Cams
- Reviewed by
hdcamsites.com