View the Best Mobile Cam Sex Sites Anytime, Anywhere
Watching women perform sexy acts of strip 'n tease, or hardcore fuck shows live on cam is rewarding. Watching these artists when you want to and how you feel like, can be even better!
The worlds of both online porn and technology have been working hand in hand for ages now, so it should come as no surprise that our most beloved and favorite amateur porn sites are all available, right in the palms of our very own 2 hands.
Smartphones or tablets, Android or Apple, whatever your hand-held device preferences are: Guys and girls are turning more towards mobile cam sex, and loving it.
---
CamSoda - Leading the Phone Sex Cams Revolution

CamSoda is a relatively new live chat site to the circle of online porn. Despite its age, this innovative website has already carved itself out as an industry groundbreaker which incorporates technology. CamSoda has been the first to: Introduce a VR-specific channel via the platform's CamSoda House as well as bridge the gap between science fiction and mainstream debuting their Holo-Cam. And when it it comes to mobile cam sex, CamSoda leads the way by being the very first live chat site to introduce webcam2webcam on its mobile platform, and for this reason claims my top spot for the best phone sex chat site.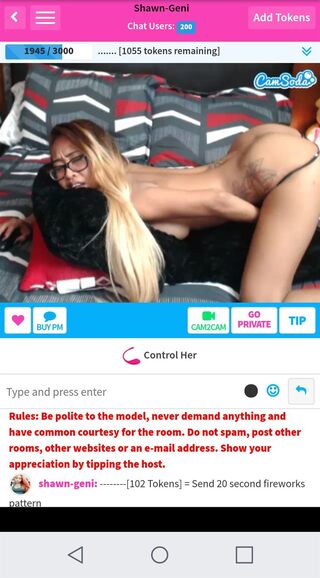 With CamSoda's quasi mix of goal-driven open sex shows, private 1-on-1 explicit paid for performances and exclusive amateur videos, there is always action to behold. It's the paying members who really have all the fun, as they get to direct the model. The more that members tip, the more say they have, in how a sex show plays out! Token packages start from as little as $5.99 for 50 Tokens.
My recommendation is to set yourselves up as members, so you too can join in the tipping fun.
Registration on CamSoda, through your mobile or hand-held device is super simple, straightforward and totally free. The following information fields need to be filled out: Username, Email & Password. Confirm your gender, and then press the Register Now button to complete the sign up process. Basic members are permitted to purchase Tokens. The Premium membership on offer ($19.95/month) includes VIP benefits, as well as a once off gift of 200 bonus Tokens.
Mobile Site Features
Mobile interface is an exact replica of the desktop site, making it familiar to existing members.
Mid size thumbnails which include the model's performing name as well as how many viewers currently in her room.
Portrait mode, the default video screen is set to medium & the text chat window is relatively large.
Full Screen mode, removes the text chat window as well as most user icons, except for the Tip button.
Landscape mode is the best way to enjoy mobile sex chat, as it has the most optimal viewing video chat screen.
Video quality, both SD & HD feeds offered. Activate/deactivate HD to optimize your viewing experience.
Private sex chat, CamSoda is the only bona fide sex cam site to offer its members mobile webcam2webcam.
Notifications, receive emails when your favorite models become available online for hot mobile cam sex.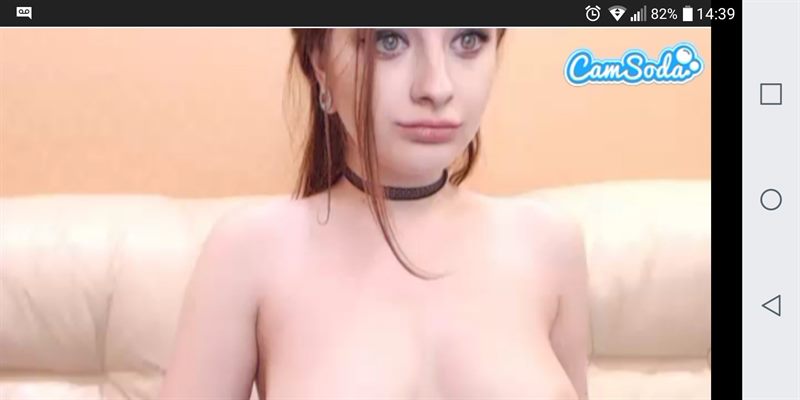 ---
LiveJasmin - Phone Sex Chat Made Real Easy

This uptown live cam site presents a variety of sexy cam babes in the hottest chat rooms. The models on this live chat site all feature minimum HD720, with most actually going at the full 1080p. What this means for you, is clean and detailed video images making LiveJasmin a deserving place holder on my list of top trending mobile cam sex chat sites. As is the site's policy, nudity is not permitted in the public chat rooms. For explicit viewing, members need to pay and go private, a service which is easily available on LiveJasmin's mobile cam sex platform.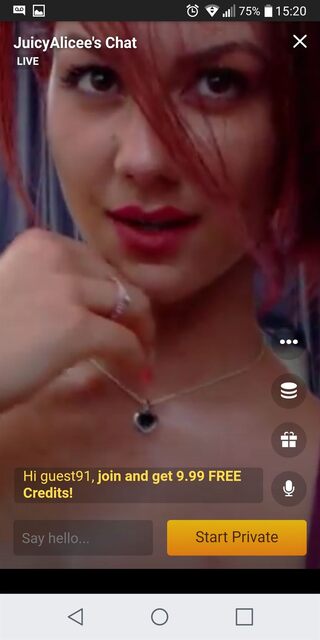 Joining this prestigious adult webcam club as a Basic member is really simple, takes only a few moments and membership is not only free, but valid for life. That's right, absolutely no credit card is needed upon sign up, nor are there any monthly subscriptions required for this elegant phone sex chat site. To begin, click the menu icon top left of the start page. Click the Sign Up FREE button. Complete the registration fields, namely: Username, Password & Email. Become a Premium member when you make your first Credit bundle purchase.
Premium members have the best advantage, as they get to experience all the explicit LIVE sex shows conjured up by the LiveJasmin babes. These high rollers get to go private with willing and wanting cam models, and they get to call every sexy shot!
New members are gifted up to 9.99 bonus Credits on their opening purchase and then again, (up to 9.99 bonus Credits), after every 5th purchase.
Mobile Site Features
Mobile interface, view the main gallery (vertical phone) for the new site look. Turn the phone horizontal for the classic look.
Medium thumbnails, gorgeous cover photos. Some rooms are indicated as In Private Chat or In VIP Show.
Portrait mode, the default view is full screen, which is fantastic! Member chat is ghosted over the video stream.
Panorama, while in portrait mode hold your finger down on the screen, tilt your phone to pan around the model's room.
Member features, are all clearly indicated on the bottom right, whether your phone is upright or sideways.
Model selection, swipe either left or right for the next available mobile cam sex model.
Clean imagery, tapping your phone (while in a model's room) removes the ghosted chat. Works in portrait and landscape.
Video quality, a strict policy of high def cam feeds only. HD720 is the norm, many models broadcast the full HD1080.
Private mobile cam sex chat, these paid for performances may include 2-way audio (not every models mic is set up).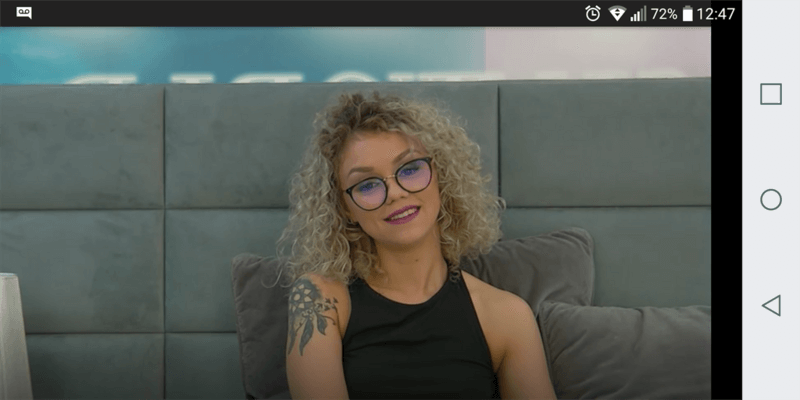 ---
Flirt4Free - Mobile Cam Sex for People on the Go

Flirt4Free has a huge and loyal following and continues to draw in the crowds. This is another site which offers both live cams and home made movies, directed by and starring amateur cam girls. As far as kinky performances are concerned, either take part in the open shows and join other members in tipping to keep the model going, or pay for her time and take her into private. Either way, to really feel part of this frisky community, you're going to want to sign up as a paying member.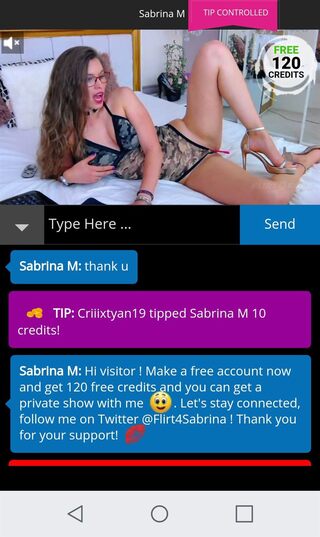 With 120 Free Credits given on sign up (once off) and a zero cost registration, becoming a Flirt4Free member is really a no-brainer, and something which I encourage all of you to do. Click the menu icon, top right of the home page and select Free 120 Credits!, which redirects to the sign up. Complete the info fields: Chat Nickname, Password & Email. Tick the terms and conditions box, then press the Register Now button.
Credit packages start as low as $10.00, which gets you the super deal of 90 Credits plus 150 additional bonus Credits! With a myriad of chat options, avid porn fans can always find a kinky sex show going down.
Mobile Site Features
Mobile interface mirrors the desktop site. Aside from user familiarity, it offers among the best search features available.
Mid-size model pics, found in the main gallery with a large format featured model photo, at the top of the display.
Portrait mode features a mid wide video screen with a fairly large texting interface. Rewind to re watch your best scenes.
Full screen mode, tap the video window then press the full screen icon (bottom right) to have the text removed.
Landscape mode, allows users to watch phone sex chat models in the largest format possible, scroll down to text.
Video quality, with Flirt4Free's matrix of chat rooms, there are both SD & HD cam feeds available.
Member features can be found from either portrait or landscape mode, under the menu icon (top right).
Model selection, there is no option to swipe through rooms, return to the main gallery to choose a different babe.
Advanced search tools, some mobile chat sites offer basic search options, this mobile sex cam site features the full set.
Private phone sex chat shows, members can choose between Private Show (1-on-1) or Multi User Show (group chat).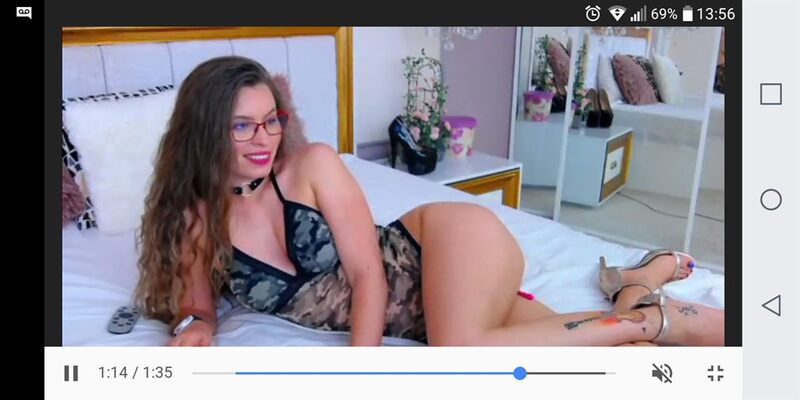 ---
Chaturbate - Endless Phone Sex Chat on Hand

Chaturbate might just be the best site for watching live explicit performances for free! You heard me, you never have to spend a dime to be sexually aroused and entertained. But forget about trying to chat if you're not signed up, as these babes only have time and attention for the members with Token tipping power. Though private sex chat is available, Chaturbate's true strength and allure lies in its open format sex shows. A blend of both SD & HD video feeds, mean the shows all look amazing on both mobile phone or tablet.
Joining this porn loving fun club, takes very little time and not only is your membership free, it's also valid for life. From the homepage, click the menu icon (top left). Select Create Free Account which redirects to the registration page. Complete the sign up, and include: Username, Password, DOB & select a Gender. Email is optional, used for friend notifications, we recommend including. Check the terms and conditions box as well as the reCapthca box (confirm human), and then press the large blue Create Free Account button.
The goal orientated or tipping shows are undoubtedly Chaturbate's main driving force. Add to this, a slick and well integrated mobile sex cam site, and members get to have their own masturbatoriums - where ever they want!
Token packages begin as low as $10.99 for 100 Tokens, which is enough to get you a taste of the action. Different models offer a spectrum of kinky services or sexual acts of deviance, and their tipping menus vary, so it's best to actually check the site out for yourselves for specifics.
Mobile Site Features
Mobile interface is reminiscent of the desktop site, with advanced search options available to logged in members only.
Model profile pics which are attractive and medium size, are actually snapshots of the current live camera feed.
Portrait mode, features a split window with just a third of the phone screen dedicated to the model, the rest for texting.
Full screen mode, tap the phone in portrait mode and select the screen icon (bottom right), removes the texting window.
Landscape mode, allows you to view mobile sex cam babes in the largest format, with zero text chat interference.
Video stream quality is generally very good. There is a blend of both SD & HD feeds, though most tend to run HD cams.
Member features are kept simple on this phone sex chat site. You have the option to tip, tip more and .. tip even more.
Cam babe variety on Chaturbate is mind blowing, though you need to return to the main gallery to choose, no swiping.
Private sex shows are an option, though it's by no means straightforward. You need to be set up as broadcaster for c2c.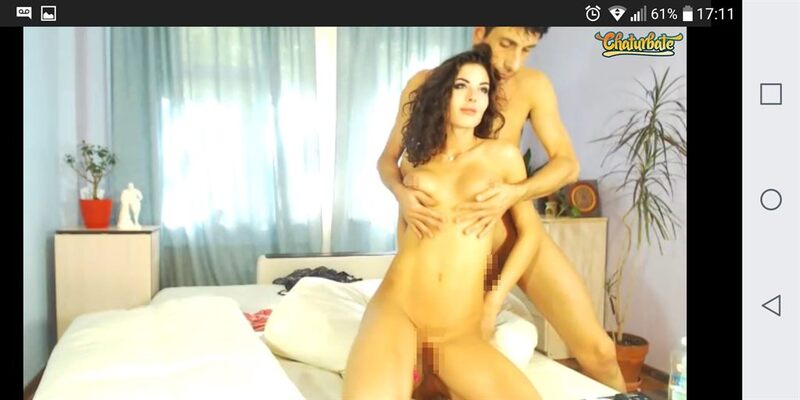 ---
MyCams - An Upmarket Mobile Sex Cam Site

Elegance and opulence are the order of the MyCams mobile sex cam site. With a selection of beautiful models in an array of enticing HD chat rooms, the members of this esteemed live chat site are seldom left for wanting more. Free chat, which is open to everyone is tame by nature, as nudity is not permitted in the open forums. For the xxx rated shows you need to go private, an outright benefit to becoming a MyCams paying member. With a simple registration, you too can find your self immersed in MyCams' exclusive phone sex club.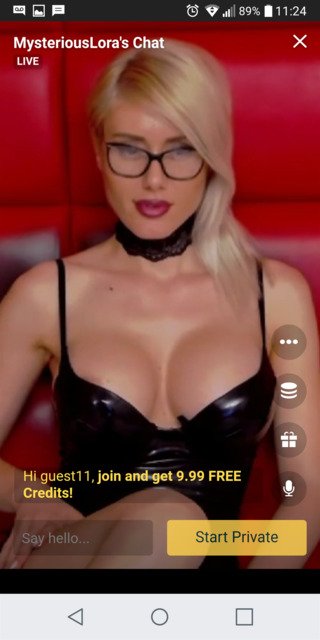 To become a Basic member of this illustrious HD sex cam site, follow these short and simple instructions. From the start page, click the menu icon (top left). Select the Sign Up FREE button and fill out the information fields: Username, Password & Email. Get upgraded to the Premium membership once you've made your first Credit bundle purchase.
It's the Premium members who find themselves in the driving seat, as when they decide to leave the crowds - they can go private and take the performing cam babe with them! Paying members, during the private sex shows get to direct the model, as they see fit.
Newly registered members are welcomed with a once off gift of 9.99 free Credits, for credit card verification, and with its elementary rewards program, members will also score bonus Credits on their 1st and then every 5th purchase.
Mobile Site Features
Mobile interface in portrait mode is clean & appealing, landscape mode gives the gallery a more classic feel.
Mid-sized thumbnails of the models are all picture perfect. VIP Show rooms are all clearly labelled.
Portrait mode presents the model in full screen mode, which is awesome. Member chat is layered over.
Panorama is featured in portrait mode. To scan a model's room hold your finger down on the screen and tilt the phone.
Member features, which are conveniently located on the bottom right of the video window (portrait & landscape).
Cam model selection, scroll through available mobile sex cam babes by swiping to the left or right.
Uninterrupted viewing, once in a model's chat room, tap the phone to remove the texting (works in portrait & landscape).
Top cam quality is a strong standard on MyCams.com. HD720 seems to be entry, with many models offering HD1080.
Private paid for sex shows remain being popular and attract new crowds every day. Excellent viewing on mobile devices.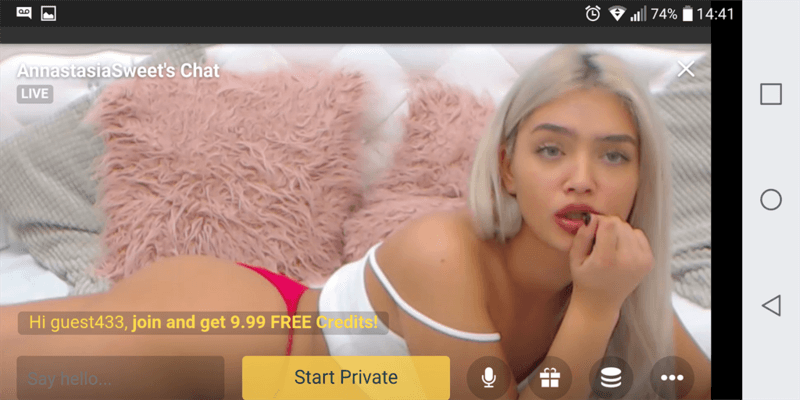 ---
Streamate - This Mobile Friendly Site is Pure Palm Pleasure

Streamate is a live chat site with years of camming experience, and therefore knows a thing or two when it comes to the online porn industry. Take into account its impressive collection of amateur performing models, in a variety of live chat rooms and you have yourselves a recipe for one hellava mobile cam sex site! While Streamate is free to use and open for everyone (18+), forget about trying to text chat with the babes, if you haven't yet registered as one of its latest members. Until such time, you remain a welcomed visitor, with strict browsing rights only.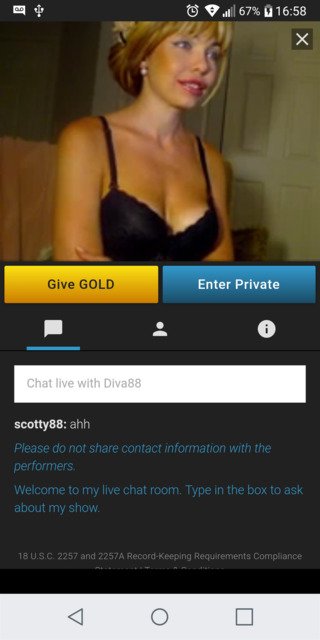 Although joining Streamate doesn't cost a cent, a credit card is required as a matter of account verification. From the main gallery, click Free Account, then enter a valid Email, and choose a unique Nickname. Your password is emailed to you. The next step is to supply your credit card details (account confirmation), without completing this step you are unable to continue with the registration process.
There are no Credit or Token packages offered by Streamate, when you decide to engage in explicit sex chat, simply enter the model's private chambers and then be billed (credit card) for the exact amount of time you spend with her, nice and easy!
With a healthy blend of camera quality, expect to find SD chat rooms in the majority, and a number of models featuring HD (sadly capped at 720p).
Mobile Site Features
Mobile interface in portrait mode allows for 2 columns of pics to be displayed, landscape mode increases it to 3.
Mid-sized model pics which aside from being sexy, include the model's name, her age as well as her country of origin.
Portrait mode splits phone screen between: video stream & the text chat window. Quick links to bio and show info.
Full screen mode is available in landscape mode, simply flip your phone sideways (removes the chat window).
Webcam stream quality, varies as there is a mix of both SD & HD camera feeds (High def is limited to HD720).
Browse mobile sex cam models, by returning to the main model gallery and scrolling through the pages.
Easy access to private sex chat, simply tapping the video in either portrait or landscape, brings up the price menu.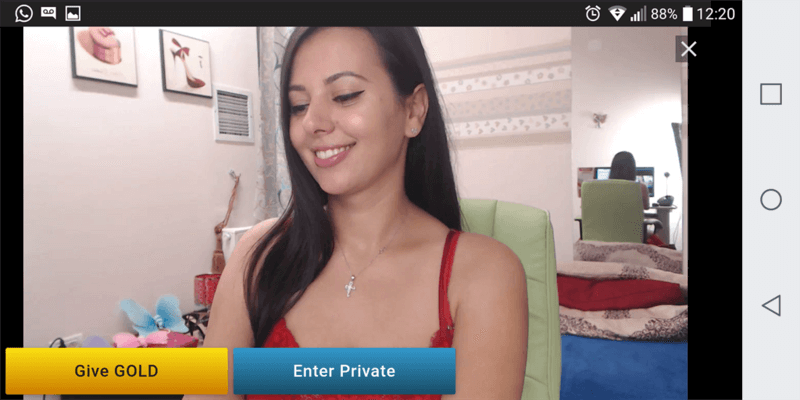 ---
Cams - A Mobile Cam Site Packed with Features

Yet another live cam site which has been around for a considerable time, which means that not only is the model pool varied, it also runs deep. Cams.com is a site which understands its members wants and needs; having started with a strong focus on private sex cam shows, these days models seem to be gravitating more to the open, tip-based live performances. Either way, in private or in public, Cams.com provides members with a jam packed phone sex chat site.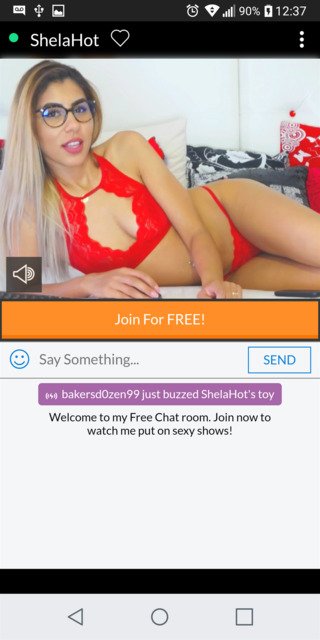 Though free chat is available in the open chat rooms, visitors are unfortunately time limited. With a no payment registration and Basic membership free, my recommendation is to take the time and sign up! Premiere membership is available, incurs a monthly subscription (3 months at $13.99/mo), and includes a host of added benefits and show discounts.
To join Cams, click the menu icon (top left of the homepage), press the Join Now button. Fill out the obligatory required user fields: Username, Password & Email. As a member, add Tokens whenever you feel like, and when the time feels right, join rank and upgrade to Premier status.
Token bundles to New members all include a bonus 100 free Tokens, and the lowest bundle will set you back $12.00/100 Tokens, however the best selling bundle at $99.00 scores you a whopping 1000 Tokens!
Mobile Site Features
Mobile interface shows a compact view of the main gallery, scroll up a touch to have the categories menu revealed.
Portrait mode, the phone screen is divided equally between the live video feed and the text chatting window.
Landscape mode lets you watch the model perform in the widest angle possible, you can still text chat with the model.
Full search capabilities including advanced filters as well as key word search options, help users find the right babe.
High quality video feeds in the chat rooms, with many hosts featuring HD, making Cams a strong mobile cam sex site.
Private sex shows, members pay for 1-on-1 private time with a sexy babe, some have sex toys with active Buzzmode.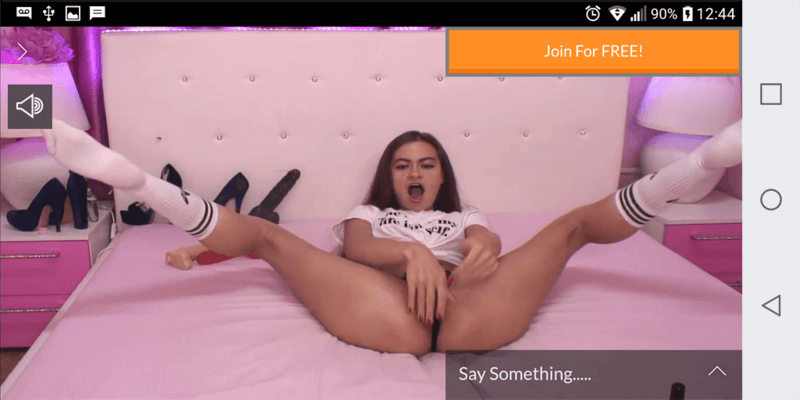 ---
MyFreeCams - Off the Hook Phone Sex Chat

Welcome to the oldest known live chat site known to the world wide web. In such, and in it's hey days, this adult webcam site was a force to be reckoned with. It still is a popular destination with avid and loyal porn fans; considering the competition these days and the fact that MyFreeCams has remained a purist, allowing only women artists to perform, rightfully earns it the final spot on my list of the best phone sex chat sites.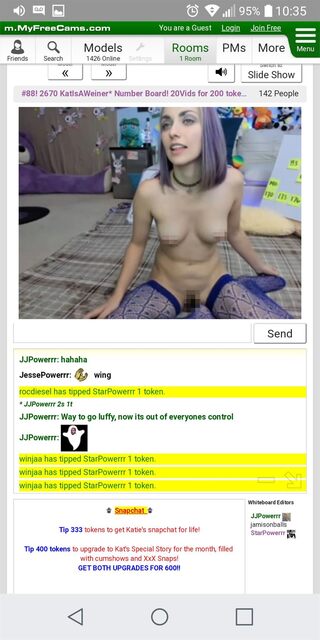 Though MyFreeCams (as the name suggests) doesn't need to cost a dime, it's the paying members who get noticed and have the most fapping fun. They are the ones who call the shots in the open shows, and have the playing power to take any wanting & deserving babe behind closed doors. To register, click the Join Free button (top right of homepage) and complete the basic user fields: Username and valid Email. Click Create Account, which redirects to the choose password & confirmation page. Final step is completed (Basic members) upon receiving confirmation email and activating your account.
Become a Premium member when you purchase a Tokens package, and your membership is valid for life! Packages start from as little as $19.99 for 200 Tokens, a deal extended to first time buyers.
With a variety of show options: Private shows, Spy, Group Shows & TruePrivate, the discerning player is spoiled with choice.
Mobile Site Features
Mobile interface in trying to mimic the desktop site, actually looks better on mobile. Intuitive navigation & user menus.
Portrait mode divides the screen fairly between the live feed and the chat window. Toggle option for slide show available.
Full screen mode, is accessed from both portrait and landscape modes. Press the screen icon (bottom right) of the video.
Landscape mode features a mid-sized video screen on the left and a comfortable text chat interface on the right.
Unique user functionality, pause the action and never miss out. Scroll between models using handy arrow buttons.
Video camera quality standards on MyFreeCams are solid, with a number of models broadcasting in High Definition.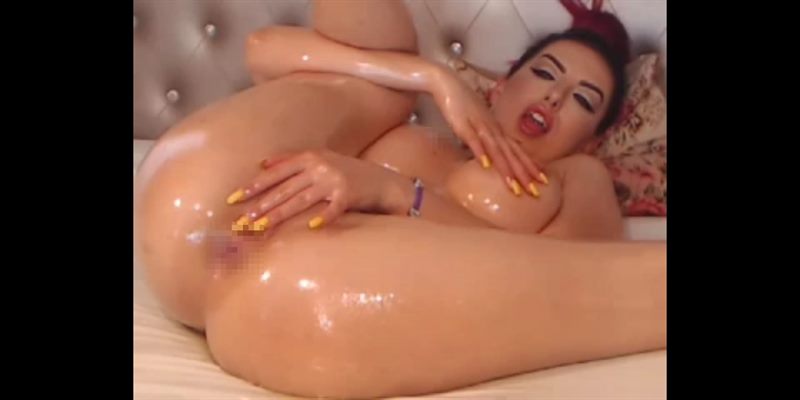 ---
Conclusion
As I mentioned earlier, while watching women perform naked (live on cam) is awesome, watching these women in action on either your phones or tablets can be better, and in most cases - it is.
Let me put it to you like this,
All of the above reviewed sites offer mobile platforms, which have been specifically engineered and geared: to look; fit, work & play best on all leading hand held devices. While most of my testing was conducted over an Android based phone, I can confirm that all of these above discussed sites will also work over all the Apple toys.
The best site for mobile phone sex chat currently, is CamSoda. The reason being, this innovative cam site is the only site to offer webcam2webcam at present.
This puts them at a clear advantage, and they'll probably remain 1st place until such time as the competition catches up. With its eclectic blend of both live cam sex shows and amateur home made videos, and coupled with its fantastic model line up, CamSoda continues to please the masses, and looks great in the palms of your hands!
Review of The Best Mobile Webcam Sites at Your Service
- Reviewed by
hdcamsites.com