MyFreeCams Review - one really for all the lady-lovers out there
How the devil are you? If you'd allow me to, I'd like to take a few moments of your time to tell all about yet another adult chat cam site I've uncovered on my never-ending sexually odyssey across the internet. The site I'd like to tell you all about in MyFreeCams.com. It sounds like a site where you'd expect plenty of freebie goodness, but is this the case?
MyFreeCams has been around since 2004 ... and you can tell as I don't think the site's been changed from it's original design. If you remember those dim and seemingly distant days of the internet, then the layout of MyFreeCams should be very familiar to you. I actually did a little bit of research and found the last major overhaul to the site was made in 2006. I'm all for the principle of "if it ain't broke don't fix it" but eight years without any changes just doesn't seem right to me. Still, they site's still in business and has won a few industry awards, so it must be doing a lot of things well. The site certainly has plenty of registered models, and over 15 million viewers.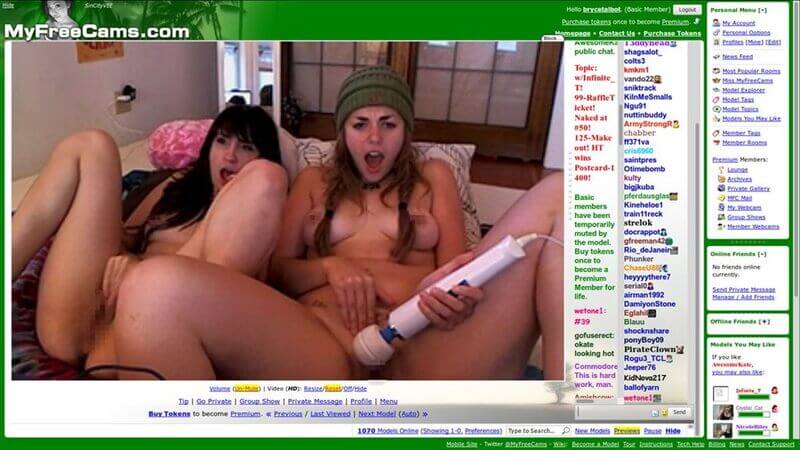 My considered thoughts
Moving on to the real reason these sites exist - the sex cam models. I've very impressed by the quality of the models at MyFreeCams. As far as I can tell, if you sign up to be a sex show performer at MyFreeCams, you get a much higher rate of pay from the punters than you do at other sites, which is why, I suppose, MyFreeCams.com has so many super-fine sexy girls. There are no porn models on there, but there are plenty of girls on MyFreeCams whom I wouldn't be too surprised to see in a high-quality porn movie. I only wish these super sexy babes had more plush surroundings in which to tout their wares.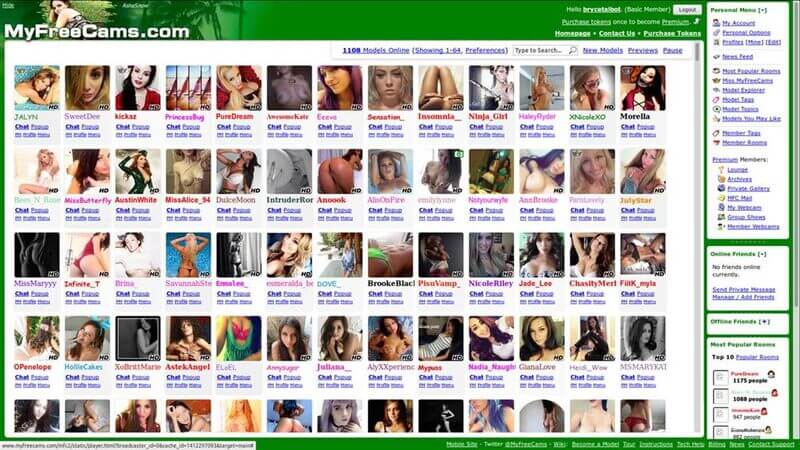 One thing though, if you have a broad liking of sex then you're going to be a bit loss for something to occupy your time at MyFreeCams.com, as it's only fit for ladies, as far as I can see ... which I don't have a problem with but if you're the type who likes a little variety then you're stuck. If you read the FAQs MyFreeCams sort of majorly hints that they only take on female models aged between 18 and 45, so if your preferences lie beyond these boundaries then you need to be looking elsewhere. I guess they just want to concentrate on what really brings in the bucks.
If you've used an adult cam site before, then you'll be very familiar with the concept, and the way things are organized. At the site is really all about xxx babes then you don't have to troll though lots of stuff you're simply not interested in. The menu pages lists girls in order of their currently popularity, and you'll find the models can get a little bit bitchy about who is number one, etc. I guess the higher you are, the more money you make. You can take in the thumbnail view, or you can switch to preview mode, where you get to see what each girl is currently up to. This is really handy (they are still images, but you can set a refresh rate to get the stills updated) because even in free chat a lot of the x-rated babes are ready to get naked and dirty. I guess it's all to do with that number one spot. You can easily pick out an x-cam babe who's currently doing the business for her freebie clients - and I say freebies but the girls don't seem too fond of Basic Members and ban them from the chats (you can still see the hot action, though). To become a Premium Member you only have to buy tokens once, so that's not too much of a hardship.
Anything else?
Yeah ... despite the My "FREE" Cams name, there's not a lot you can do for free. You can see what the girls of up to, and that's about it. To have a great deal more sexy fun, you need to buy some tokens at least once. That's only going to set you back $20 at the minimum, so it ain't too much of a hardship, and you get quite a bit extra, such as the ability to record your sexy chats, and free photos popping into your inbox. You can also enjoy shows and chat with other MyFreeCams.com members.
Becoming a member
It's so easy ... just a username and your email address. Once you've done the business MyFreeCams.com will send you a validation email so you can prove you're legit and not messing about. You stay a Basic Member until you buy some tokens, at which time you become a Premier Member for life.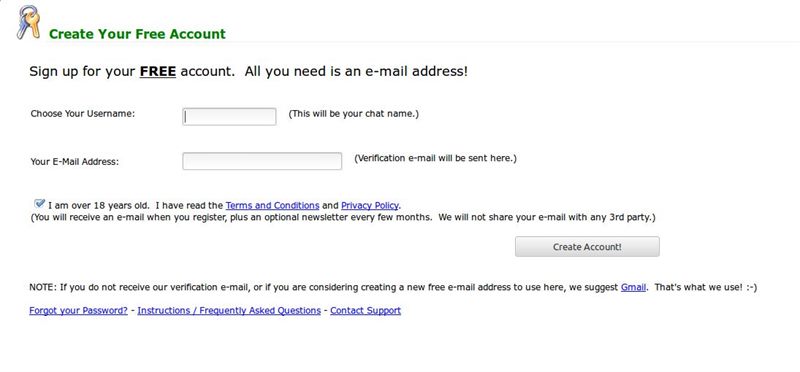 Let's get chatting
If you expect free chat at MyFreeCams, you're going to be disappointed. Most times you enter a chat room you'll get a message "Basic members have been temporarily muted by the model. Buy tokens once to become a Premium Member for life," and if you try and chat, you get the same message. You CAN see what's going on, but you can't join in the chat. To do that, you have to make a purchase, and from that point on you can chat for free. Premium members can also enjoy private chats, although at the set MyFreeCams price of $6 a minute, it ain't cheap!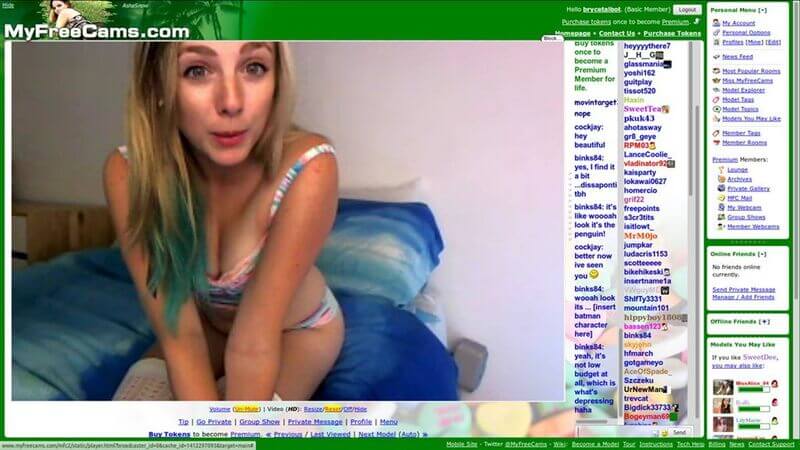 Quality of video
Well, this is where me and MyFreeCams are really going to fall out. The supposed HD cams at the site are pretty poor - worse than the SD cams I've seen at other sites. I like my HD, and I'm afraid to say that MyFreeCams just doesn't deliver in this respect.
Putting your money where your mouth is
MyFreeCams is all about tokens, and tokens are around ten cents each (see the table). All private shows are one token per second, so ... well, I won't insult you (for once) by doing the math for you.
USD $
Price
Tokens
$19.99
200
$49.99
550
$74.99
900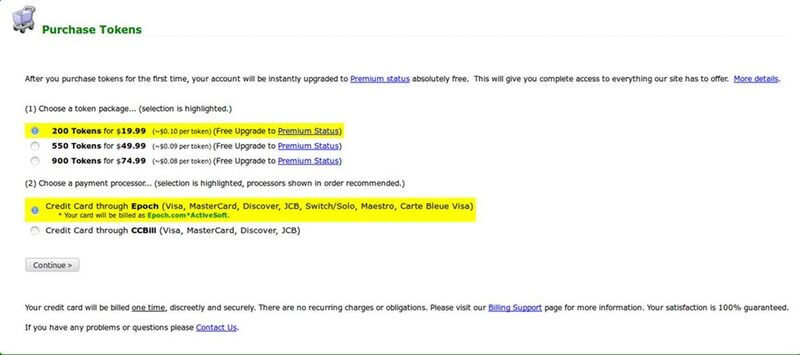 Ways to pay
You better have a credit card, as that's really the only choice you have. Visa, Mastercard as the main ones, plus Discover, JCB, Switch, Solo and Carte Blue Visa.
How many xxx lovelies?
The site claims to have 100,000 registered models, but I doubt that many are regular sex cam babes at the site any more. There's generally usually a thousand or so online at any one time.
Help when needed
The site provides you with a very extensive wiki, which is useful, as according to independent views on the web, the support at MyFreeCams is about as useful as a fireguard made from ice!
Positives and negatives
Positives
✔ - The quality of the ladezzzz
✔ - With so few extra bits to the site, it's very easy to use!
✔ - You become a Premium Member by making just one monetary purchase
Negatives
✖ - You can't really chat unless you're a Premium Member
✖ - Too many a$$holes in the chats
Summing it all up
I'm not really going to be a fan of MyFreeCams until they sort their servers out and make HD high-definition in the way that most of us understand the term. I like my sex cam views to be crisp and clean, and not blurred and blotchy, as you seem to mainly get from the site. I like the quality girls, but I want to see them in the quality they deserve, and in better-looking surroundings than what they currently have - pull your finger out of your ass, MyFreeCams and do some site updates! And make your support better! When all this happens, I think me and MyFreeCams are going to be much better friends ...
Review of MyFreeCams.com
- Reviewed by
hdcamsites.com