Streamate.com - keep an eye out for those hidden, credit-eating extras!
And another fine hello from Walter, your HD cam site reviewing friend. I hope you are in a good mood, and ready to receive my latest exquisitely-written review for yet another sexy adult chat site. Yes - there are still some I've yet to put through the review wringer! This time, it's the turn of Streamate.com.
Streamate is a bit of an odd name, but then who am I to quibble? It's just another amateur adult sex cam site full of delicious ladies (and a few gents) waiting to do the sexy business for you. Streamate.com has been around for quite some time now - since 2003 to be honest. It arrived on the first main wave of adult cam sites and has been providing links to xxx cam models ever since. The design has been looked at a few times since the site first erupted on to the net, and it looks pretty fine to me. Basic, but fine. It's certainly easy to find your way around, although I don't really like the sex-cam display itself, as too much room is given up to chatter, and not enough to the model who is currently trying to delight you.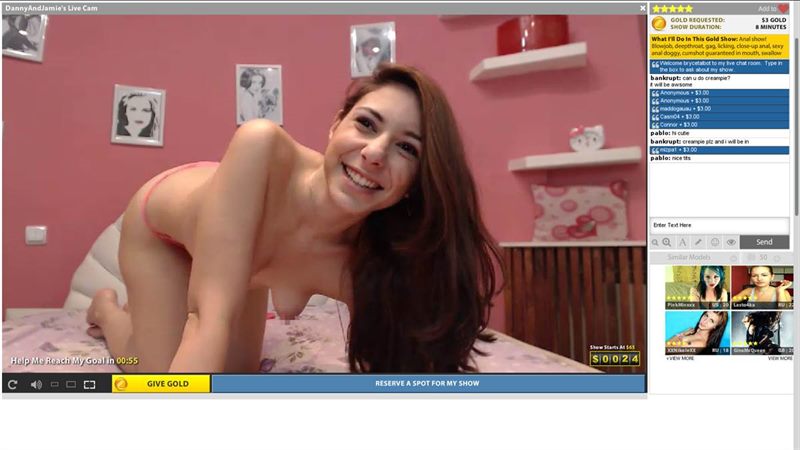 My considered thoughts
The menu screen is absolutely typical of the kind you see at amateur adult model sites - with one main exception. When you do a little mouse-hovering over a thumbnail you usually see a quick preview of what your chosen x-rated cam babe is up to, but this is missing at Streamate. You do get a little bit more info than just a thumbnail though. You get the sex cam babe's name, location and age, plus her current five-star rating. You also get what she is doing at the present time - either party chat (which is Streamate's name for free chat), a "Gold Show" (more on that later), a private chat, or whether she's not doing anything special at the moment or is offline.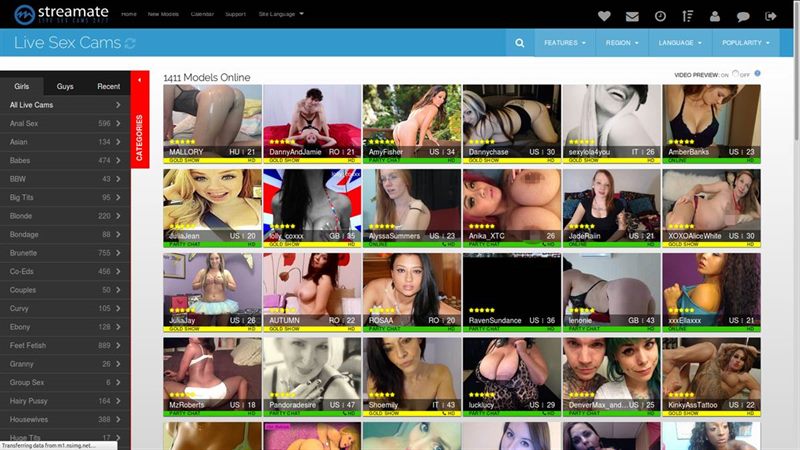 There's also a categories menu on the left hand side of the screen, which lists all the available "specialities" that you may be seeking from your chosen babe - everything is included from hair color to "smoking" babes, and by "smoking" babes it doesn't mean babes who are "smoking hot", simply those who have a cigarette on when they are talking to you. The babes at the site far outweigh the fellahs, but for the gays out there there's a nice sprinkling of handsome chaps. The five star rating I spoke about earlier is an average of ratings supplied by punters who have watched the girls in live shows, so you can easily see which girls are the most likely to please, and not just simply tease.
Anything else?
This is really where Streamate.com comes up short. Aside from setting up favourites lists (and which folk on the internet say don't work anyhow) Streamate.com is really lagging behind the rest of the adult sex cam world on this department, which is strange as they have had since 2003 to get things right.
Becoming a member
Ah, another reason why Streamate loses points (and big points) on the Walt-o-meter. You cannot sign up for Streamate.com unless you have a credit card and are prepared to bash the digits into the site. The first stage of the registration process is to select your username and password and supply a valid email address, and the second is to prise out the plastic and tap in the numbers. You start the whole process off by clicking on the "FREE ACCOUNT" button at the top of the screen.
Now, even though Streamate.com PROMISES "No hidden fees" I was not ecstatic to find a couple of days after registering my "FREE" account at the site, I found a charge of $23 had been taken off my credit card. This was to some service called "EroticMatch" which I had never heard of, and certainly WAS NOT something I had signed up for. I contacted Streamate.com support - they quickly apologized and said it was an old promo that had been discontinued, and they agreed to refund my payment. Apparently, this has been going on for at least two years, so BE WARNED.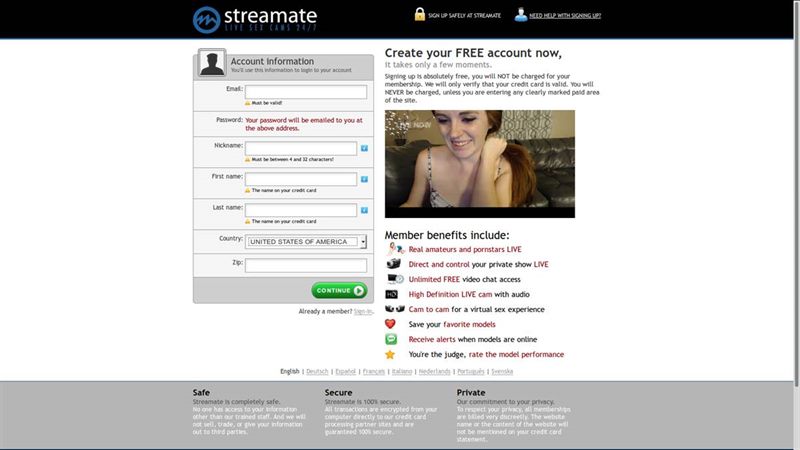 Let's get chatting
There are several types of show at Streamate.com. "Party Chat" is simply what Streamate.com called free chat. Gold shows are where the cam model performer says she will do something, such as showing her breasts, as long as enough people chip in "Gold" into her tips pot. One gold piece costs $1. Anyone can chip in, and if a certain target is reached, then anyone can stay on and watch what the model is up to, although it's usually only the titillating side of things. Private shows are as the same as most cam sites, and cost a per-minute-rate depending on what the model wishes to charge.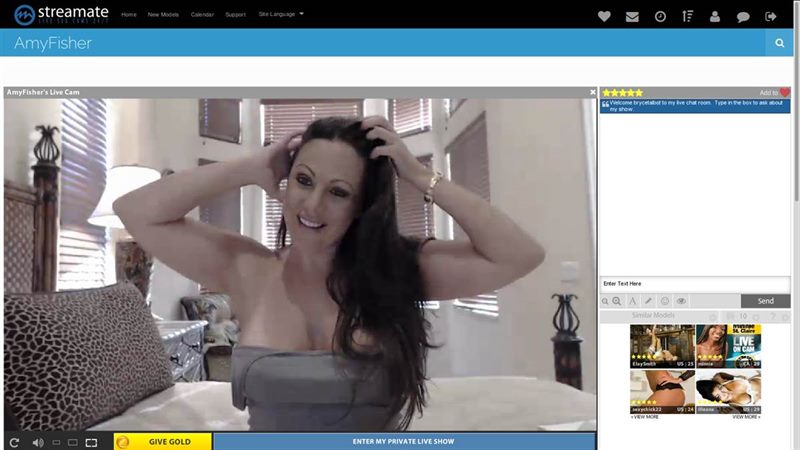 Quality of video
The servers at Streamate must need a bit more power as the HD is not exactly brilliant. Apparently Streamate.com takes the quality of its streams very seriously, and sex cam models can only sign up if they can "prove" they have dedicated bandwidth of at least 2MBps, which is HD streaming speed. Some streams I viewed at the site were great, but others were not so hot.
Putting your money where your mouth is
You don't buy any credits or tokens at Streamate. Everything you do is billed direct to your enlisted credit card on a monthly cycle.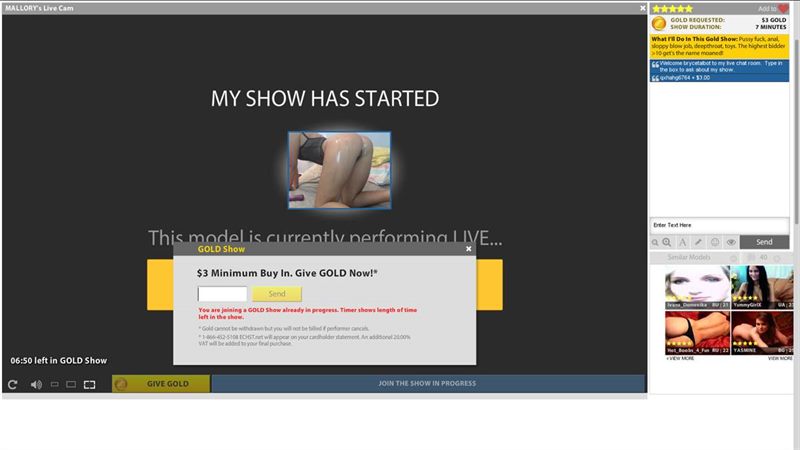 Ways to pay
You can only register cards with Visa, MasterCard or Discover logos on them at the site.
How many xxx lovelies?
Over time, 40,000 xxx models have signed up to cavort in front of the cams at Streamate.com, and you'll find a 1,000 or so frisky females on site at any one time.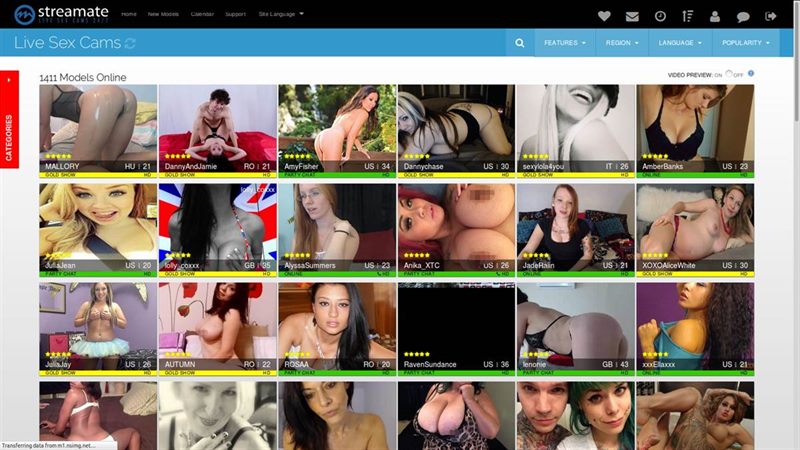 Help when needed
I used the live chat function at the site and they were very useful, and responded quickly. There's an FAQ section, email and telephone numbers too.
Positives and negatives
Positives
✔ - No frills site that works well
✔ - The five-star rating system shows which models are cock-pleasers, and which are cock-teasers
✔ - The "Gold Show" system means you can have a bit of fun without spending much at all
Negatives
✖ - The "EroticMate" business smelt a little like a scam
✖ - HD is hit and miss
Summing it all up
You know me by now, and one thing I don't like recommending is sites where you're likely to get scammed, and I'm not too sure that the "EroticMate" issues experienced by me and a few others it seems was not a scam. I didn't like it anyway, and even if the babes are pretty hot at Streamate.com, it would put me off being a frequent visitor there. In fairness, lots of people have expressed nothing but satisfaction with their dealings at the site, so maybe I was just a little unfortunate? I would advise you to give Streamate.com a try if you don't mind registering your card there, but I would also advise you to tread carefully. Walter and out.
Review of Streamate.com
- Reviewed by
hdcamsites.com