6 Best Sites for Watching Cam Girls Making Love to a Machine
You can count on one or maybe two hands the mechanical devices that revolutionized mankind. I am talking about the invention of the wheel, the steam and gasoline engine, the car, the airplane and the fuck machine, which for the first time enabled women and men to engage in full solipsistic sexual intercourse without a flesh-and-blood partner. To behold this wonder unfold in front of your eyes time after time, I strongly recommend visiting these top 6 sex machine cam sites.
CamSoda

The best places to find fuck machine cam shows are freemium sites, where girls don't mind performing naked in their open chat rooms. CamSoda precisely matches the characteristics of such a freemium site with its provocative public nude live shows given by most of its 600+ constantly online models.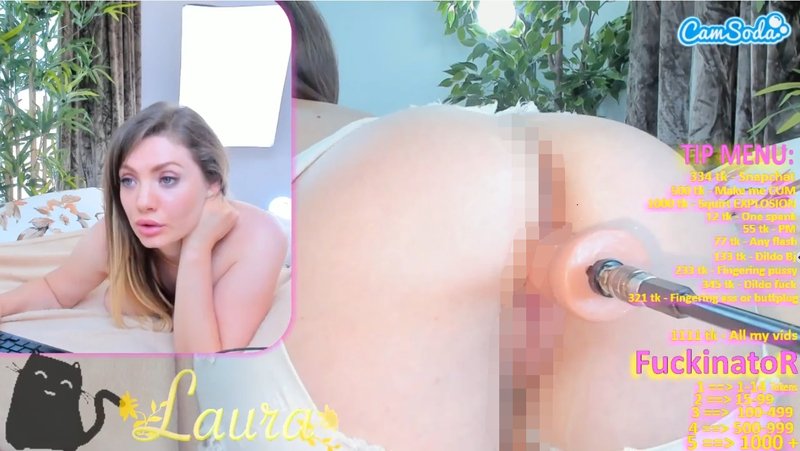 You will most likely come across a girl using a machine once you set foot on the site's main pages. In fact, it will be quite easy for you to see exactly what each girl is up to at any given time as the models' thumbnails simultaneously display on video what is happening inside the chat rooms. This bird's-eye view will undoubtedly help you trace the ones incorporating mechanical devises into their shows.
If you have not run into a girl using a sex machine on the main pages, you can resort to the myriad porn tags put at your disposal. Unfortunately, there is no search tool through which you can filter these tags according to specific themes, so you will have to manually browse through them until you hit upon girls making love to a machine. There are a couple of tags where you have better chances of meeting these girls, for example Masturbation, Fuck or Pussy Play. Under the Ride tag, you will see girls riding a sybian, which is as close as you can get to a fuck machine.
A private chat will cost you $3.00 a minute on average. The cheapest models on the site will charge you as low as $0.60 a minute and there are quite a few of those available for a 1 on 1 session. Do not think that because they are cheaper, they are less attractive than their more expensive counterparts. I can tell that I have chatted more than once with CamSoda's low cost models and was more than satisfied. One important note, these rates include cam2cam.
It is no secret that I am biased in favor of CamSoda. It is absolutely a great site and I am not only talking about the hot nude girls you will see everywhere you go. I am also referring to the free access you will get to recordings of your past private shows, save on your My Media page and, above all, to the site's mobile cam2cam, which will enable you to engage in bidirectional video chats from the palm of your hand.
---
StripChat

Stripchat is another freemium site you should be aware of. It's marked by a great selection of roughly 2,000 shameless performers around the clock. During peak hours this number can climb to more than 3,000. Stripchat is best known for its talented bunch of models, excellent hi-def broadcasting quality, and tons of chat categories covering any niche you can think of.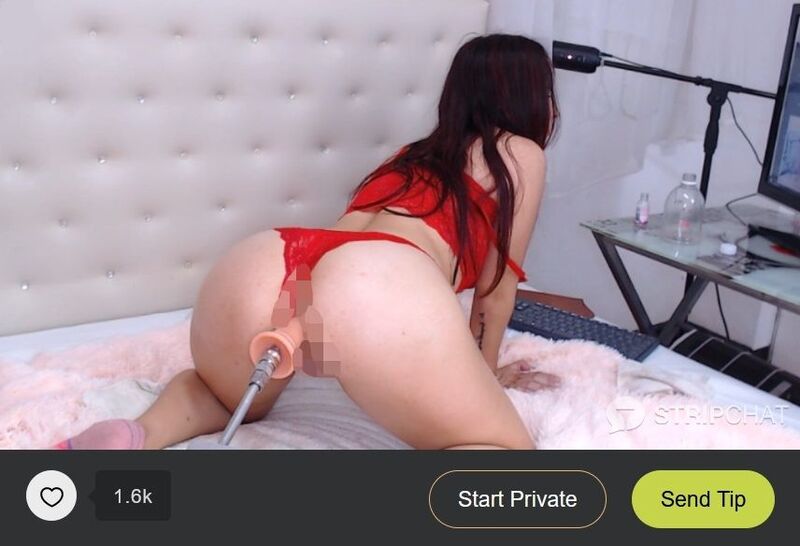 By pressing on All Categories under the search bar, you will get to a page displaying all of the site's categories arranged in alphabetical order. The good news is that under the letter F, you will run into a Fuck Machine category which usually contains more than 150 online performers. Quite a few of them actually perform with a machine.
A private show with any of the site's models will cost you $3.80 a minute on average. The lowest rate you'll find is $0.80 a minute. Most models will charge around 30% extra if you open your camera. Once you start a cam2cam chat, no other user will be able to spy on your show in contrast to a regular private chat.
If you fall in love with one of the performers (I must confess there have been quite a few models who have captivated me by their charms), you can join her Fan Club and become her Soldier, Lord or Prince. It will cost you $9.99, $19.99 and $49.99 a month, respectively. Believe me, it is worth every penny taking into account the respect you will get from your model and the other users. Besides, all titles let you send private messages to the model and spy on her private shows free of charge. Only models who have managed to accumulate more than 1,000 followers can open their own Fan Club.
What really makes Stripchat unique are its VR chat rooms. At any given moment, there are around 15 models on the site capable of mesmerizing you in 360° live shows. To take part in these shows, you will need to download a special application and equip yourself with the necessary hardware. There is currently no other site in the webcam industry offering you virtual reality of any kind whatsoever.
---
Chaturbate

Chaturbate is by far the biggest cam site on the web. At all hours of the day, it operates an astonishing number of 4,000+ chat rooms, most of which are populated by models who boldly pose for you wearing absolutely nothing. So brace yourself for tons of free nudity, probably more than you can handle, no matter how strong your libido is.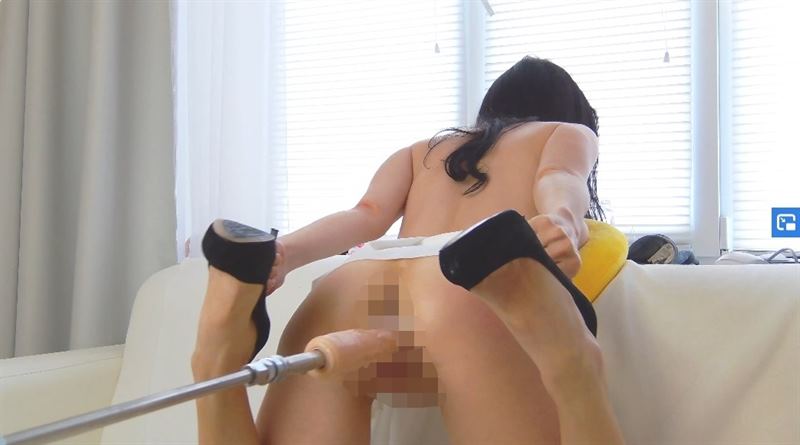 Chaturbate has thousands of tags you can go over to find any niche that has ever existed, but chances are that you will find the models performing with a machine on the main page as the site, recognizing their uniqueness, gives them priority.
Most of the interaction with the models occurs in the tipped-based public chat rooms. One on one shows are quite rare due to the relative difficulty in starting them. Practically speaking, you will need to become a broadcaster yourself and then invite your chosen girl to your room. And after all that effort, there is no guarantee she will accept that invitation, especially if the users in her room are generous with the tokens they give her.
If you still insist on chatting privately with a model, you will be required to pay $2.70 a minute on average. The minimum sum you will be charged by the site's models is $0.60 a minute - quite cheap, especially in light of the fact that you won't need to pay extra for cam to cam.
If you intend to spend a large proportion of your time and energy on Chaturbate, you should consider joining its VIP program. For $19.95 a month you will become a Supporting Member and get access to premium features, which consist of navigating an ad-free interface, using custom chat fonts, animated room images and different colors, sending private messages to performers and tipping them anonymously. In addition, you will receive a one-time bonus of 200 tokens which are worth $20.99.
Chaturbate is distinguished by its superior streaming quality. Many of its thousands performers broadcast at HD+ (1080p) and HD (720p) quality. You will also encounter models who use 4K cameras promising you an unparalleled viewing experience.
---
BongaCams

More than 1,000 stunning performers available on the site 24/7, plenty of high definition nude shows you can access freely, multiple chat and cam2cam options and, above all, awesome promotions with fat bonuses turn BongaCams into a top-notched cam site definitely worth your leisure time.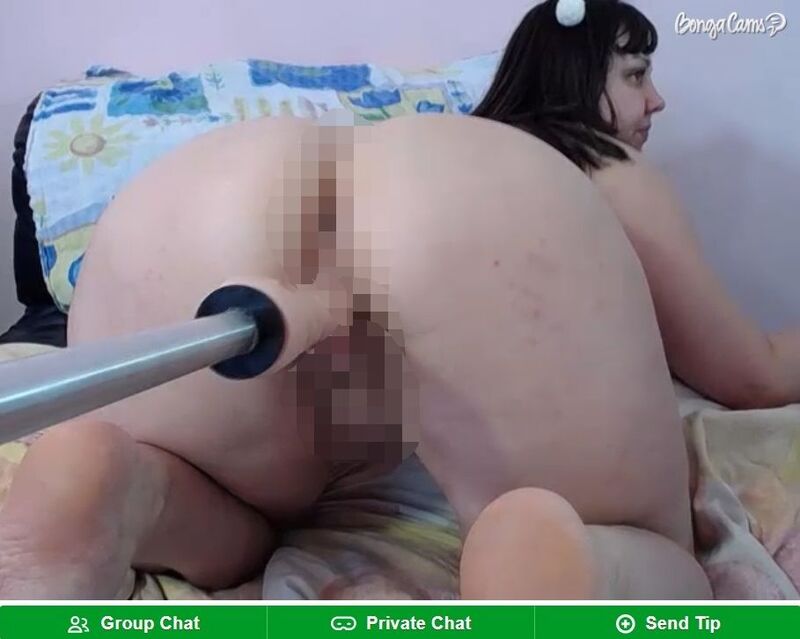 The filtering tool put at your disposal does not have a specific machine category. However, among the site's tags, you will find Fucking Machines. This tag contains close to 150 models who chose to attribute themselves to it, and so this is where you should look for girls who get intimate with a machine.
A private chat with one of them will cost you $4.50 a minute. This is a standard price all across the site. Be advised, your private chats can be spied upon by other users. To banish these trespassers, you will need to opt for a Full Private Chat, which is 50% more expensive. Alternatively, if you have no problem being with other users in a show, you can take part in a Group Chat which is 50% cheaper than a private chat.
BongaCams has a highly advanced c2c apparatus. It is the only site allowing you to open your camera in a public chat (Only the model will be able to see you). In addition, you can engage in interactive cam2cam chats from your mobile phone when you are away from your home computer.
The best offering the site has in store for you are, undoubtedly, its promotions. For example, the moment you complete your first purchase, you automatically become a Gold member for life and get a bonus of 10 tokens. If you make this purchase from your mobile phone, you will also get back 50% of the tokens you have spent as a gift (up to 100 tokens). Referring a new members, you will be credited with 50% of their first purchase amount. The Cashback Offer gives 25-200 tokens to the biggest spenders every day. Some of these extraordinary promotions are fixed. Others change all the time. I strongly recommend keeping yourself updated so you will not miss anything.
---
Cam4

If you are looking for a multinational cam2cam experience, Cam4 is the site for you. At any given time, it hosts 1,500+ performers from virtually any corner of the world. Its search tool lets you sorts them out based on their specific country, so get ready to meet girls coming from really exotic places. Like the sites I have ranked above, Cam4 models are happy to perform sky-clad for you to enjoy.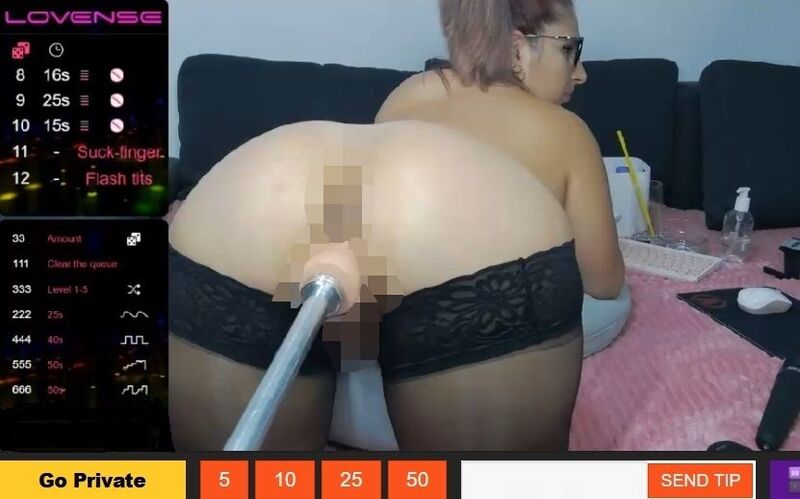 To get to the girls using sex machines, go to the site's tags. Press on See All Tags above the models' thumbnails. On the search box on the top of the page type Fuckmachine and you will be presented with a couple of models that ascribed themselves to this tag. It is most likely that one or two of them will be using a machine at that particular moment.
To go on a private chat with your favorite performer, you will be required to pay $2.40 a minute, on average. If you search for cheaper rates, you will find models who will take as low as $0.50 a minute. In most cases there is a 1 minute minimum charge. Some models have preset time blocks of 5, 10 and 15 minutes. Cam2cam does not entail an additional fee.
Cam4 has a great VIP program. For $19.99 a month, you will become a Gold member and unlock numerous benefits among which are a welcome bonus of 50 tokens (which amounts to roughly $6.50), free monthly Gold Gifts, automated chat translations, an ad-free interface and the ability to chat in full screen.
---
MyFreeCams

MyFreeCams was the first freemium cam site on the Internet, so it is the predecessor of the sites I have reviewed above and others like them. There are only women on this site, and there are typically 2,000 online models during most hours of the day. In the past, most of them were from the U.S. Today, you'll find girls from other regions as well, Latin America in particular.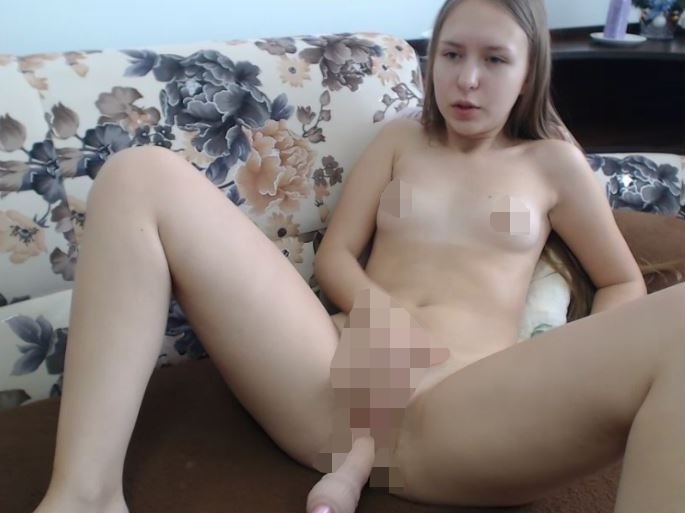 The best way to find the girls working with machines is to simply scan the preview galleries, as the preview photo of each model is a recent grab for the current happenings in each room. It might be a little time consuming, but if you are in no hurry, you will definitely enjoy seeing so many beautiful and naked chicks.
Chatting with one of them will cost you $5.00 a minute. This is a uniform price charged by all models without exception. Take into account that your private shows can be spied upon by other users. To drive them away and enjoy exclusive time with your model, you will need to pay 33% extra for a TruePrivate Show. To save money, you can also opt for a cheaper Group Show. This show will start when there are at least 3 participants in the show and after the model approves it.
If you are looking for HD live video shows, MyFreeCams is probably not the site for you as many of its models use standard definition cameras. However, the site has other advantages. Apart from its extremely hot models and their wild free live nude shows, the site accepts you as a premium member only after one purchase. You keep this status indefinitely and reap the benefits that come with it. I am especially referring to the ability to send any model or user private messages, and free access to recordings of your private shows so you can re-experienc the excitement you felt when you watched these shows for the first time.
---
Conclusion
The major disadvantage of cam shows are the lack of real body contact between the user and the performer. The fuck machine, however, gives you the closest experience to physical interaction by imagining the pleasure toy is you.
The 6 freemium sites I have reviewed above are the best places for this virtual experience of a sex act as they host the horniest models who enjoy making love to machines. You will encounter these instances of girl-machine interaction in public chats and, of course, in 1 on 1 shows.
If asked which site stands above the rest, I would daresay, CamSoda. Plenty of theme tags, extremely liberal girls for whom nudity in front of the camera is a way of life, HD live shows, and awesome features like free access to recordings of your private chats and mobile c2c make a world of difference.
Review of Top 6 Cam Sites with Girls Using Machines
- Reviewed by
hdcamsites.com