Top 7 Sites for Thrilling Bondage Sex Chats with Fetish Cam Girls
Imagine yourself lying prostrate on the cold floor all tied up and on top of you a sexy girl wearing a tight leather suit, holding a whip in her hand and laughing loudly and wickedly. Oh boy! you're about to get what you deserve! Now let's imagine doing it all in an intimate and secure live porn environment where everybody can enjoy the scene without getting hurt. Doesn't it sound perfect to you? The following article presents the 7 best bondage cam sites online.
Flirt4Free

If there is a place where you can enjoy online hardcore porn shows with ropes, strings, chains, lassos, handcuffs, shackles and all kinds of related accessories - Flirt4Free it is. Many of its 500-600 active cam girls specialize in all types of fetish niches, bondage included, and will be ready to engage in kinky c2c chats with you.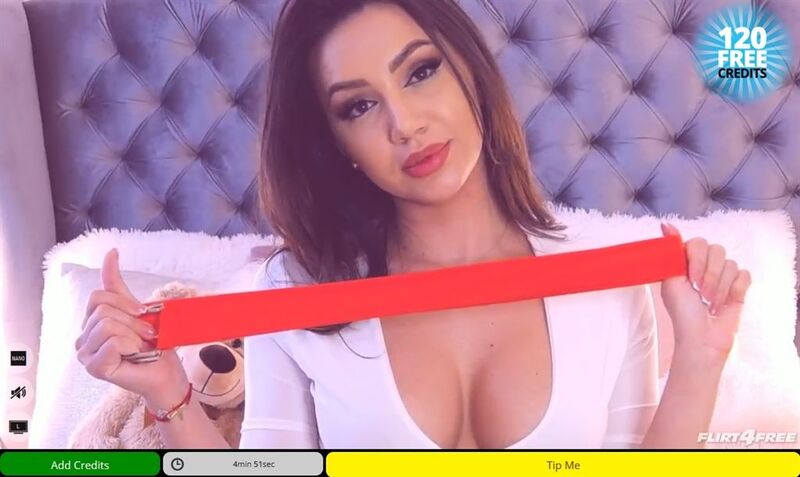 The site has a special Fetish Community with dozens of hardcore categories and hundreds of chat rooms populated by xxx models who will do anything to make sure your chat with them will get kinkier by the minute. The categories I recommend for a bondage cam sex are, of course, Bondage in addition to Collar and Leash, Domination, Discipline, Total Power Exchange, Corporal Punishment and Corset Punishment.
A bondage 1 on 1 chat with a model on Flirt4Free costs $3.90 a minute on average. The minimum chat rate on the site is $0.55 a minute. Cam2cam is included. If the site's average chat rate is too high for you and you still want to enjoy interactive live porn, you should opt for a Multi-User Show. In this show, you will share the model with other like-minded users who are in desperate need for a dom to discipline and punish them. You will not be able to open your cam (unless you are the one who initiated the show), but you will save around 30% of your money compared to a private sex chat.
The sites also offers a unique VIP program. For $39.50 a month you will upgrade your membership to the highest VIP status which entitles you to a plethora of benefits such as enhanced private messaging with performers, using up to 10 reserved nick names, unlimited access to recorded shows, 200 free videos a day and more.
---
FetishGalaxy

What can be better than a live sex site that is 100% fetish-oriented. I am referring to FetishGalaxy where you will find nothing but hardcore action and plenty of it. And it's all delivered by an astonishing 100+ cam models always online who have made kinky porn their career.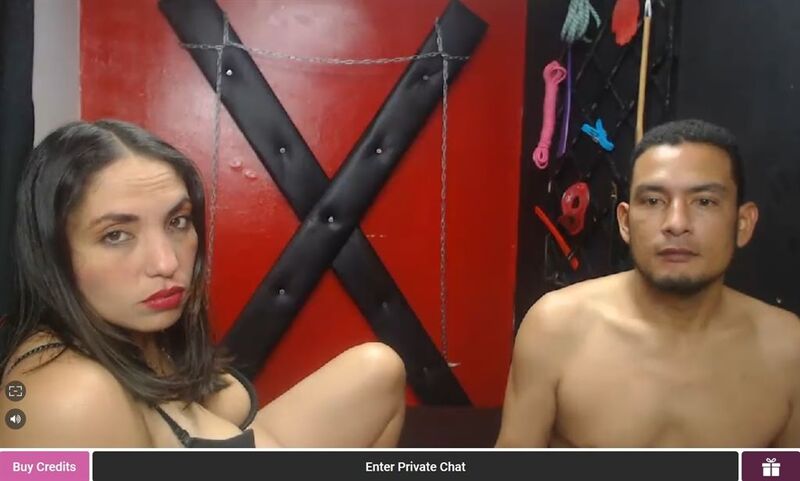 The site offers close to 30 fetish categories covering the main niches in the field including Bondage, where you will find dozens of cam girls that will give you thrilling live porn shows. Before you can say Jack Robinson, every free limb in your body will be tied up till you remain physically and mentally paralyzed. These shows will turn the toughest man into a submissive pup on a leash.
If that is not victimizing enough for you, you may broaden your hardcore experience and indulge your tormented body and soul in additional fetishes provided by FetishGalaxy's webcam dommes, for example Humiliation, orgasm denial, Nipple Torture, Whips and even Findom if you are looking for a sexy cam girl who will also torture your wallet and leave you penniless.
The average rate for a 1-minute private sex chat on FetishGalaxy is $2.50. The cheapest performer on the site will cost you $1.00 a minute. These are highly affordable prices especially taking into account that they include cam to cam. However, bear in mind that you will have to compromise over streaming quality as most girls on the site broadcast in SD. I guess, you can't have it both ways.
The site has an awesome reward program allowing you to accumulate points for buying credits. Points are needed for upgrading your membership status from Bronze to Silver, Gold and VIP. The higher your status is, the more perks you will get, including credit bonuses for new purchases. A user with considerable spending volume will find this program to be highly beneficial.
---
Stripchat

More than 1,400 hot xxx models available for a private sex chat, ample free nudity in open chat rooms and HD streaming prevalent on the site – Stripchat is gaining more and more popularity among live porn users.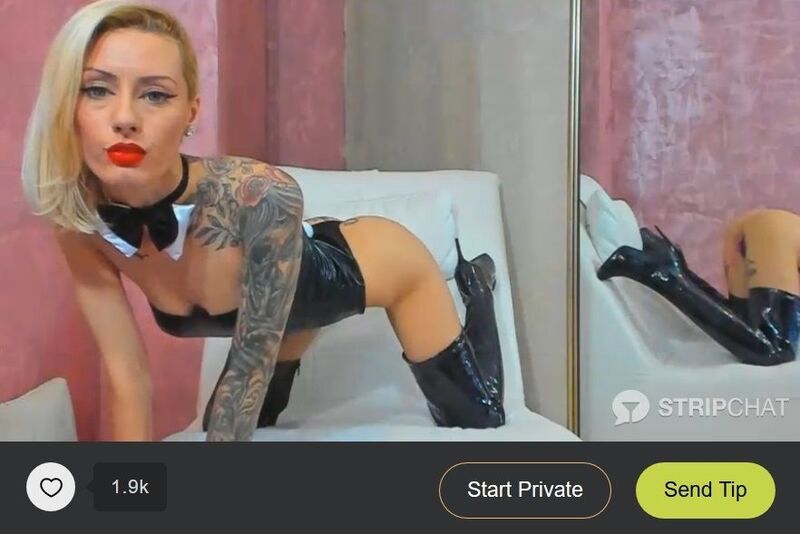 The site focuses much of its attention on hardcore cam sex. If you press on the All Category Tab in its search tool, you will reach a page presenting all its porn categories available to users.
Among these categories you will find dozens that are fetish-oriented. I am mainly referring to Dirty Talk, Domination, Hardcore, Role Play and Slave. Users interested in a bondage cam chat will be happy to learn that Stripchat has a special Bondage category which usually occupies 100-150 performers quite familiar with the use of a rope. Just tap on this category and let your confinement begin.
If you are a passive viewer, you can lay back and enjoy the action and the free nudity displayed on Stripchat's open chat rooms until the end of days. You can even send a performer a tip here and there, to get her to do some cool things for you.
However, if you are into a more intimate chat session focused solely on your personal whims and desires, you can always withdraw to the microcosmos of a private sex show where you will get 100% of the model's attention (She will have only you to tie-up without competition from other submissive users). Such a show costs $3.80 a minute on average. The minimum chat rate on the site stands at $0.80 a minute.
Operating your webcam in a live porn show on Stripchat requires paying extra tokens. Cam2cam chats are usually 30-50 percent more expensive than regular private chats, though you may run across performers with higher c2c rates. Paying for the right to be seen by the model automatically includes bidirectional audio, so you will also be able to be heard by her.
In my humble opinion, what sets Stripchat apart from its peers in the sex cam industry are its VR chat rooms. Just think how thrilling it can be to be tied up from tip to toes in a 360° cam sex show. You will never want to be released.
The site's virtual reality area hosts 10-15 active performer at any given time. I am quite sure it will not be too difficult to find a girl there who will agree to be your dom and punish you for your chronic misbehavior. You just have to take into account that VR live sex requires special equipment.
---
BongaCams

BongaCams hosts more than 700 breathtaking models, most of whom are Russian and European chicks broadcasting in hi-def quality. The abundant nudity in the site's open chat rooms makes it one of the best places on the web to watch white asses, boobs and pussies in live shows.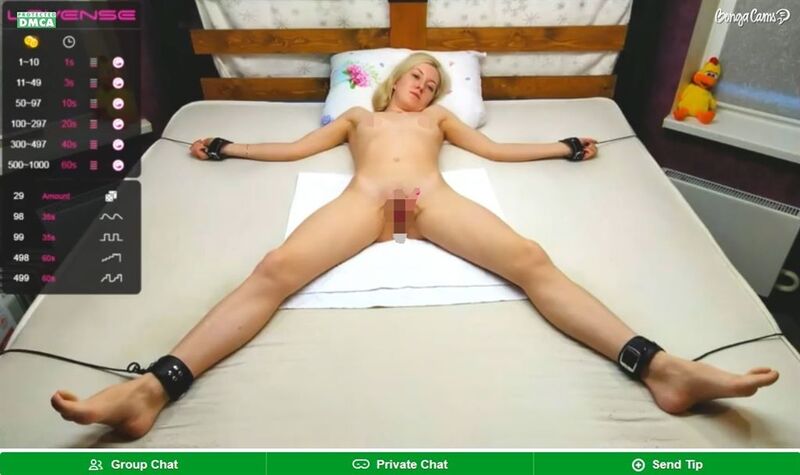 The site has quite a few models who will compete for the right to restrain you in chains. To find the right one for an exciting cam to cam bondage chat, go to the Categories section on the site's filter and tap on Bondage. You will usually find there more than 100 (and sometimes even 200) girls who include 'tying' in their live porn menu.
The rate of a 1 minute private sex chat is uniform all over the site and it stands at $4.50. A private chat is open for other users to peep into. If you want to banish voyeurists, maintaining your exclusivity with the performer, you should opt for a Full Private Chat, which is 50% more expensive.
BongaCam is known for its promotional offers. For example, new users receive a 10-token bonus and lifetime Gold Membership. Accessing the site through your smartphone will get you a bonus of 100 tokens. If you refer a friend, you will be awarded 50% of the tokens he purchased. These offers may change from time to time. It is up to you to track these changes so you will not miss new and attractive offers.
---
ImLive

On ImLive you will meet 600-800 lovely models and enjoy multiple chat features that will take your live porn experience to the next level. In addition, ImLive has an impressive fetish section with plenty of categories that encompass virtually any extreme niche you can think of.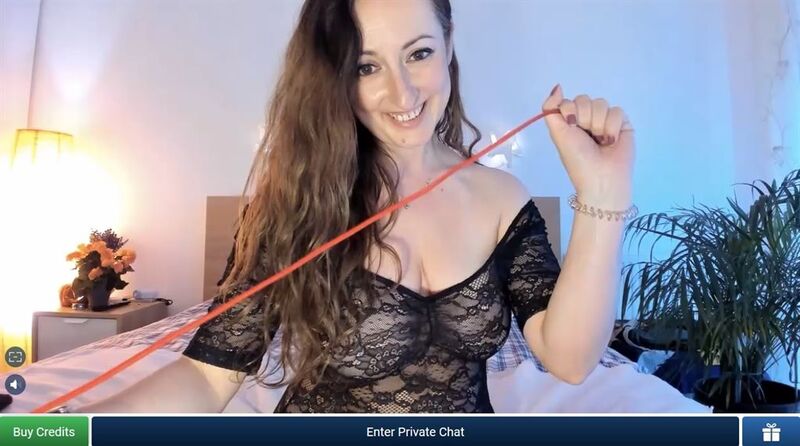 One of the categories on the site's fetish section is Bondage. This is where you should be heading to find a cam girl to put you in chains. You can also try other fetish categories like Chastity Training, Discipline, Domination, Humiliation, Whips and, of course, Gags & Blindfolds.
For a 1 on 1 fetish show on ImLIve, you will spend an average sum of $2.25. The minimum rate you can find on the site stands at $1.00 a minute. These low rates come at price. Not all girls on the site stream in HD and, in fact, there are many who use SD webcams. This is a trade off you will have to make between cheap private shows and mediocre broadcasting quality.
As mentioned above, ImLive offers a variety chat features. The most notable one is the Multi-Viewer which allows you to watch up to 6 chat rooms at the same time. You will not be able to interact with the models, but watching so many on your screen promises you a one of the kind live sex experience. By the way, if you opt for the paid Multi-Viewer, you will get to watch private chat rooms where there is no shortage of nudity.
ImLive also has great porn activities you can enjoy while you are taking some time off from chatting. For example, Monthly Video Contests with really kinky themes like Foot Fetish Fever, Steamy Shower Session or Military Moaning.
Last but definitely not least, the site's repeat users will highly benefit from a lucrative loyalty program that gives rewards for using the site's paid for features. The more credits you will spend, the higher you will advance in the membership hierarchy. Climbing up the ladder brings with it all sorts of perks such as free credits with every new purchase, various discounts, free watch time in private shows and more.
---
Streamate

Streamate is another site that includes bondage cam shows in its live porn agenda. It host 500-600 models. Many of them employ 720p and 1080p webcams, promising you high resolution sex chats.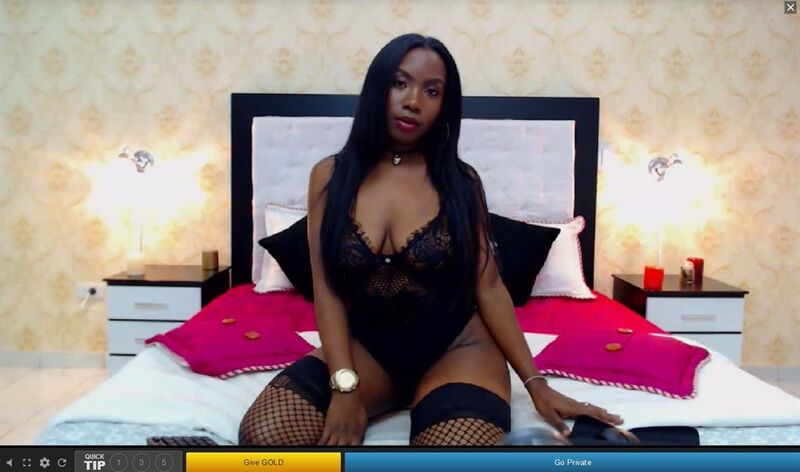 The site's filter includes a big Bondage category populated by around a hundred cam girls at any given time who will be happy to tie you up denying you of your freedom of movement and leaving you at their mercy (Once you understand that, it will be too late to resist).
For a 1 on 1 chat involving ropes and manacles, you will have to pay $3.00 a minute on average. If you put some effort searching for cheaper rates, you will come across girls that will charge you as low as $1.00 a minute making private shows more affordable.
Private chats on Streamate are open to other users who may spy on you. If you want to drive them off, you may choose to engage in an Exclusive Chat where it is only you and your performer without anyone violating your intimacy. These chats are more expensive than regular private shows by 20-30 percent on average.
What makes Streamate unique in the sex cam industry is its payment system. This is the only site where you pay for premium features directly with your real money. It's a pay-as-you-go system. There are no credits/tokens to purchase in advance.
This form of payment has one noticeable advantage. Unlike other live porn sites where models may judge you by the number of credits/tokens you possess, on Streamate the models have no way of knowing whether or not you possess credit/tokens. So, for them, you are equal to any other user as a potential tipper. This will make it so much easier for you to get the models' attention.
---
LivePrivates

The most professional webcam performers (and probably the most beautiful ones as well) in the sex cam world are broadcasting themselves on LivePrivates. 24/7, there are near 1,000 active models online. And these girls are supported with a fast and efficient platform for streaming superb high definition webcam shows.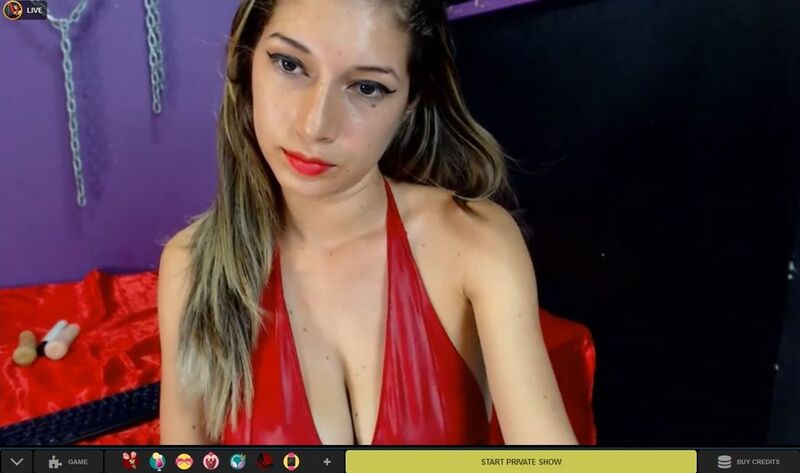 The site does not have a specialized bondage category, but with its advanced search tool you will find a Fetish category with plenty of cam girls ready to give you a hardcore show. You will surely be able to find a few ladies with experience using, and in instructing how to use rope for pleasure.
LivePrivates is a fully premium cam site with no nudity in its open chat rooms. If you want an explicitly kinky show, you will have to start a private sex chat with your chosen model. Such a chat costs $2.70 a minute on average. The minimum chat rate on the site is $1.00. But this is only one part of the story. If you wish the performance to include c2c and 2-way audio, you will be asked to add 1-2 dollars a minute per item.
LivePrivates is one of the very few adult live porn sites that enables cam2cam on mobile. What it means is that you will be able to engage in interactive shows on the go.
---
A Few Final Words
All the sites mentioned in this article are places where you can engage in electrifying bondage private live shows that will stir your senses. Apart from LivePrivates, all of these sites have a specialized bondage category. Yet there is no need to be concerned about LivePrivates; it hosts plenty of fetish xxx models who have surely tied up a user or two in the course of their career as cam girls.
Each site has its merits. Flirt4Free has a Fetish Community wholly dedicated to hardcore c2c porn. FetishGalaxy is a site specially built for users looking for fetish action. Its cheap chat rates will enable you to enjoy private sessions without stretching your budget to its limit. On Stripchat, you will find VR chat rooms where you can watch panoramic sex shows. BongaCams is a hub of breathtaking European and Russian girls. The site also has awesome promotions allowing you to get some free credits you can spend on 1-on-1 fetish chats with its models.
ImLive hosts abundant fetish cam girls and offers great chat features. Its show rates are relatively cheap, which is great for users who like long chat sessions. The payment system on Streamate will make it much easier for you to win the models' attention. And LivePrivates stands out on account of its superb hi-def streaming quality and its professional webcam performers.
If I had to choose one site that is better than the rest when it comes to hardcore shows revolving around bondage sex chats, I would go for Flirt4Free. The site's Fetish Community, its gorgeous performers, and great streaming quality make it my no.1 choice, as it should be yours.
Review of 7 Leading Cam Sites for Exciting Bondage Live Action
- Reviewed by
hdcamsites.com