Top 6 Sites for Hot Foot Fetish HD Cam Shows
Most men think that the sexiest areas in the female body are located in the thorax and the pelvis and are the breasts, the ass and, of course, the icing on the cake - the sweet vagina. But you beg to differ. From where you stand, the epicenter of womanhood (the corporeal, the spiritual and even the divine) lies in the feet. What you need most to try and quench your unsatiated thirst for girls' feet are cam sites which specialize in foot fetish. So, I was kind enough to provide you with a list of such sites you'll definitely appreciate.
CamSoda

I'll make an educated guess that you're probably going to like CamSoda with its 500-600 constantly online models released of any inhibitions during their live shows where clothes are replaced by dildos, strap-ons and sex machines. Quite a few of these models are also fetish performers providing you with some kinky live action, including foot fetish.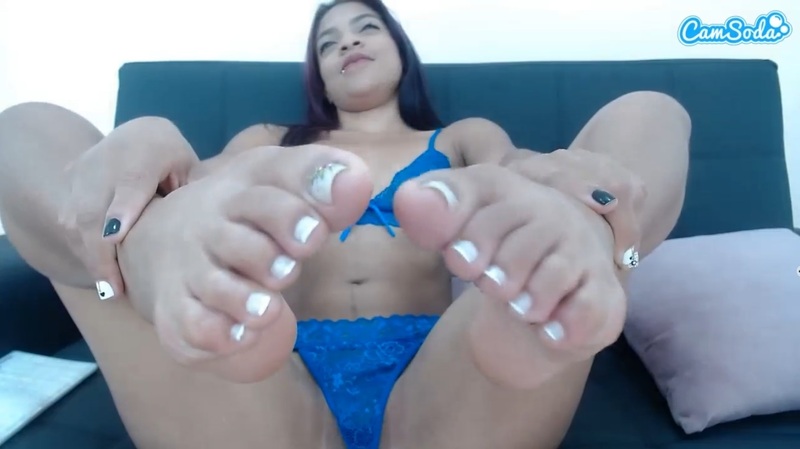 The performers on CamSoda appear under themes tags and there are thousands of such tags covering almost any niche in the porn world. There is no effective filter that will help you sort them out according to specific themes, so you'll need to browse through them manually so as to find the kinky ones, especially those that are related to feet.
Worry not, after a short search, you'll stumble upon ultra-relevant tags, such as Feet, Footjob, and Legs. You can also opt for tags which more generally hardcore-oriented like Mistress, Femdom or simply Kinky. You'll surely find there performers who will be happy to act on your fixation with women's feet.
One on one chat rates on CamSoda start as low as $0.60 a minute while the average being $3.00 a minute. Taking into account that these rates include c2c, you'll be able to enjoy relatively longer live sessions without placing too much burden on your credit card or any other payment means you're going to use.
CamSoda has a few great features that turn it into a top-notch cam site in comparison to either its freemium or premium counterparts. First, the moment you enter its main page, you'll notice that the models' thumbnails simultaneously display on video what is happening inside the chat rooms giving you a panoramic view of the entire action on the site and helping you decide which rooms are worth visiting (in your case, the rooms with the barefooted girls).
Second, CamSoda lets you record your live shows and watch them later on as much as you want at no cost. And lastly, you'll be able to open your camera on mobile while chatting with the site's models and, thus, take part in bidirectional video shows from the palm of your hand.
---
Flirt4Free

Flirt4Free should be on your list of favorite cam sites if you're into foot fetish live shows. Most hours of the day, the site hosts around 600 breathtaking models who broadcast at hi-def quality, has plenty of features including a lucrative reward program and, most importantly, operates plenty of fetish chat rooms.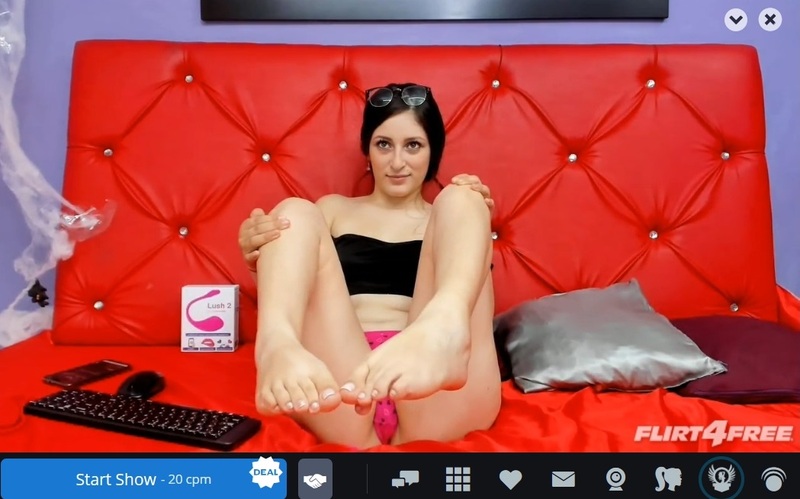 Flirt4Free has a whole section 100% dedicated to hardcore live action called the Fetish Community. It contains more than 50 fetish categories, one of which is Feet. You'll have no problem finding there a dominatrix who'll command you to lick and suck her toes. Furthermore, under the Trampling category, you'll chat with girls who will be happy to step on you with their sexy feet enabling you to combine foot fetish with pain and humiliation.
A private chat with one of the site's fetish mistresses will cost you $3.90 a minute on average. The cheapest models on the site charge as low as $0.55 a minute. There aren't many of them, but there are quite a few who will take 1-2 dollars a minute. Opening your cam does not require an additional payment.
Some of the models give a Multi-User Show. In this show, you'll join or be joined by other users and you won't be able to activate your cam (unless you were the first participant in the show), but you'll save around 25% compared to what you'll pay for a private chat and still enjoy a hot show with full nudity.
Whatever you choose, you can pay for your shows by buying credit packs in advance or, thanks to Flirt4Free's unique Play & Pay feature, pay directly with your credit card when your show ends. There are very few cam sites where you enjoy this flexibility when it comes to funding your live porn activity.
Flirt4Free definitely knows how to show its appreciation towards its repeat users. Every time you visit the site and use its services, you earn points. These points can be converted into a variety of perks which consist of access to premium videos and credit bonuses on new purchases.
In the summer of 2020, Flirt4Free has significantly upgraded its cam2cam apparatus by introducing mobile c2c. Now you can engage in fully interactive video chats with your favorite performers without being confined to your home computer.
---
Stripchat

Stripchat is distinguished by its enormous model selection. No matter when you visit it, you'll run into no less than 1,500 online models while most of the time this number climbs up to 3,000+. The large majority of these models perform wearing nothing, so brace yourself for abundant nudity, probably more than you, or any other mortal man, can handle.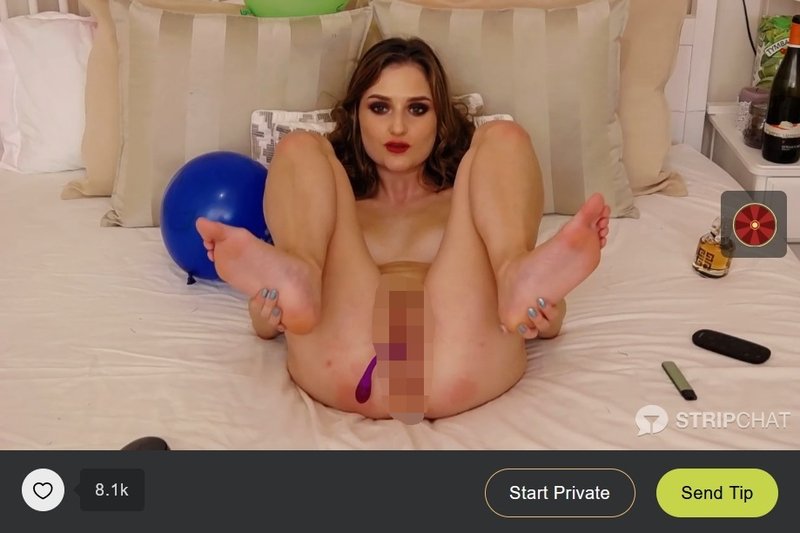 The site also has tons of chat categories that will allow you to diversify your live shows including in them endless themes which will probably match most of your preferences, including the kinky ones.
You can see all the categories arranged in alphabetical order by tapping on the All Categories button under the search bar. Under the letter F, you'll find Foot Fetish which includes a couple of dozens of online performers most hours of the day. There are other fetish categories which may be somehow related to your interest in girls' tootsies, for instance Hardcore, or Mistress. These categories populate performers who have given foot fetish cam shows more than once in the course of their live porn career.
For a private chat with one of these performers, you'll be charged $3.80 a minute on average. The least expensive models take $0.80 a minute. Some of the performers have minimum duration which can be anywhere from 5 to 10 minutes. Some also allow you to record your show so you can watch it again. If you want to open your camera and let the model see your feet (and other organs) as well, you'll be charged 30-50 percent extra by most models. On the bright side, a c2c chat prevents other users from peeping into your show unlike a regular private chat which can be accessed by spies.
Stripchat has a great VIP program. For $19.99 a month, you'll become a Gold Member and be able to send private messages to performers, chat invisibly or, in contrast, use emoticons in chat and tip anonymously. Moreover, you'll be eligible to become a Knight if one of the models decides to choose you as her protector in chat. A Knight can mute users who are being rude to his model.
Stripchat's is currently the only site which has virtual reality chat rooms. Its VR section is occupied by 10-20 models at all times. Imagine how exciting it can be to watch a stereoscopic foot fetish live show. And the good part is that you won't be charged extra for this type of show. You'll, however, need to download a special app and equip yourself with a headset.
---
Cams

Cams is a great site if you're looking for interactive live shows as it enables bidirectional stimulation through its advanced teledildonics technology. Apart from that, the site operates more than 500 rooms with gorgeous performers and has great kinky categories for exciting hardcore cam chats.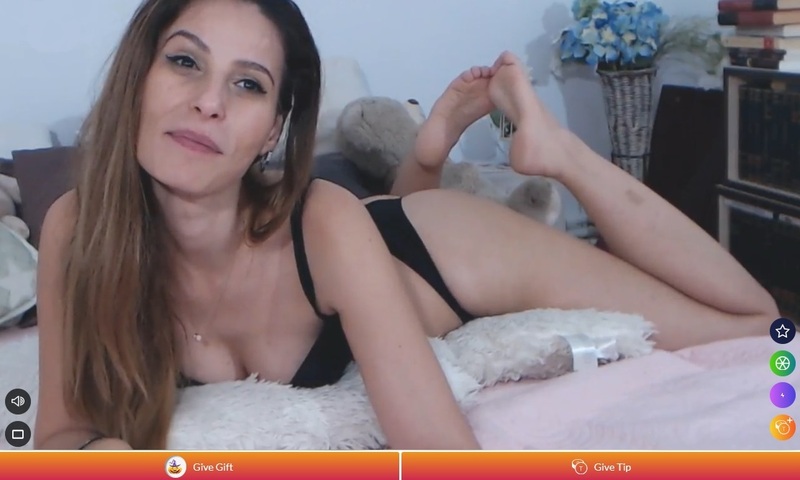 Under Kinks on the site's filter, you'll find a Foot Fetish category. Tap on it and you'll be directed to all the girls capable and willing to perform with their feet in the center of the show. You can cross-reference your choice with other categories to narrow your search and get to specific models that match your specific preferences. For example, you may decide that you want to watch a Foot Fetish show given by a White model with Huge Tits and Blonde hair at the age of 20-25.
The average price of a private chat on Cams is $3.00 a minute. Minimum rate stands at $2.50 a minute. A cam2cam chat demands an additional fee of 10 tokens a minute which amount to approximately $1.00.
Cams has the most advanced interactive chat apparatus in the live porn industry. Its Connexion feature allows the model to stimulate you through your Lovense Max sex toy as much as you can stimulate her through her Lovense Nora toy. You can help one another reach orgasm as if you're in the same room.
At any given moment, there are around 25 models on the site technically capable of engaging in a Connexion chat with you. You can get to them by pressing on Conenxion under Show Type on the site's filter.
If you intend to visit Cams on a regular basis, you'll surely like its VIP program and models' Fan Clubs. The VIP program comes with a payment of $19.99 a month (or $41.97 for 3 months) which entitles you to Premiere membership and the ability to watch show recordings of any model on the site at zero cost and access models' premium galleries. In addition, you'll enjoy a discount of up to 10% on all live videos.
Joining a Fan Club is an opportunity to express your admiration for a model you're fond of more than others. It'll give you the privilege of watching her recorded shows for free and accessing her premiere photos and custom made videos. You'll also get a discount of up to 70% on all her shows. Membership fee is $14.99 a month (or $32.97 for 3 months).
---
BongaCams

On BongaCams you'll be able to chat with more than 1,500 models available on the site 24/7. Many of these models give free nude shows broadcast at HD and HD+ quality. In addition, the site offers advanced c2c options and awesome promotions with hefty bonuses.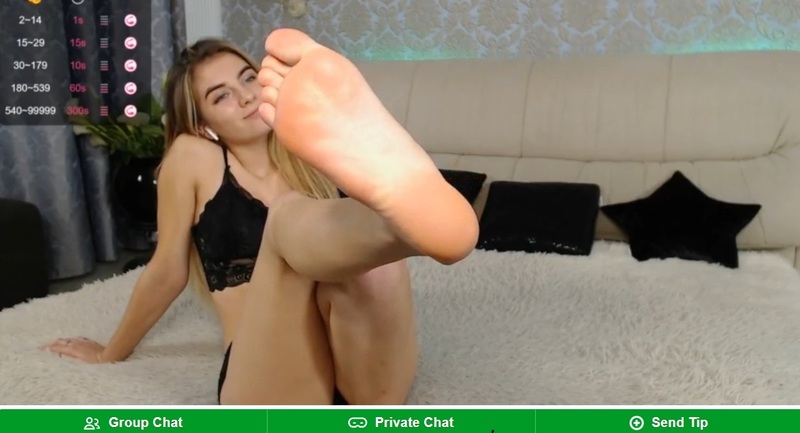 Foot Fetish is one of the site's main categories. It provides a roof over the head of hundreds of models who will be happy to let you worship every inch of their sacred feet. In addition the site has tags and some of them will perfectly match your fixation, for example Feet Fuck or Licking.
A private chat on the site costs $4.50 a minute. This is a uniform price charged by all models. Take into account that other users can spy on your show. If you don't want to share your performer's feet with anyone else, you'll have to opt for a Full Private Chat, which is 50% more expensive.
BongaCams offers you advanced c2c options. In addition to 1 on 1 shows, you can activate your cam while you're in a model's public room. You can also engage in cam2cam chats from your mobile device.
BongaCams is known for its extraordinary promotions. For instance, if you're a new user, you'll become a Gold member for life and get a bonus of 10 tokens the moment you make your first purchase. If you make this purchase from your mobile phone, you'll receive 50% of the tokens you'll spend as a gift (up to 100 tokens). The Cashback Offer give 25-200 tokens to the 5 biggest spenders every 24 hours. Some of the site's promotions are fixed. Others change all the time. You'd better follow these changes so you won't miss new opportunities to get fat bonuses.
---
Cam4

Cam4 is a highly popular freemium site with an average of 1,500 models from all gender groups constantly available for cam chats. These models broadcast from all corners of the world promising you a real multinational live porn experience you'll rarely find on other sites.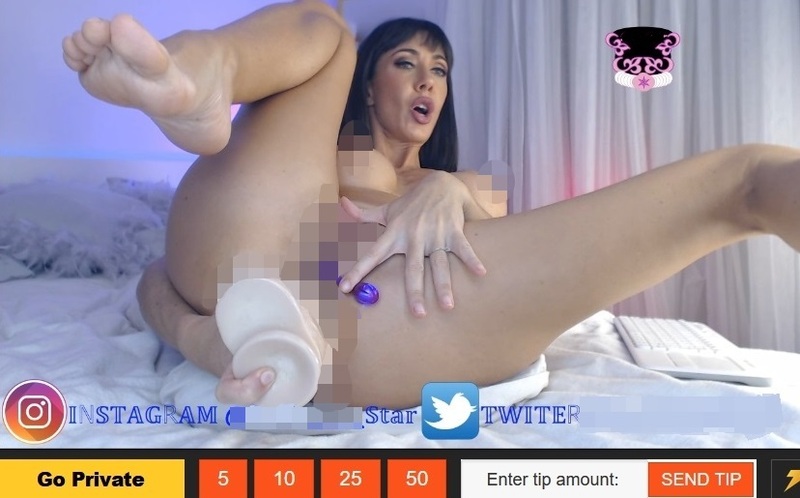 Much like some of the sites I've reviewed above, Cam4 has tags with models who specialize in all sorts of live shows. But unlike these sites, it has a nifty search tool that will help you find specific tags based on a their themes. If you type foot in the search box, you'll reach a tag called Feet Cams with usually more than 40 hot girls whose ankles and feet are at the top of their cam shows agenda.
Cam4's filter also lets you sort out models not only based on their ethnicity as you can do on most other cam sites, but also based on their country, so you can chat with girls from exotic places and with exotic feet.
A 1 minute chat on Cam4 will cost you a highly affordable sum of $2.40 a minute on average. The cheapest rate on the site is $0.50 a minute. Some of the models have a minimum chat duration that can be between 1 to 5 minutes. Others may have different time block you'll have to choose from (for example, 7, 15 or 25 minutes).
Cam4 has wonderful Gold membership, which costs $19.99 a month. Gold members get access to exclusive bonus token offers and reap quite a few benefits which comprise an ad-free interface, automated chat translations (for chat with girls from around the world), a free monthly Gold Gift, chatting in full screen and a welcome bonus of 50 tokens allowing you almost 4 minutes of private chatting at no cost.
---
Conclusion
Human beings are complex creatures. Each and every one of them has his/her own idiosyncratic desires, fantasies and fixations. Yours is women's feet, which is absolutely legit. What you need is a site where you can immerse yourself in tons of sexy feet displayed in cam shows. The six sites I've reviewed here are the perfect places for that. You'll find there a lot of performers who will make you a slave to their feet in exciting kinky live chats.
If I had to choose one site that stands above the other five, it'd, probably, be CamSoda. Its hot and liberal models, manifold nude live shows, good hi-def streaming, mobile c2c and, especially, recordings of your live shows you can watch as much as you want at no cost make it the number 1 site for foot fetish cam chats.
Review of 6 Best Foot Fetish Cam Sites
- Reviewed by
hdcamsites.com